Announced as a "Game Changer", Marvell unveils the world's first 1.5 GHz  three-core processor for smartphones and tablets, featuring dual stream 1080p 3D video and 3D graphics.
The Marvell ARMADA 628 processor has a system-on-a-Chip design (SoC) with three high performance Marvell-designed, ARM-compliant CPU cores and there are six additional processing engines to support 3D graphics, 1080p video encode/decode, ultra high fidelity audio, advanced cryptography, and digital photo data processing – for a total of nine dedicated core functions. It also is loaded with a number of advanced processing and power management features. This tri-core design integrates two high performance symmetric multiprocessing cores and a third core optimized for ultra low-power, which is used for routine user tasks and acts as a system management processor.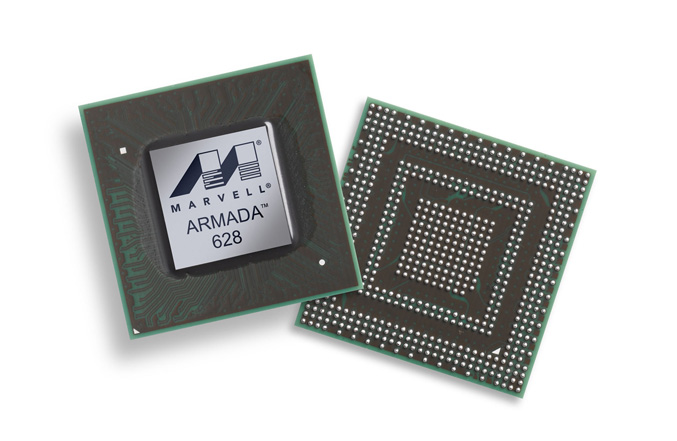 The ARMADA 628 support LP-DDR2 or DDR3 memory up to 533 MHz, provide USB 3.0 connectivity, has a highly flexible display controller capable of driving four simultaneous displays at up t o 2K x 2K resolution, an integrated 3D engine, enables to renders 200 million triangles per second and  supports dual stream 1080p video. In addition it also supports DirectX, Open GL ES 2.0, and Open VG 1.1  as well supports RIM OS, Android, Linux, Windows Mobile, and full Adobe Flash. From Marvell asl0 promises that the new ARMADA processor is able to play more than 10 hours of full 1080p HD video or 140 hours of music on a single charge while still providing 3 GHz of raw computational horsepower.
Key Features
World's first "tri-core" application processor

Up to 1.5 GHz for the two main cores and 624 MHz for the third low power core
"Heterogeneous multiprocessing" with "hardware-based Cache Coherence"
1 MB System Level 2 Cache
Platform leading multimedia capabilities, including support for both WMMX2 and NEON acceleration; and a highly optimized pipelined VFPv3 floating point engine
Member of the ARMADA family of processors for easy software porting

1080p dual stream 3D video applications (30 FPS, multi-format)
Ultimate 3D graphics performance with quad unified shaders for 200 million triangles per second (MT/s)
High performance, integrated image signal processor (ISP)
Ability to project images on multiple simultaneous displays

2 LCDs
1 HDMI
1 advanced EPD controller

Peripherals support: USB 3.0 Superspeed Client, MIPI CSI, MIPI DSI, HDMI with integrated PHY, UniPro, Slimbus, SPMI
The ARMADA 628 tri-core processor  is currently available for sampling to customers.