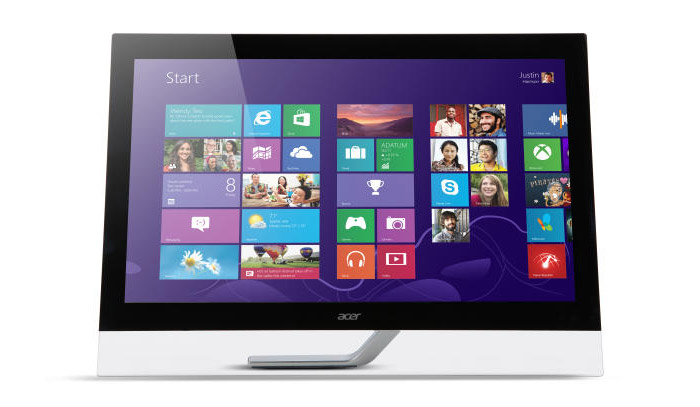 Acer America has unveiled three new monitors that boast large display sizes and ultra-high resolution. The new company products combine high pixel density and brilliant images and are perfect for presentations, gaming and professional tasks. All of them are based on IPS technology and arrive with two built-in speakers and USB charging capabilities as well as power saving technologies – the new Acer monitors consume 68 per cent less power than standard CCFL-backlit displays.
The Acer T272HUL is a 27-inch sensor monitor designed right from the start for Windows 8. The monitor works at 2560 x 1440 pixel resolution and sports a 10-point capacitive touch technology, capability to display 1.07 billion colors and just 5 ms of response time. In addition the T272HUL has an ergonomic chassis that tilts back 30-80 degrees. It also has VGA, DVI, HDMI outputs and a USB 3.0 hub. The specs list finishes with the impressive 100 000 000:1 contrast ratio and 178-degree viewing angles.
The Acer B276HUL and Acer B296CL share most of their tech specs but differ in the display size and resolution. Thus the B276HUL comes with a 27-inch display at 2560 1440 pixel resolution, while the B296CL sports 2560 x 1080 pixels on a 29-inch screen. Both are capable of delivering 16.7 million colors and fast response times of 6 ms for the 27-inch model and 8 ms for the larger 29-inch model. Both monitors tilt from –5 degrees to +35 degrees in the high position and from –5 degrees to 25 degrees in the low position. In addition they offer a dual-link DVI-D output, two HDMI ports, a DisplayPort and a USB 3.0 hub for great connectivity and multiple-monitor support.
The Acer T272HUL will be available on the market in late August for a price of USD 999. The Acer B276HUL and Acer B296CL are available now – the monitors cost USD 599. All new models come with a 3-year warranty.
Source: Acer