ASUS unveiled the brand new ultra-slim Designo MS Series LCD monitors MS246/ 236/ 227/ 226/ 202 to astound users with a perfect combination of exceptional style and picture quality. The design concept behind the Designo MS Series is inspired by the binary state, incorporating a series of contrasting elements like the numbers 1 and 0, straight lines and circles, and black and white into an ultra-slim monitor with a 16.5mm profile.
The unique spherical ring stand features Ergo-Fit Technology that lets users adjust the monitor's tilt angle with just one finger. The Designo MS Series' ergonomic design puts the screen at eye level for a comfortable and productive dual screen computing experience when deployed as a notebook's supplementary monitor. It further astounds with its crisp visuals in Full HD 1080p, 50,000:1 contrast ratio, 2ms response time and ASUS Splendid™ Video Intelligence Technology, along with an extra 40% in power savings. Amazing visuals in a head-turning package—it is simply as good as it gets.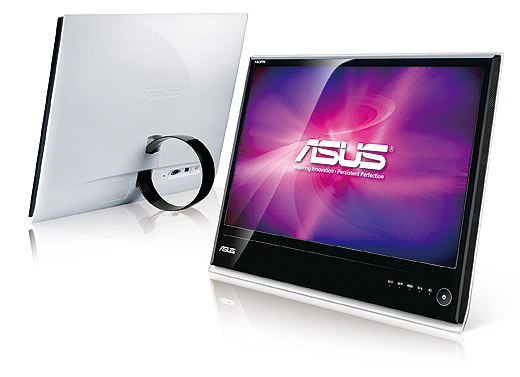 Love at First Sight
Ultra-slim 16.5mm Profile
Sleek, geometric design combines straight lines and curves with an ultra-slim 16.5mm profile—saving precious desktop space.
Glossy Piano-Black Bezel
Alluring high gloss piano-black finish makes the Designo MS Series LCD monitor the centerpiece of every living space.
LED Touch-Sensor Buttons
The monitor's intuitive settings can be adjusted with a simple touch of its LED sensor buttons.
Ring Stand with Ergo-Fit Adjustment
Unique ring stand design features the ASUS-exclusive Ergo-Fit Technology that allows for easy tilt adjustments with one finger.
Pure Pearl-White Rear Bezel
The delicate wave-like contours on its rear bezel is complemented by a gleaming pearl-white finish.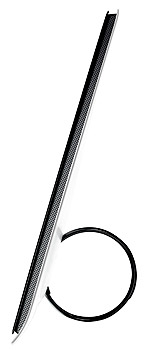 Dazzle Your Visual Senses
The Designo MS Series LCD Monitor features class-leading specifications such as Full HD 1080p, 50,000:1 high contrast ratio, 2ms quick response time, ASUS Splendid™ Technology, and an HDMI port* to deliver high quality entertainment from Blu-ray movies and console games.
Expand Your Visual Field
The Designo MS Series doubles productivity levels when paired with a notebook via a DVI/VGA cable connection, and has been ergonomically designed to sit at the user's eye level—thus matching the height of the notebook screen.
Caring for the Earth
The Designo MS Series' eco-friendly design is manufactured with 50% less hazardous materials and reduces power consumption by 40%* to lower electricity bills and help save the Earth.
Specifications
Model
MS246H/D
MS236H/D
MS226H
MS227N
MS202N/D
Display
Panel Size
23.6″ Wide Screen (16:9)
23.0″ Wide Screen (16:9)
21.5″ Wide Screen (16:9)
22.0″ Wide Screen (16:10)
20.0″ Wide Screen (16:9)
True Resolution
1920×1080 (FHD)
1920×1080 (FHD)
1920×1080 (FHD)
1680×1050 (WSXGA+)
1600×900
(HD+)
Display Colors
16.7M
ASUS Smart Contrast Ratio(ASCR)
50000:1
50000:1
50000:1
50000:1
50000:1
Brightness (Max.)
250cd/㎡
250cd/㎡
250cd/㎡
250cd/㎡
250cd/㎡
Viewing Angle (CR≧10)
170°(H)/ 160°(V)
Response Time
2ms (GTG)
2ms (GTG)
2ms (GTG)
2ms (GTG)
5ms
Video Features
Trace Free Technology
Yes
Yes
Yes
Yes
—
Splendid™ Video Intelligence Technology
Yes (5 modes)
Skin-Tone Selection
3 modes
Color Temperature Selection
5 modes
HDCP
Yes (MS246H)
Yes(MS236H)
Yes
Yes
Yes(MS202N)
Inputs/Outputs
HDMI(MS246H), D-Sub, Earphone Out (MS246H)
HDMI(MS236H), D-Sub, Earphone Out (MS236H)
HDMI, D-Sub, HDMI Audio Out
DVI-D, D-Sub
DVI-D(MS202N), D-Sub

Source: Asus