BenQ today announces the release of its new 24-inch EW2430 and EW2430V Vertical Alignment (VA) LED monitors. The new offerings features 8-bit color Full HD panels with contrast ratio of 3,000:1(Dynamic Contrast Ratio  20,000,000:1) and BenQ's proprietary Senseye Human Vision Technology.
BenQ's new EW2430 and EW2430V pack dual 2W speakers and come with a headphone jack, audio line in and out, 2x HDMI Ports, and 1x D-Sub and 1x DVI-D, giving you convenience to hook up both analog and digital signals from various devices. Also there're four built-in USB ports, as well a component (RCA) jack on the V Model.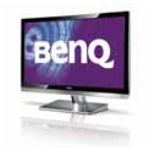 The EW2430V model also include various features like Smart Focus that helping viewers to concentrate on the main viewing content when section of the selected window or area is highlighted and Super Resolution that iIncreases the density of low resolution images and simulate to improve picture clearance, accurately capturing details and enhancing picture quality. Other features include PIP/PBP, 3D Deinterlace to reduces cross-over interference flickers and 3D Noise Reduction.
Both EW2430 and EW2430V will be available in Europe and Asia Pacific after January 2011 and worldwide thereafter