Eizo Nanao Corporation  introduced the Raptor WS3001, a 30-inch LCD monitor designed to serve as an ideal alternative to a 2K × 2K primary control monitor in non-critical ATC environments such as training & simulation centers and technical labs.
The Raptor WS3001 downscales 2K × 2K signals (2048 × 2048) to a 1600 × 1600 resolution. For non-critical ATC environments the Raptor WS3001 presents an economical alternative to purchasing a 2K × 2K monitor. In addition, the Raptor WS3001 can also downscale a signal from a 2.5K × 2K (2560 × 2048) primary control monitor to a resolution of 2000 × 1600.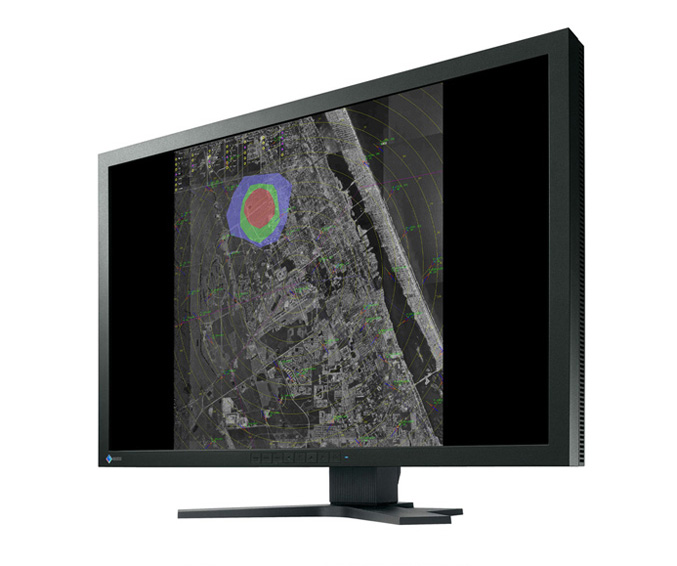 Downscaling is done inside the Raptor WS3001 itself. This ensures that system integrators can use the plug and play monitor without having to invest time and money in adding downscaling capabilities to their existing ATC applications. Furthermore, hardware downscaling ensures that grayscale gradations are displayed smoothly and the screen updating speed is maintained.
The Raptor WS3001 has a native resolution of 2560 × 1600 (16:10 aspect ratio). The maximum brightness is 270 cd/m2, contrast ratio is 900:1, and horizontal and vertical viewing angles are 178°. A 6 ms gray-to-gray response time minimizes blurring and ghosting for smooth playback of moving images, such as weather patterns, tracks, and rubber-banding.
The square-scaled 2K × 2K image can be moved to the right or left side of the screen. This image positioning flexibility is particularly convenient when using the Raptor WS3001 next to an auxiliary monitor since the amount of eye movement between screens will be minimized.
The Raptor WS3001 uses just 82 watts in normal operation and less than 2 watts in standby mode whereas a 2K × 2K monitor can require up to 160 watts during normal operation and 15 watts in standby mode.
The Raptor WS3001 comes with an EIZO-designed ASIC (application specific integrated circuit) built into the monitor. The ASIC features an 12-bit look-up table with a total color palette of 68 billion colors from which the most appropriate 16.7 million are selected. The ASIC also has 16-bit internal processing for smooth display of grayscale tones. This brings out details, especially in dark areas of an image, which are essential for ATC applications to reduce eye fatigue and improve image clarity.
A picture-by-picture function divides the screen into two equal halves of 1200 × 1600 and displays input from two independent computers simultaneously. This is practical if using two units of the Raptor WS3001 in the same setup to ensure aesthetic and performance consistency ; the first for downscaling a 2K × 2K signal and the second for displaying content for auxiliary monitors with this picture-by-picture function.
Additional Features
118 mm height adjustment, 40° tilt and 70° swivel.
USB 2.0 hub with one upstream and two downstream ports.
Brightness can be lowered to 3 cd/m2 to help reduce eye fatigue in training centers with little or no ambient lighting.
Three preset modes with user-defined settings for brightness, gamma, and color temperature.
Brightness, gamma, saturation, hue, gain and color temperature adjustments in OSD menu.
Manufacturer's five-year limited warranty.
Availability
The Raptor WS3001 is now shipping. For information about availability and pricing please contact the EIZO subsidiary or distributor in your country for details.
Specification:
Panel Size
29.8″ / 76 cm (756 mm diagonal)
Active Display Size (H × V)
641.3 × 400.8 mm
Panel Type
VA (with overdrive circuit)
Viewing Angles (H, V)
178°, 178° (at contrast ratio of 10:1)
Brightness
260 cd/m2
Contrast
900:1
Response Time (Typical)
Gray-to-gray: 6 ms, black-white-black: 12 ms
Native Resolution
2560 × 1600 (16:10 aspest ratio)
Pixel Pitch
0.2505 × 0.2505 mm
Display Colors
16.77 million from a palette of 68 billion
Wide Gamut Coverage
Adobe RGB: 97% , 100% vs. NTSC
Look-Up Table
12 bits per color
Internal Processing
16 bits per color
Cabinet Colors
Black
Dot Clock
Digital: 285 MHz
Digital Scanning Frequency (H, V)
31 – 123 kHz, 25 – 61 Hz (VGA Text: 69 – 71 Hz)
Video Input Terminals
DVI-D 24 pin × 2 (dual link × 1, single link × 1 [with HDCP])
USB Ports / Standard
1 upstream, 2 downstream / USB 2.0
Plug & Play
VESA DDC 2B
Power Requirements
AC 100 – 120 V / 200 – 240 V, 50 / 60 Hz
Power Consumption
170 W (maximum); 82 W (typical)
Power Save Mode
Less than 2 W
Height Adjustment Range
118 mm
Tilt / Swivel / Pivot
40° Up, 0° Down / 35° Right, 35° Left / –
Dimensions (W × H × D)
With Stand: 689 × 511.5 – 629.5 × 254.7 mm
27.1 × 20.1 – 24.8 × 10″
Without Stand: 689 × 450 × 90 mm
27.1 × 17.7 × 3.54″
Net Weight
With Stand: 15.7 kg / 34.7 lbs
Without Stand:11.2 kg / 24.7 lbs
Preset Modes
Fine Contrast (User-1, User-2, User-3)
Screen Adjustment
Screen Size (full screen, enlarge, normal), Smoothing (5 stages), Border Intensity
Color Adjustment
Brightness, Independent 6-Color Control, Gamma, Temperature, Saturation, Hue, Gain, Reset
Power Management
Power Save (DVI DMPM), Off Timer
Other Settings
Signal Settings, Product Information (name, serial number, resolution, operating time, etc.), OSD Menu Settings, Adjustment Lock, Languages (English, French, German, Italian, Japanese, Simplified and Traditional Chinese, Spanish, Swedish), Beep, Power Indicator, Dual Display1, Reset
Certifications and Standards
TÜV/GS, c-Tick, CE, CB, UL (cTÜVus), CSA (cTÜVus), FCC-B, Canadian ICES-003-B, TÜV/S, VCCI-B, RoHS, WEEE, EIZO Eco Products 2006
Supplied Accessories
AC power cord, signal cables (DVI-D – DVI-D, DVI-D – DVI-D (dual link supported), USB cable, EIZO LCD Utility Disk (PDF user's manual, setup guide, 4 screws for mount option, warranty card
Warranty
Five Years2

Source: Eizo