Five ASUS VH Series LCD monitors with screen sizes ranging from 20" to 24" have been EPEAT™ registered at the Gold level, the highest EPEAT rating possible.
Designed and manufactured in strict adherence to GreenASUS principles, the ASUS VH202T-P, VH222H-P, VH232H-P, VH236H-P and VH242H-P successfully met or exceeded the required criteria and at least 75% of the optional criteria necessary to receive a Gold rating from EPEAT. These LCD monitors now join ASUS' Bamboo Series and N Series notebooks in the elite rung of electronic products bearing the EPEAT Gold eco-label.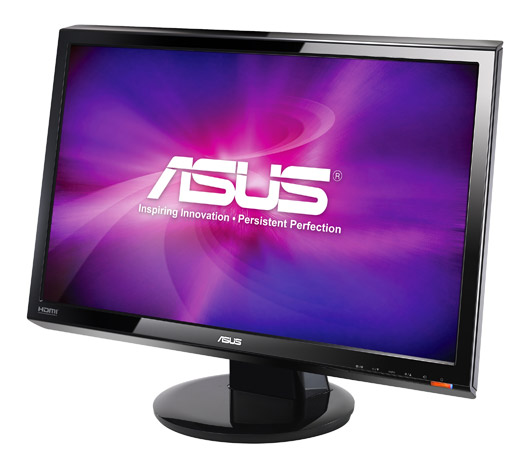 ASUS VH242
ASUS VH Series LCD monitors were found to excel in each of the eight Environmental Performance Categories defined by the IEEE 1680 standard which EPEAT is based on:
Reduction or Elimination of Environmentally Sensitive Materials
Materials Selection
Design for End of Life
Product Longevity/Life Cycle Extension
Energy Conservation
End of Life Management
Corporate Performance
Packaging
This is the result of a company-wide green mindset cultivated by the GreenASUS steering committee led by the Chairman of ASUSTek Computer Inc., Jonney Shih. Through GreenASUS, every decision along the design, procurement, manufacturing and service chain is dictated by what produces the greenest outcome—represented by the four 'home runs': Green Design, Green Manufacturing, Green Procurement and Green Services and Marketing. Specific measures pertaining to ASUS VH Series LCD monitors include utilizing new manufacturing techniques to lower mercury use and adopting postconsumer recycled plastic in the monitors without affecting product performance and reliability.
Source: Asus