Make your monitor touchscreen with External Multi-touch Module

Albatron Technology is going to launch an External Multi-touch Module – EM215 during Computex 2010. This external slim device can be hanging on existed LCD monitor within 1 minute and voala, you have touchscreen monitor easily.
EM215 is the first external touch module that designed for multimedia LCD monitor by its 16:9 aspect ratio and compatible with all 16:9 or 4:3 monitors that have small display area than 478mm*269mm. EM215 adopts with optical technology, and compatible with Windows touch structure. Its is covered with tempered glass making it scratch free. You could easily install it, without need of any tools or drivers and then there is no need to use specific stylus, user can input touch signal by finger, pen or ruler as stylus. Supports Windows standard gestures.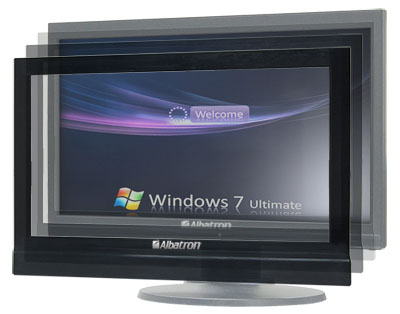 Specification:
Principle
optical structure
Sensor refresh rate
120 frames/sec
Touch resolution
32767*32767
Calibration
in factory calibration, user calibration free
Interface
USB HID multi-touch digitizar
Power

Operation< 1w

Suspend <60mW

OS

Microsoft Windows 7,(multi-touch driver free)

Windows Vista/XP (single touch)

Compatible monitors

Best for 21.5″ / 16:9 Monitor

Compatible with all 16:9& 4:3 monitor that display small than 478mm*269mm