From CTIA Wireless 2009® – Motion Computing®, a leader in mobile computing and wireless communications, announced that the F5 rugged tablet PC and the C5 Mobile Clinical Assistant (MCA) are available for use on the Verizon Wireless mobile broadband network. Additionally, Motion is announcing upgrades to the devices including enhanced performance, the latest WiFi technology and a new 64GB solid state drive (SSD) option.
Verizon Access Enables Broad Coverage
Motion's C5 and F5 tablets are compliant under the Verizon Wireless open development program, which is designed to offer businesses and consumers the ability to use wireless devices, software and applications not offered by the company on its nationwide wireless network. With access to mobile broadband from Verizon Wireless integrated into the Motion C5 and F5, users can access email, download files and browse the Internet at broadband speed.
"Motion Computing is recognized for solutions that improve productivity for highly mobile users by creating devices that are designed to work the way the users do," said Anthony A. Lewis, vice president of open development at Verizon Wireless. "Now with anytime access to the Verizon Wireless network, Motion tablet users, from hospitals to construction sites, can be more productive when away from the office."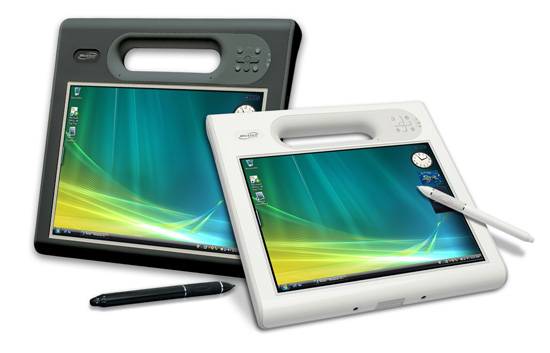 Tablet Upgrades Provide Improved Performance, Flexibility
Upgrades to the C5 and F5 include expanded communications capabilities with the Intel® WiFi Link 5300 series 802.11 a/g/draft-n, Intel Centrino® technology with the Intel® Core™2 Duo processor for improved performance and battery life, and a new 64GB SSD upgrade. An external battery charger is also now available for the C5 and F5, which enables users to quickly charge additional batteries for use throughout the workday.
The C5 Mobile Clinical Assistant Delivers Quality Care
The C5, the industry's first MCA developed in collaboration with Intel®, is a hospital-grade device that is proven in healthcare environments. Now deployed in more than 4,000 healthcare organizations worldwide, the C5 has proven to enhance clinician satisfaction, improve point of care documentation, increase clinician productivity and improve clinical documentation accuracy. For more information visit the Motion C5 product page.
The F5 Mobile Field Tool Ideal for Rugged Working Environments
The F5, now with a black exterior to better withstand dirty and dusty mobile work environments, is a rugged tablet PC that provides electronic clipboard functionality and is an ideal solution for field workers who compute and enter data while standing or walking. Mobile professionals across construction, field sales and service and government are using the F5 because it provides the durability and functionality of a rugged PC without the extra weight and price associated with traditional, fully rugged devices. For more information visit the Motion F5 product page.
"Motion's tablet PCs, used in combination with the Vela Systems construction field software, are significantly improving documentation processes by enabling access to important information on the jobsite," said Josh Kanner, founder and vice president of Vela Systems. "Motion is continually improving and adapting their technology specifically to the needs of their users, and we're excited about these recent enhancements that will help our clients further improve field productivity."
Available Now
The F5 and the C5 with enhanced features and the external battery charger are available today through Motion's network of resellers and distributors worldwide. For more information or to find a Motion reseller near you, visit Motion's products and services page.
Source: Press Relase