Global graphics and motherboard leader, MSI, received lots of attention after the release of its N250GTS graphics cards for the series' extraordinary price-performance ratio. Today MSI unveils two new cards – N250GTS Twin Frozr 1G and N250GTS Twin Frozr – which utilize the radical Twin Frozr thermal design coupled with dual PWM fans and 3 high-efficiency heatpipes to cool down the temperature and improve the cards' stability. Additionally, MSI's N250GTS Twin Frozr series features 128 stream processors, 256-bit GDDR3 high-speed memory, and Military Class components for the best lifespan and stability. With so many features on the powerful N250 Twin Frozr series, these cards are sure to provide smooth DirectX 10 game play for fantastic enjoyment.
N250GTS Twin Frozr Twin Frozr thermal design
The all new N250GTS Tiwn Frozr uses the Twin Frozr thermal design featuring intelligent dual PWM fans, which adjust their speed based on the GPU's loading and temperature. This design helps the card to run quietly for normal applications; while maintaining cool, low-noise operation when running 3D programs and games. The dual-fan design also helps to ensure stable operation, if one fan fails, another would be still able to keep running to dissipate heat.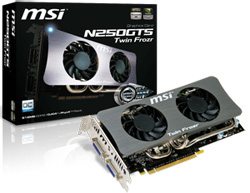 The 250GTS Twin Frozr also uses three high-efficiency heatpipes which greatly increase speed of heat dissipation, and with the dual fans providing twice the amount of air blowing across the components. With Twin Frozr thermal design, overheating has become past.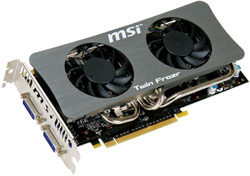 Military Class components – Hi-c CAP
In order to provide customers a longer lifespan, higher performance product, MSI N250GTS Twin Frozr features the extra high-quality Hi-c CAP for GPU power supply. Hi-c CAP is made of the extremely rare Tantalum material – a expensive, incredibly stable metal – so that, if run at 65° C, it is able to keep running for over 200 years. This product leaves all other solid capacitor standards in the dust, and is one of highest level components in the industry. Tantalum also helps to prevent against electricity leakage (less package) for high quality power output and stable performance when overclocked and/or running hot.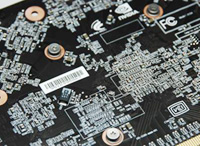 N250GTS Twin Frozr Military Class components – SSC (Solid State Choke)
MSI's N250GTS Twin Frozr also uses the latest SSC (Solid State Choke). The form-in one design of SSC effectively eliminates the unwanted high frequency noise caused by vibration of traditional chokes. Compared to traditional chokes, SSC also improves total power output by over 30%, and increase overclocking stability.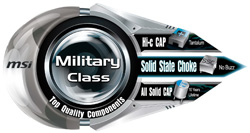 N250GTS Twin Frozr Military Class components –All Solid Capacitors
Capacitors are the most important component for electronic product's power supply. The quality of the capacitors can impact the stability of the entire system and risk of product failure. Currently there are two types of capacitors, electrolytic capacitors and solid capacitors. Compared to electrolytic capacitors, solid capacitors have a longer lifespan, and provide a more stable power under high temperatures. More importantly, solid capacitors do not have any liquid materials inside, and thus will not suffer a leak which would infringe upon the product's stability. With such benefits is it no wonder that solid capacitors are very important for product quality's improvement, and help to make the N250GTS Twin Frozr a truly high-level product.
Source: MSI