After launching the powerful R5800 series graphics card which successfully get global overclocking enthusiasts' attention, MSI, leading graphics cards and mainboard brand-manufacturer, today introduces the latest R5700 series graphics card, MSI R5770-PM2D1G and R5750-PM2D1G. With the advanced 40nm GPU, DirectX 11 support, high speed GDDR5 video memory, and ATi Eyefinity technology, the MSI R5700 series graphics card can fully provide stunning gaming experience by DirectX 11 to gamers. In addition to better performance/power ratio compared to popular HD 4870 of last generation product, MSI R5700 is the premium high performance graphics card that you must have! Now get it with a free DirectX 11 support racing game "Dirt2" and MSI exclusive VGA overclocking utility "Afterburner"!
40nm manufacturing process improves performance/power ratio significantly
The brand new MSI R5700 series is the same as its R5800 series, using the advanced 40nm GPU to implement decisively more transistors within the same amount of space and thereby reaching a new level of performance. In addition the modern 40nm process reduces power consumption and brings about a more efficient overall electrical utilization. Compared to popular HD 4870 of last generation product, the power consumption of MSI R5770-PM2D1G is significantly improved. The performance per watt result is 20% better than last generation. It doesn't only reduce power consumption, but also saves the expense of power.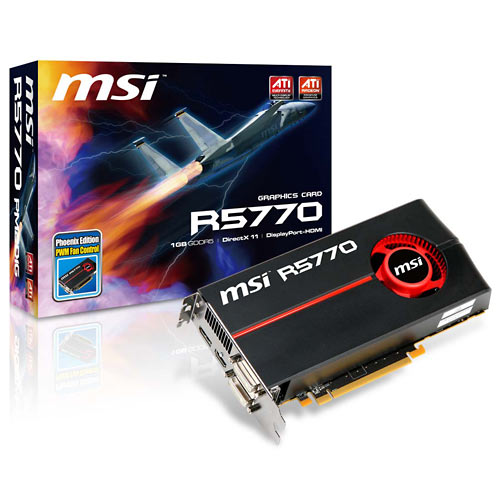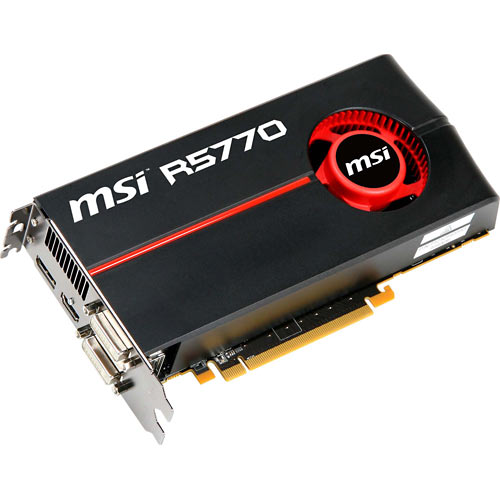 Support a variety of next-generation graphics standards
MSI R5700 series supports the new DirectX 11 / Shader 5.0 and OpenGL 3.1 standards. When it compared to R5800 series, users can experience the newest DirectX 11 which is supported by the upcoming Windows 7 O/S with less budget. It can not only play 3D game or speed up HD movie, but also supports OpenCL and other GP-GPU computing technology to improve the speed of daily application by working with CPU, adding more value to graphics card.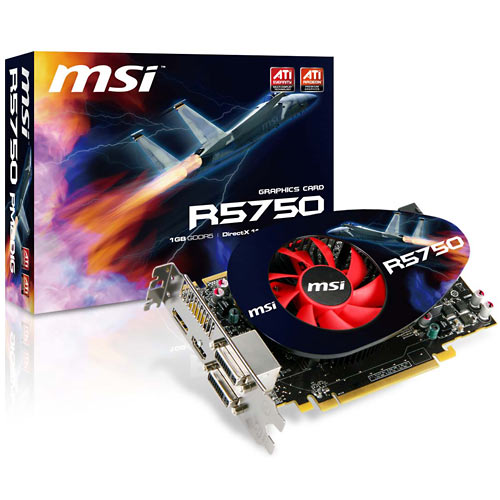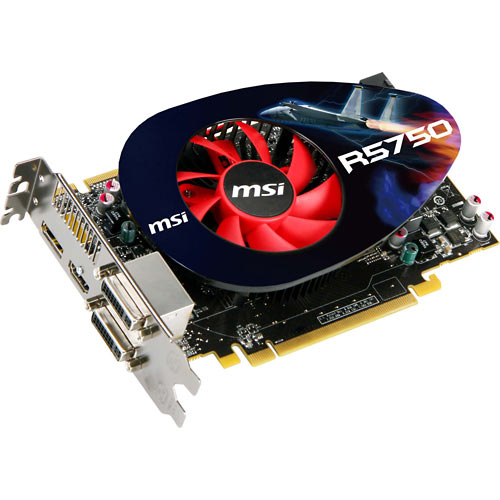 Free bundled MSI exclusive VGA overclocking utility "Afterburner" - Fine tune your graphics card with ease!
MSI exclusive VGA overclocking utility "Afterburner" is the industry leading one. It includes the basic ability to adjust GPU/Shader/Memory clock and to monitor status of graphics card. It also has the function to adjust GPU voltage**, and users don't need to spend time on modifying the card to get higher voltage of GPU. The function of advanced Fan Speed Control in MSI afterburner that got recognized by worldwide users can customize different fan speed under different temperature trigger points. No need to be limited by traditional utility with fixed fan speed or by bios settings, tweak it according to your preference!
Brand new ATi Eyefinity technology – single-card triple-screen output
Besides R5800 series, MSI R5700 series also supports the new ATi Eyefinity technology, allowing for triple screen output on one single card*; The ATi Eyefinity technology breaks with the former limitations that one graphics card could only support a maximum of two outputs, providing maximum to three x 2560*1600 resolution. With wider view, the productivities of those professionals that have to draw hi-res pictures or browse lots of excel data can be highly improved; the gamer can understand the whole battle situation within a blink of eyes, so to win the competition is not hard anymore!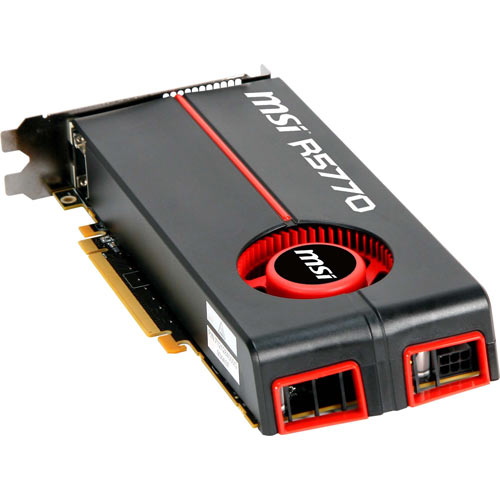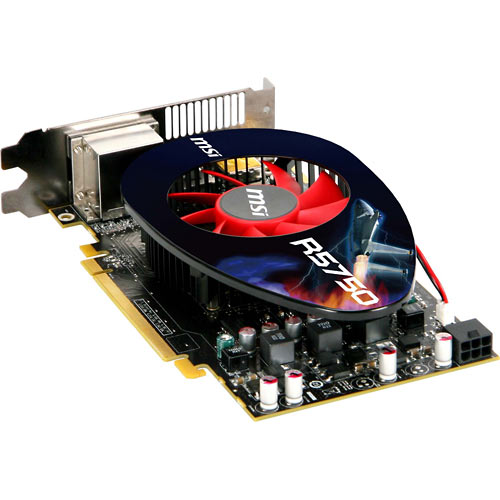 Source: MSI