The well-known motherboard and graphics card manufacturer, MSI, developed a series of Easy OC technology to satisfy consumers' requirement of easy overclocking. By extending the same concept of product design, MSI utilizes its 20-year R&D experience to develop a new generation Easy OC Technology, OC Genie. Combining push-button and dedicated overclocking processor, no complicated setup and professional overclocking skill are required. It is the most advanced OC technology in the world. MSI will demonstrate OC Genie of MSI P55 motherboard in MOA European Final in Germany, so all overclockers can experience the incredible overclocking potential of OC Genie.
Intelligent OC Processor
OC Genie technology is equipped on MSI P55 motherboard for the first time and will totally change consumers' impression of complicated process and high risk about overclocking. With OC Genie Processor and OC Genie Button, no hardware modification and BIOS setup are required. Just push the OC Genie button, OC Genie Processor will automatically detect the best overclocking setting and completely avoid complicated BIOS tweaking and possible hardware damage causes by overclocking failure. Compared to 10~30 minutes try and error of traditional overclocking method, user only need 1 second to get instant performance boost with OC Genie.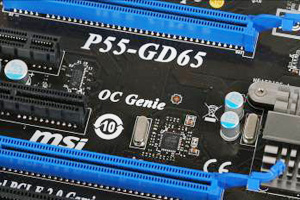 Full System Performance Boost
Most of the overclocking technologies are focus on based clock adjustment of CPU. MSI OC Genie technology not only adjusts CPU clock, but also optimizes CPU voltage, memory clock and memory voltage to increase overclocking stability and margin substantially. Memory optimization can avoid system instability which is caused by inappropriate memory setting; in the meantime find the best setting to boost full system performance.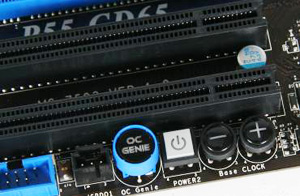 Future implementation of OC Genie
OC Genie enables most of the consumers to experience overclocking easily. Through the amazing OC Genie technology, consumers can boost their CPU and memory performance without any extra cost. OC Genie is definitely the most advanced design for most of the users. This magnificent overclocking technology surely will not only apply to MSI P55 product line. In the future, MSI will implement OC Genie on AMD platform motherboards to ensure all consumers can enjoy the performance and convenience brought by MSI OC Genie technology.
Source: MSI