Micro-Star International (MSI)  announced their latest N285GTX HydroGen graphics cards series.
The MSI N285GTX is equipped with the exclusive all-copper Micro Channel water cooling. This solution provides the lowest operating temperature while staying absolutely calm, is a scarcely seen high-end solution for GTX285 powered graphics cards on today's market.
All-Copper, Dramatically Reducing Temperature
When purchasing a new high-end graphics card, the overclocking capability is the major consideration, this is especially true with the N285GTX graphics chip which is done in a new manufacturing process. Therefore, in using an advanced high-efficiency cooling system you will be able to squeeze even that last bit of performance out of the graphics card. MSI continues using the industry leading Micro Channel water cooling technology that had been setting new standard already with the previous X38 and N280GTX series, utilizing an all-copper water cooling tank made of lathe-processed sub-millimeter sized copper. With this extra thin water cooling tank the N285GTX HydroGen's heat dissipation efficiency even beats competitors' with a double-sized conductor body.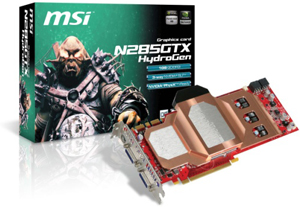 In real life field tests under full load the MSI N285GTX HydroGen with its Micro Channel water cooling managed to decrease heat emission by more than 40% when compared to conventional fan cooled graphics cards of the same product level.
MSI's exclusive HydroGen Micro Channel water cooling by far exceeds cooling efficiency of regular air cooling fans and therefore gives overclockers much more room to fully indulge in the technical challenge of overclocking voltages and bus speeds to the maximum. Since with the MSI N285GTX HydroGen those respective heat issues are a thing of the past.
1-Slot Design, Revolutionizing Craft
The Micro Channel and all-copper design offer great cooling efficiency as well as improved installation convenience. As MSI insists on using a 1-Slot solution this also reduces the actual weight of the graphics card whereby weight pressure on the slot is minimized and the graphics board won't bend anymore either. And the all-copper water tank design offers increased heat transfer efficiency in comparison with other solutions out in the market. For power users and gaming enthusiasts using 2-way or even 3-way SLI the MSI N286GTX HydroGen brings about a maximum of installation convenience. As you don't have to worry about a lack of space between the PCI-E slots on your mainboard any more, and therefore wouldn't be able to use water cooled graphics solutions.
ISO Standard Size Pipe Thread Design – match all standard
The MSI N285GTX HydroGen uses the internationally accepted G ¼ Inch (DIN ISO 228-1) standard for the water tank pipe thread. Different from other manufactures who are applying a closed and self-contained system, this utilization of the DIN ISO standard pipe thread doesn't only help to save money for consumables such as pumps, water pipes, cooling liquid etc., but also offers full compatibility for existing and additional upgrade water cooling systems.
Source: MSI