NEC LCD Technologies, together with its sales and marketing channels in the Americas and Europe, NEC Electronics America, Inc. and NEC Electronics (Europe) GmbH, today introduced two new amorphous-silicon thin-film-transistor (TFT) liquid crystal display (LCD) modules incorporating white LED backlights for industrial applications. The modules consume less power, are substantially thinner and lighter than comparable LCD modules incorporating cold-cathode fluorescent lamp (CCFL) backlights.

The 10.4-inch (26 cm-diagonal) module, part number NL10276BC20-12, with extended graphics array (XGA) resolution, and the 8.9-inch (23 cm-diagonal) module, part number NL10260BC19-01D, with wide super-video graphics array (WSVGA), offer numerous benefits over conventional CCFL products. These modules with LED backlights have advantages which include durability for industrial use and design optimization that yield a more than 40 percent reduction in module thickness, greater than 50 percent reduction in weight and approximately 50 percent savings in power consumption compared with CCFL based LCD equivalents. To address the diverse demands of industrial display applications, each model features a wide operating temperature range of –20 to +70 degrees Celsius, a replaceable LED backlight unit and long-term product support.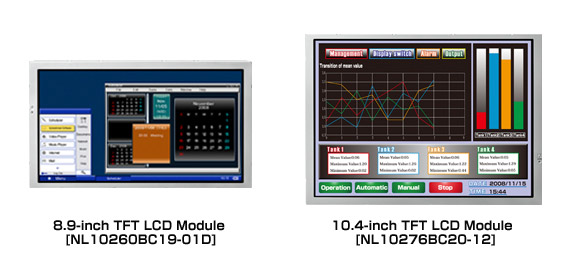 Recently, the demand for industrial applications using LCD modules equipped with white LED backlight systems has risen due to the systems' lower power consumption, thinner and lighter-weight backlight housings and higher resistance to shock and vibration compared to CCFL based LCDs. Furthermore, white LEDs do not require an inverter circuit, which generates high-frequency noise and harmonic current that can cause peripheral equipment malfunctions and hinder precise testing results.
In response to the demand for white LED-based products, NEC LCD Technologies has enhanced its product lineup of TFT LCD modules with eleven industrial-use models that maintain compatibility with conventional CCFL backlight products. These two new models also meet new customer requirements for sophisticated industrial equipment that include display devices featuring larger screens (providing more information) and higher resolution, in addition to compact size, lighter weight and reduced power consumption (especially on portable terminals and compact measurement instruments).
"We have addressed the latest market demands by launching a new product series that prioritizes slimness, light weight and low power consumption, made possible by incorporating LED backlight," said Hidetoshi Usui, department manager, marketing and product planning, NEC LCD Technologies, Ltd. "Moreover, the two new products also respond to other important requirements in industrial display applications, namely, wide operating temperature ranges, replaceable LED units and long-term product support. We are confident that the two new products will carve out a distinct position in the industrial display market."
Looking forward, NEC LCD Technologies will continue to leverage its knowhow to strengthen its lineup of existing LCD modules and to drive the advancement of white LED-based backlight systems, which excel in adapting to a wide range of conditions and help reduce environmental impact.
Main Specifications of the New 10.4-Inch LCD Module

Part number:

NL10276BC20-12

Resolution:

1024(H) x 768(V) pixels

Display area:

211.2(H) x 158.4(V) mm
Diagonal screen size of 10.4 inches (26cm)

Drive system:

Amorphous-silicon TFT active-matrix

Display color:

16.77M colors / 262K colors

Pixel arrangement:

RGB vertical stripe

Pixel pitch:

0.2055(H) x 0.2055(V) mm

Luminance:

200cd/m2 (typ.)

Contrast ratio:

(500:1) (typ.)

Viewing angle:

Vertical : Up 80 degrees, down 80 degrees
Horizontal : Left 80 degrees, right 80 degrees
(Contrast ratio at over 10:1)

Response time:

18ms (typ.) (TON + TOFF: from 10% to 90%)

Interface:

LVDS (RGB 8 bits each / 6 bits each)

Power supply voltage:

3.3V

Power consumption:

(3.4)W (typ.)

Operating temperature:

-20 degrees C to + 70 degrees C

Storage temperature:

-30 degrees C to + 80 degrees C

Polarizer Surface:

Clear

Module size:

231.2 (typ.) x 174.6 (typ.) x 5.8 (max.) mm

Weight:

(170)g (typ.)

Backlight:

White LED (Replaceable)

Main Specifications of the New 8.9-Inch LCD Module
Part number:

NL10260BC19-01D

Resolution:

1024(H) x 600(V) pixels

Display area:

195.072(H) x 113.4(V) mm
Diagonal screen size of 8.9 inches (23cm)

Drive system:

Amorphous-silicon TFT active-matrix

Display color:

16.77M colors / 262K colors

Pixel arrangement:

RGB vertical stripe

Pixel pitch:

0.1905(H) x 0.189(V) mm

Luminance:

300cd/m2 (typ.)

Contrast ratio:

700:1 (typ.)

Viewing angle:

Vertical : Up 88 degrees, down 88 degrees
Horizontal : Left 88 degrees, right 88 degrees
(Contrast ratio at over 10:1)

Response time:

25ms (typ.) (TON + TOFF: from 10% to 90%)

Interface:

LVDS (RGB 8 bits each / 6 bits each)

Power supply voltage:

3.3V

Power consumption:

3.0W (typ.)

Operating temperature:

-20 degrees C to + 70 degrees C

Storage temperature:

-30 degrees C to + 80 degrees C

Polarizer Surface:

Antiglare

Module size:

214.0 (typ.) x 129.0 (typ.) x 6.2 (max.) mm

Weight:

170g (typ.)

Backlight:

White LED (Replaceable)