Fujitsu Computer Products of America, Inc., a leading supplier of innovative computer products including hard disk drives, peripherals and biometric security solutions,  introduced the HandyDrive MMH2 UB series of 5400 RPM external hard disk drives (HDDs), featuring an ultra-slim, lightweight and easy-to-hold 2.5-inch design with up to 500GB capacity.
500GB¹ 2.5-Inch HandyDrive Offers Consumers Portable backup and Password Protection

The new drives weigh less than six ounces, include a USB 2.0 interface, offer software support in 11 different languages, and provide both mobile and at-home users a dependable and secure option for data backup.
"With the prevalence of data loss and theft, consumers now realize they need to backup their important data as much as businesses do," said Lorne Wilson, senior vice president, sales, corporate marketing and new products group, Fujitsu Computer Products of America, Inc. "Fujitsu designed the HandyDrive to respond to consumers' requirements for convenient and secure storage of their important data."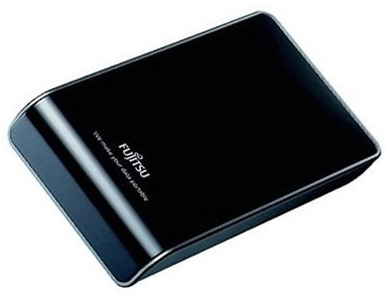 Every year millions of PCs will experience data loss due to a variety of factors from hardware failure, file corruption, viruses, theft, natural disaster and human error. The Fujitsu HandyDrive MMH2 UB series, which is powered through the USB interface, is available in capacities of 500GB, 400GB, 320GB and 250GB in a portable 2.5-inch design. These capacity points are ideal for backup and supplemental storage for home PCs and laptops, and the drives' dimensions (137.5mm x 83.5mm x 15mm) occupy significantly less desk space than alternative 3.5-inch external HDDs.
The advanced utility management achieves the creates an ecology-friendly 2.5-inch external HDD by reducing read/write power consumption by 30%, compared to earlier models, and by 35% in stand-by mode over normal operation.
The Fujitsu HandyDrive bundles utility software allowing users to manage partitions, a password lock tool that protects data if a drive is lost or stolen, even of the HDD is removed from the external enclosure, and Acronis True Image Personal HDD software, which provides fast and easy data backup.
The Fujitsu HandyDrive series is available starting in the first quarter of 2009 through retail and online stores.