One of the leading flash manufacturers in the world, Silicon Power, announced today that a new addition will take place in their ultra rugged Armor series lineup.
The Amor A80, which uses the royal blue color on its base frame, which is found in high performance sports cars. The Armor A80 offers outstanding performance, read and write speeds. The new addition to the Armor series lineup comes with the latest USB 3.0 interface, while it is also compatible with the USB 2.0. The USB 3.0 interface offers a 5 GBPS per second bandwidth, which is approximately ten times the bandwidth of the USB 2.0 interface, thus saving the precious time of the consumers when transferring mass data files.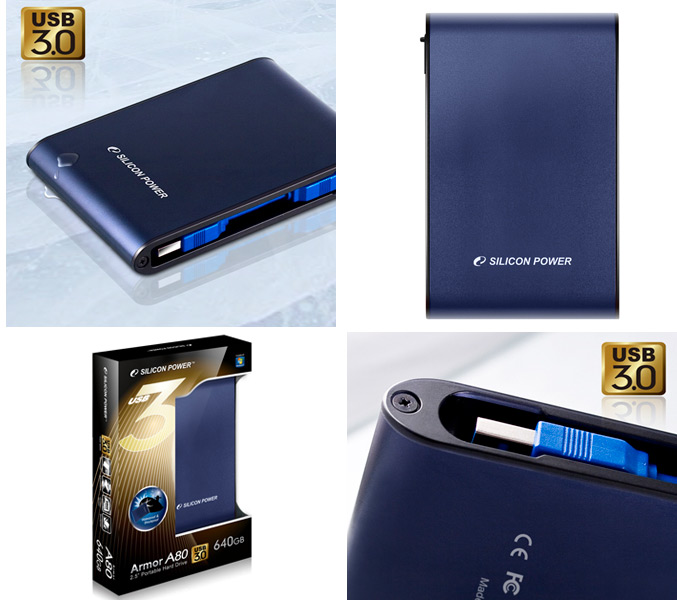 The Armor A80 continues the rugged functionality feature of the Armor Series, in addition to its amazing read and write speeds and performances. The Armor A80 also passed the IEC529 IPX7 Waterproof test, which means that it can be placed one meter deep under water for up to thirty minutes without receiving any damage. The Armor A80 is also resistant to pressure and dust-proof.
The Armor A80 portable hard drive comes with the USB 3.0 interface and with seven major protection functions. It also comes with a sixty days trial of the Norton Internet Security software.
The Amor A80 features include a USB 3.0 Super Speed when transferring mass data files; Water Resistant; Anti-Pressure and Anti-Dust functions; Cable carry design; LED Indicator and more.
| | |
| --- | --- |
| Specifications | |
| Dimensions | 139 x 96 x 18 mm |
| Weight | 270g |
| Standard Compliance | USB 3.0 / 2.0 |
| Data Transfer Rates | Max. 5 Gbps (USB 3.0 Mode) ; Max. 480 Mbps (USB 2.0 Mode) |
| Power Supply | DC5V (Power supplied through USB) |
| Support OS | Windows 7, Windows Vista, WinXP, Win2000, Mac 10.3.X above, Linux 2.6.X above |
| Operating Temperature | 5℃~ 55℃ |
| Storage Temperature | -40℃~ 70℃ |
| Capacity | 640GB, 500GB, 320GB |
| Color | Blue |
| Warranty | Three-year warranty |