Introducing this selection of new VAIO products, Hidetoshi Takigawa, Marketing Director for VAIO Of Europe said "VAIO is naturally positioned to take full advantage of the shift to High Definition. We have built a reputation on the quality of our displays, and our commitment to 'audio-visual computing'. This is a rather dry phrase for the most exciting fusion of entertainment and technology yet: here are systems that can double as personal HD theatres and HD video editing platforms, and which all feature integrated Blu-ray drives. People often talk about futuristic technology, but this isn't talk – this is the real thing."
VAIO AW-Series
Drawing on its strengths in the field of display design and refining them to a new level, VAIO has created a new class of portable. It has screen technologies never seen on a notebook, from the massive 18.4-inch diagonal and Full HD resolution to its 3LED backlighting system. Serious photographers and owners of HD camcorders will instantly appreciate the absolute colour fidelity on offer – full coverage of the Adobe® RGB colour space delivers the total accuracy essential to perfect editing. Quite simply, this is the best – and only – notebook screen of its kind.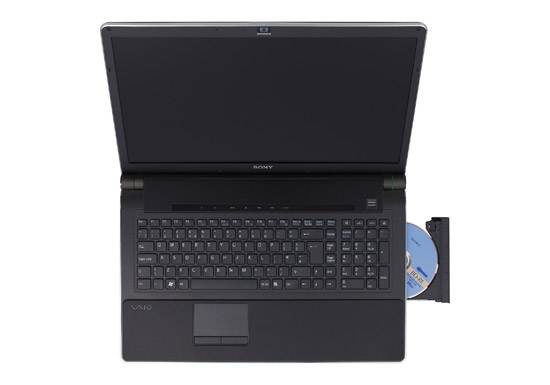 3LED backlighting is a technical breakthrough found on high-end BRAVIA™ LCD TVs. It uses the pure red, green and blue light emitted by LEDs to generate a super-wide colour gamut capable of correctly reproducing the full Adobe RGB colour space. Whether you are editing photographic images or HD video, or simply enjoying an HD movie, this means the best possible picture quality. Put this together with Full HD (1920 x 1080) resolution and you have the screen by which others will be judged.
The AW-Series comes with Adobe Photoshop® Lightroom® as well as Adobe Photoshop Elements, providing users with some of the very best photo-editing software tools available. Sony original software including Image Data Converter, Picture Motion Browser and α setting plug-in for Adobe Photoshop Lightroom further enhance the appeal to serious photographers. As well as the convenience provided by the settings plug-in, owners of Sony's α DSLR will experience the quiet pleasure of seeing an echo of the camera's design aesthetic in the distinctive and beautiful finishes available for the AW-Series.
The huge Full HD display offers true 16:9 widescreen, so when you play a movie on the integrated Blu-ray Disc™ drive, you are treated to superbly cinematic visuals. Dolby® Home Theatre audio signal processing and 2.1 channel speakers complete the mini-cinema effect, with enhanced bass from the integrated sub-woofer as well as immersive surround sound. Should you prefer, an HDMI™ output lets you the whole High Definition audiovisual experience to an HD TV or Home Theatre.
From a technical standpoint, the VAIO AW-Series is as impressive behind the scenes as from the front. Everything you need for outstanding multimedia performance is there, from the Intel® Core™ 2 Duo T9600 processor, power 3D graphics courtesy of NVIDIA's® 512MB GeForce® 9600M GT and a very special combination of disk technologies. In a world first, 128GB of Solid State Disk (SSD) Flash memory works together in a RAID array with the 500GB SATA drive to boost performance when working with large files, which are stored on the SSD for extremely fast access1.
VAIO RT
The VAIO RT is the world's first All-In-One to harness the power of Intel's Core 2 Quad processor. It is designed to bring out the very best in High Definition entertainment and to serve as a performance platform for HD video and still photo editing. Yet despite its huge versatility it offers the convenience and practicality of a highly compact footprint.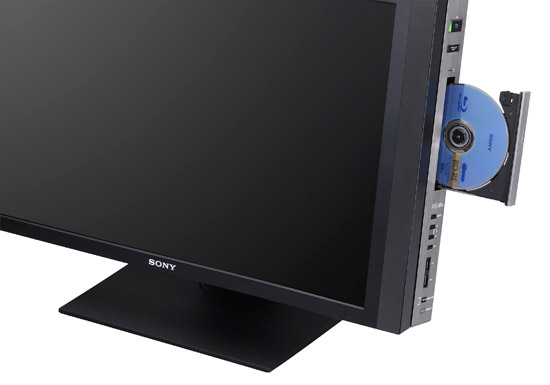 A single elegantly designed chassis contains an attention-grabbing 25.5-inch Full HD (1920 x 1200) widescreen display and an integrated PC component. The latter offers massive power from its Intel Core 2 Quad CPU, 512MB NVIDIA GeForce9600M graphics and 1 Terabyte (2 x 500GB) of hard disk storage.
An integrated Blu-ray Disc drive means you can watch movies in eye-popping Full HD, and also save your personal HD video content, photos and music in huge libraries of up to 50GB per disc. Newly designed speakers and a built-in subwoofer deliver a powerful, bass-rich sound with Dolby Home Theatre signal processing creating enveloping surround effects. To complete the VAIO RT's mastery of the role of personal HD theatre, it has a unique HDMI input which lets you connect an external HDMI source like an HD set-top box or PLAYSTATION®3. The user can switch at will between the HDMI signal and the PC itself.
The VAIO RT comes with some of the best photo editing software available, including the highly regarded Adobe Photoshop Lightroom and Adobe Photoshop Elements, plus Adobe Premiere Elements for HD and SD video editing. VAIO Movie Story uses built-in intelligence to organise your photo collections into fun musical slideshows in just a few simple stages, and VAIO Click to Disk makes saving your work to Blu-ray Disc so easy it's a pleasure rather than a chore.
VAIO LV/LN
The VAIO LV and VAIO LN are evolutions from the VAIO L-Series, the system which set the standard for All-In-One entertainment-orientated PCs. Each has been crafted to deliver a superior HD entertainment experience from a stylish and compact design featuring an ultra-bright screen with multiple lamp technology. Both the VAIO LV and LN have an integrated Blu-ray Disc drive, in the case of the VAIO LV with read/write capability so users can save all their photos and personal HD video in collections of up to 50GB per disc.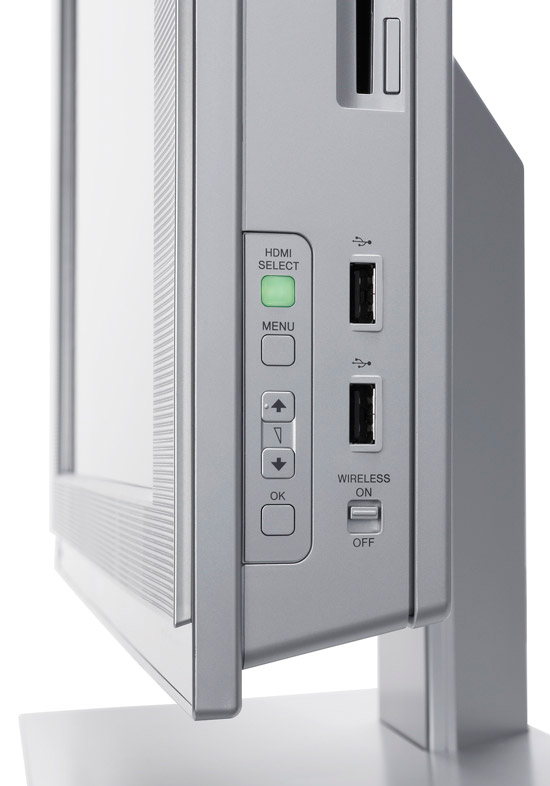 The VAIO LV has the larger screen, with a 24-inch diagonal and a 1920 x 1200 widescreen resolution, while the more compact VAIO LN has a 20.1-inch widescreen display operating at 1680 x 1050. In each case, an ergonomic 'Zero Degree' stand allows the screen to be set fully vertical for the ideal viewing angle while watching movies or TV. The latter is possible thanks to an integrated digital/analogue TV tuner which completes both models' entertainment credentials.
The keyboard has been carefully sized to fit neatly beneath the display, and the pedestal design helps conceal and manage the cabling. As an added convenience in this respect, the VAIO LV features an internal power supply unit.
The power of Intel's Core 2 Duo processor ensures optimum performance for tasks such as photo and video editing. The potential complexities of video editing are simplified by Adobe Premiere Elements, while VAIO Movie Story uses inbuilt intelligence to sort, synch to music and present your collections of photos, turning a mass of pictures into entertaining slideshows to share and enjoy repeatedly. Both systems are supplied with VAIO Click to Disk, so burning your favourite clips to Blu-ray Disk (VAIO LV) or DVD (VAIO LN) for safekeeping is the work of a moment.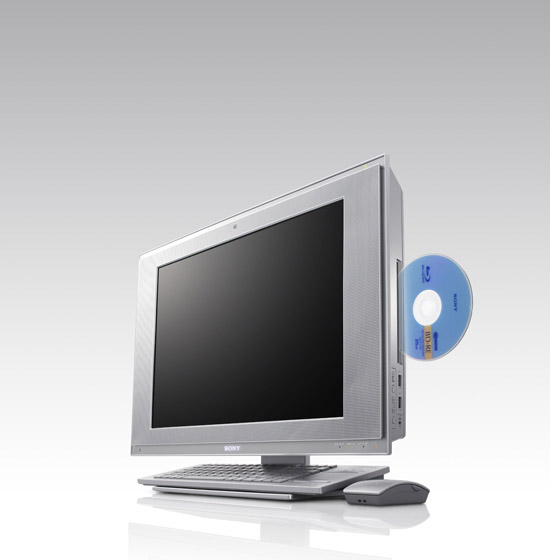 The VAIO LV even has a secondary hard disk slot which can house a removable drive. Once this drive is full it can easily be exchanged with a new unit for quick, highly convenient archival.
Like the VAIO RT, the VAIO LV and LN have the Sony exclusive HDMI input feature, so they can be connected up to an HD set-top box or PLAYSTATION 3, and the user can switch between the external device and the PC as desired.
1 Specifications are for model VGN-AW11XU/Q