Newer Technology, Inc. (NewerTech®) http://www.newertech.com, a leading developer of Macintosh®, PC, iPod®, and iPhone® performance upgrades and accessories, announced today the NewerTech USB Video Display Adapter for adding an additional HDMI, DVI, or VGA display with up to 2048 x 1152 resolution via any Mac or PC computer's standard USB 2.0 port. Functioning like a bus powered (no AC adapter required) "external video card," the $95.99 MSRP NewerTech USB Video Display Adapter enables users to expand the display capabilities of desktop and laptop computers that offer only one built-in display/video-out port while eliminating the cost and hassle of installing a video card into the computer.
Solves Single Monitor Dilemma In Two Steps
Single monitors often cannot provide enough display area for easy content viewing. Compounding that limitation is many computers only offer one display port. After a quick loading of the included driver software during first time use, the NewerTech USB Video Display Adapter makes adding an additional monitor to any USB 2.0 equipped computer a two-step Plug and Play process:
Plug the NewerTech USB Video Display Adapter into any available USB 2.0 port.
Plug the second monitor into the NewerTech USB Video Display Adapter.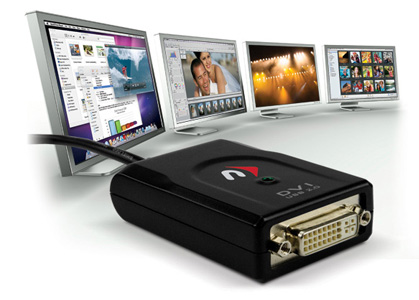 Extend Desktop or Clone Screen For Simultaneous Viewing On Up To Six Displays
The NewerTech USB Video Display Adapter connects to HDMI, DVI, and VGA equipped displays (including the latest HD flat panel LCDs, standard CRT monitors, and projectors) in full 32-bit color at resolutions of up to 2048 x 1152. Up to six adapters can be configured to either extend the desktop or clone a primary screen and provide greater visibility of more applications and information at the same time on up to six individual displays.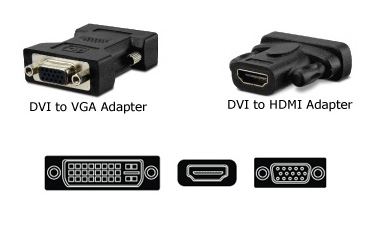 Multiple Monitors Increase Productivity 10%-50%
Once the exclusive use domain of financial and graphics professionals as well as video gaming enthusiasts, the ability to view multiple displays has become a necessity for everyday computer use that requires viewing a wide variety of content files and sources simultaneously. Productivity studies on multiple monitor usage have uncovered gains of 10% to 50% because users are able to perform a higher volume of work quicker and more accurately.
The NewerTech USB Video Display Adapter can be used to:
view large spreadsheets across two screens with display continuity.
multitask more effectively without overlapping windows.
read e-mail on one screen while opening attachments on another screen.
type documents on one screen while viewing reference material on another screen.
create Photoshop designs on one screen while using a second display for pallets/tools.
use a laptop to run multiple screens during a large audience presentation.
view investment charts and live market data at the same time.
view Internet TV or DVD movies on one screen and a computer's desktop on the other screen.
Available immediately, the NewerTech USB Video Display Adapter is priced at $95.99 MSRP from NewerTech's exclusive distributor, Other World Computing (OWC®), as well as through the retail channel. It's Mac and PC compatible and includes everything needed for DVI, HDMI and VGA display connectivity. For more information on the NewerTech USB Video Display Adapter, visit: http://www.newertech.com/products/viddu2dvia.php
Source: NewerTech