Although Dell has been working on the new Alienware M18X R2 gaming laptop for quite some time now and this is not a secret to anyone, no tech specs of the upcoming gaming monster have been revealed so far until now.
A source close to Dell has shared the expected tech specs of the novelty, although all information is preliminary and is subject to change by the manufacturer without notice. According to the source the Alienware M18X R2 will arrive with three quad-core Ivy Bridge processors – Core i7-3610QM at 2.3 GHz, Core i7-3720QM at 2.6 GHz and Core i7 – 3820QM at 2.7 GHz. Gamers' thirst for graphics power will also be satisfied with the inclusion of two AMD Radeon HD 7970M video cards in CrossFire mode or you can get two GeForce GTX 675M cards in SLI mode instead. The standard version of the laptop will come with GeForce GTX 660M.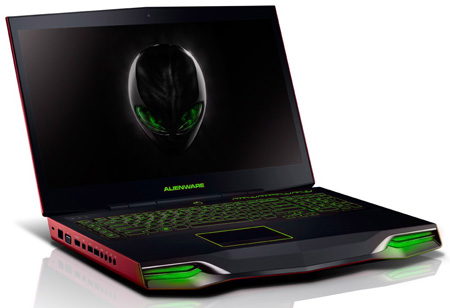 As to the display the Alienware M18X R2 will offer an 18.4-inch screen that works at 1920 x 1080 pixel resolution. A 2.5-inch 500 GB hard drive that spins at 7200 rpm will provide storage and for some more cash you can get either a 750 GB hard drive or a SSD, made by Samsung or Micron, with 512 GB of capacity. As to the RAM memory – Dell only offers 8 GB of RAM, which isn't much when we talk about a gaming laptop, but is more than enough for most computer games and tasks nowadays. Still, the memory is rather fast – depending on the chosen option the memory runs at 1600 MHz or 1866 MHz.
Powered by a 240 W or 330 W power supply, depending on the chosen options, the laptop also offers Wireless HD for some extra cash. The price – 2000 USD in the USA, although the commercial availability still remains sometime in the future.
Source: IXBT