AMD has officially launched the next generation Brazos APUs at an event held at the ongoing Computex trade show in Taipei, Taiwan. The second generation of Brazos APUs will complement the already launched Trinity APUs and will target budget-oriented consumers looking for an extended battery life.
The new Brazos APUs also build on the first generation – they now come with improvements in both the CPU and GPU cores, special optimizations for the upcoming Windows 8 operating system, as well as an integrated and updated controller hub with on-board USB 3.0 and an integrated SD card reader.
"In 2011, we showed the industry you could get discrete-level GPU power in a notebook without added power consumption or cost, resulting in the most successful notebook platform in AMD's history," claimed Chris Cloran, corporate vice president and general manager of AMD's client business unit, at the launch event. "Today we raise the bar even higher with our latest APU offering. Our 2012 AMD E-Series APU gives consumers a visually superior choice for everyday performance with the latest graphics technology and nearly three hours more battery life than the competition."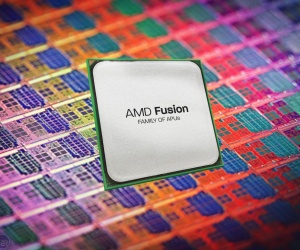 The Brazos 2.0 chips will belong to the E-series APU line. At the event AMD unveiled just two Brazos 2.0 chips, but more will come later on. The E2-1800 APU offers two cores at 1.7 GHz each, 1 MB of L2 cache, and an integrated Radeon HD 7340 GPU with 80 stream processors, which operates at 523 MHz base clock speed that goes up to 680 MHz under load. An additional feature of the E2-1800 is the AMD Steady Video Technology, which gets rid of camera judder in video files.
The cheaper and slower E1-1200 also offers two cores but now they run at 1.4 GHz, while the on-chip Radeon HD 7310 comes with 80 stream processors too, but in the E1-1200's case they operate at 500 MHz with no Turbo functionality. Also, the E1-1200 lacks AMD's Steady Video Technology.
Another greatly improved feature of the new E-series APUs is their energy efficiency. Both E1-1200 and E2-1800 APUs fit within an 18W TDP. According to AMD, a laptop built around the E1-1200 APU manages 674 minutes of idle battery life, while a similar laptop that uses an Intel Celeron B800 chip can last just 496 minutes under the same conditions.
Commercial availability was not confirmed by AMD, but devices with the new Brazos 2.0 APUs are expected on the market soon.
Source: Bit-tech.net