ASUS today added the Eee PCTM T91 to its highly-successful Eee PCTM line. This new model is the first to sport an 8.9″ swivelable touchscreen and a suite of touch-optimized software that enables users to get the most out of finger or stylus input-thus transcending the capabilities of previous generations of devices in its class. The Eee PCTM T91 was first unveiled at CES 2009 to tremendous buzz, and it is yet another example of ASUS outstripping its competitors in terms of being the first to market with cutting-edge innovations.
The Eee PCTM T91's unique software applications, collectively known as TouchSuite, allow users to perform a myriad of fun tasks with their fingertips, such as touching up photos, creating photo albums, leaving handwritten desktop memos for loved ones, and sketching cartoons or custom emoticons.
The Eee PCTM T91's tablet PC functionality makes it easy to cradle in one arm, enabling users to read documents, scribble ideas into digital notebooks and surf the Internet while traveling on foot. The Eee PCTM T91 is also equipped with a TV tuner* and Global Positioning System (GPS)* for extensive entertainment options and advanced navigation capabilities on the go.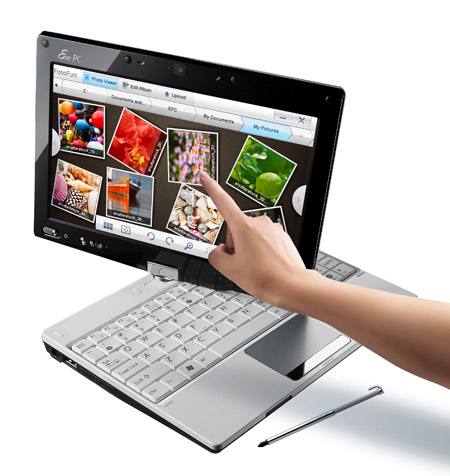 The Eee PCTM T91 is available in Black and White to match different moods, personalities and lifestyles.

Touchscreen and Convertible Tablet PC Form Factor for Flexibility of Use
A key benefit of the Eee PCTM T91's touchscreen and tablet PC form factor is the flexibility they afford users. No longer must the device be used on a flat plane such as a table. With the Eee PCTM T91 folded flat like a slate, users will be able to use it comfortably while standing up. Users will be able to read notes, sketch ideas directly onto the screen, chat on IM, surf the Internet, and play games while walking. Furthermore, the Eee PCTM T91 accepts fingertip input and handwriting, ensuring that scrolling through documents and keying in text are simple affairs.

Sensational Software Suite
The Eee PCTM T91's software suite enables users to get the most out of the touchscreen. The programs of particular note include:
FotoFun
FotoFun allows users to flip through, organize and edit their photos via a customizable photo album interface. With just the flick of a finger, users can perform tasks such as adjusting image brightness, zooming in and out, and adding beautiful overlays such as frames. Users can even upload their edited pictures to popular photo-hosting websites conveniently via FotoFun.
Memos
Forgetting important appointments is a thing of the past with Memos. Memos allows users to jot down handwritten notes which can then be 'stuck' on the desktop. Users can even send interactive memos across Eee PCsTM*. For example, a memo sent from a son's Eee PCTM T91 reminding his father to see the doctor will appear on the father's Eee PCTM T91.
Touch Gate
Touch Gate takes ease of use to a new dimension by enabling users to switch between different user interfaces on the fly. Users can choose from XP Mode, which is the standard Windows XP interface with the addition of a convenient application dock; Widget Mode which displays a plethora of information in neat, easily-organized widgets; and Touch Mode, a streamlined interface featuring large icons that makes it extremely easy for users to launch programs with their fingers.
IE Toolbar
IE Toolbar is a convenient toolbar in Internet Explorer that enables users to easily zoom in and out of web pages by manipulating a slider with their fingers. It also simplifies and speeds up switching between open web pages.
The programs above constitute just a fraction of the software specially designed to add a touch of convenience to computing.
Sleek and Stylish Portability
Anticipating that the Eee PCTM T91 will spend a sizable amount of its time cradled in users' arms, ASUS' designers made sure to keep it extremely slim and light. The Eee PCTM T91 measures just 225cm by 164cm, and weighs a mere 0.96kg-making it one of the smallest and thinnest gadgets with an 8.9″ display in the world today. Its diminutive size also means that users will be able to use the Eee PCTM T91 in tight spaces, such as on congested public transport. Carrying the Eee PCTM T91 would be similar to toting a magazine around.
Always-on Connectivity
The Eee PCTM T91 is equipped with 3G plus (HSUPA) technology*, enabling high-speed Internet access anywhere. It also features Wi-Fi 802.11n and Bluetooth® connectivity, providing quick and simple wireless connections to the Internet and personal devices. A built-in GPS* also guides users to wherever from wherever, enhancing their mobility.
One-touch Entertainment on the Go
In addition to boasting robust video, music and photo playback capabilities, the Eee PCTM T91 features a built-in TV tuner*, ensuring that there will be no shortage of entertainment options for users while on the move. Users can also choose to upload up to 20GB of media and documents to the free online storage facility known as Eee Storage for access to files anytime, anywhere.
Extended Battery Life with Super Hybrid Engine
The Eee PCTM T91 features ASUS' exclusive Super Hybrid Engine (SHE) which reduces energy consumption up to 15%, letting users enjoy up to 5 hours of continuous use per charge**. This eliminates the need to lug power adapters along with them. SHE also allows users to make quick adjustments to the Eee PC T91's performance and power consumption through readily-accessible presets. Through SHE, the Eee PCTM T91's performance can be boosted by as much as 14%.
Specifications
Model
Eee PC™ T91
Operating System
Genuine Windows® XP Home
Display
8.9″ LED-backlit / Resistive Touch Panel
CPU
Intel® Atom Z520
Chipset
Intel® US15W
LAN
Onboard 10/100 Mbps Fast Ethernet controller
Wireless Data Networking
WLAN: 802.11b/g/n
Bluetooth V2.1
Memory
1GB (DDR2)
Storage
Total 82GB (16GB Solid State Drive + 16GB SD Card + 30GB Portable Hard Disk Drive* + 20GB Eee Storage)
Interface
1 x VGA port (D-sub 15-pin for external monitor)
2 x USB 2.0 ports
1 x LAN RJ-45
2 x audio jacks: Headphone / Mic-in
Camera
0.3 M Pixel
Reader
3-in-1 MMC, SD, SDHC flash card slot
Audio
Hi-definition audio CODEC
Built-in high quality stereo speakers
Digital Array Mic
Battery Life
Li-Polymer battery, 5hrs**
Dimensions
225mm (W) x 164mm (D) x 25.2 ~ 28.4mm (H)
Weight
0.96kg
Optional
GPS, TV Tuner, 3G plus (HSUPA)
Casing Colors / Infusion
White, Black
Miscellaneous
Comes with a well-designed stylus
Source: MSI