The Republic of Gamers (ROG) division of ASUS has announced one more gaming notebook line under the G752 model name. The new line includes three models – ROG G752VL, ROG G752VT and ROG G752VY.
All the notebooks in the new line come with very stylish black chassis that include orange touches here and there. The thickness of the new notebook ranges – the G752VL/VT models are 43 mm thick and the G752VY is 53 mm thick. Due to this fact the weight also varies between 4.06 kg and 4.36 kg. The varying thickness is here because of a very interesting cooling solution inside – temperature uniformity vapor chambers.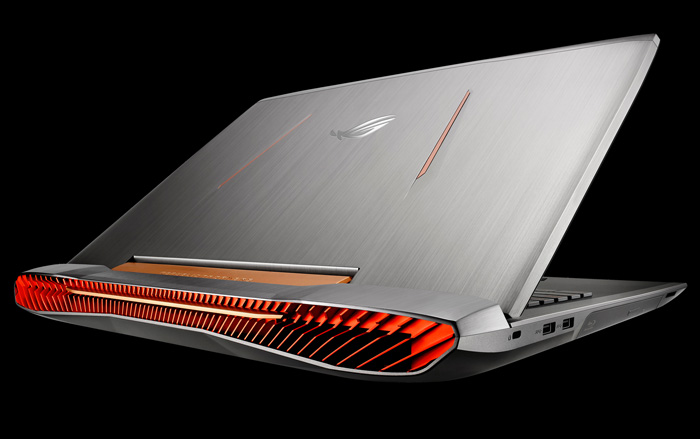 The notebooks are based on powerful Intel Core i7 Skylake processors and come with a video card choice – select among GeForce GTX 965M with 2 GB of VRAM, GeForce GTX 970M with 3 GB or 6 GB of VRAM and GeForce GTX 980M with 4 GB or 8 GB of VRAM. The machines can use up to 64 GB of DDR4-2133 SO-DIMM memory and offer 1 TB/2 TB of hard drive storage onto a 2.5-inch hard drive or a 128 GB/256 GB SSD. The list of peripheral devices includes a DVD/BD-ROM/BD-RW optical drive, a built-in HD camera, Killer Wireless-N 1202 Wi-Fi adapter, Bluetooth and Gigabit Ethernet adapters, USB 3.0 ports, HDMI, Thunderbolt and a D-Sub connector. There's also a LED-backlit keyboard with 107 keys that is also capable of recognizing up to 30 simultaneously pressed keys and two types of batteries that power the notebooks – the ROG G752VL and ROG G752VT models offer a 6-cell battery, while the ROG G752VY has an 8-cell one. Last but not least, the G752 line comes with high-quality 17.3-inch anti-glare displays that work at Full HD resolution and support NVIDIA G-Sync technology.
 The new ASUS G752 notebook line runs Windows 10 out of the box. No word on pricing as of now.
Source: ASUS ROG