Taking multimedia entertainment further—the new ASUS N61 and N71 notebooks are designed to provide users with audio and visual enjoyment at the highest level.
They feature a 'new wave' design which not only lends an air of futurism to the overall exterior, but also serves as a visual representation of their multimedia prowess. Both the N61 and N71 are equipped with ASUS' exclusive SonicMaster design—the result of extensive amplification system fine-tuning by the Research and Development team at ASUS—to deliver unparalleled audio reproduction. In addition to the SonicMaster design, the N61 and N71 offer a comprehensive suite of high performance audio solutions, which include Altec Lansing® speakers and SRS Premium Sound™. Powered by NVIDIA® CUDA™ and a dedicated NVIDIA® GeForce® GT 240M* graphics card with 1GB video memory, the ASUS N61 and N71 deliver realistic visuals via 16-inch and 17.3-inch flushed LED-backlit displays respectively.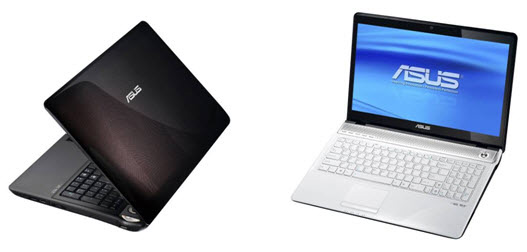 Superlative Audio Entertainment with ASUS SonicMaster
To provide users with audio quality never before enjoyed on notebooks, ASUS embarked on an extensive research and development project undertaken by a select group of highly trained audio experts. The result is the exclusive ASUS SonicMaster design, which features a dedicated resonance space arrangement that provides sound layering for crisp and crystal clear audio reproduction. This is achieved by utilizing a paper-foam cone design which dramatically improves the sound quality across the different sonic ranges, allowing users to hear every beat and rhythm being played. The high density foam improves the lower audio range, while paper softens the mid-range vocals, making it more subtle. These exclusive technologies, combined with Altec Lansing® speakers and SRS Premium Sound™, deliver high definition audio enjoyment for users while on-the-move.
Powerful Graphics with 1GB Video Memory and GPU Computing with NVIDIA®
The ASUS N61 and N71 notebooks feature graphics powered by a dedicated NVIDIA® GeForce® GT 240M graphics card with 1GB DDRIII memory*. It delivers a sense of realism by providing users with true-to-life graphics, breathtaking vibrancy and clarity. With NVIDIA® CUDA™ technology, users are also able to run demanding tasks faster than what was previously unachievable. CUDA™ utilizes a parallel computing architecture to solve complex computational problems and to accelerate applications beyond just graphics. This allows the ASUS N61 and N71 notebooks to transcode music, photographs and videos up to 20 times* faster, play back video and DVD up to 15 times* faster, as well as enhance and edit video 10 times* faster.
Working in concert with CUDA™ is another ASUS exclusive, the Video Magic software pack. It upscales the resolution of conventional DVDs from the standard 740p to full high definition 1080p, as well as naturalizes the color and brightness of the images displayed. By upgrading the frame rate from 24/30fps to an astonishing 60/72fps, users can enjoy smoother DVD playback anywhere, anytime.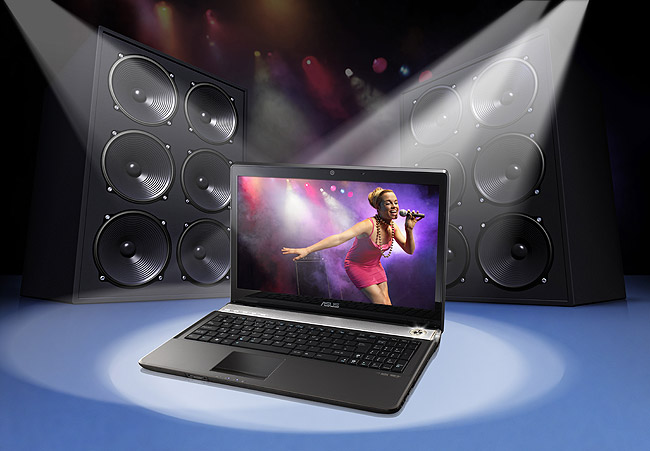 Designed to Delight the Senses
With an internal architecture created to delight the senses, the ASUS N61 and N71's exterior is no less exquisite. 16-inch and 17.3-inch flushed LED-backlit displays adorn the ASUS N61 and N71 respectively, each boasting a 16:9 aspect ratio reminiscent of high-end High Definition televisions. The ASUS N71 also supports dual headphone input, or 5.1 channel output, while its subwoofer further enhances bass reproduction. Finally, the ASUS N71 features 1-terabyte of hard disk drive storage*, enabling users to carry more multimedia and other forms of data with them while out and about.
Specifications
Model
ASUS N61Vn
ASUS N61Vg
Processor and Cache Memory

Intel® Core™2 Quad processor Q9000, 2GHz
Intel® Core™2 Duo processor T9600/P8800/P7450/T6600, 2.8-2GHz

Intel® Core™2 Duo processor T9600/P8800/P7450/T6600, 2.8-2GHz

Operating System

Genuine Windows Vista® Home Premium 32-bit
Windows® 7 Home Premium
Windows® 7 Home Basic
Windows® 7 Professional
Windows® 7 Ultimate

Genuine Windows Vista® Home Premium 32-bit
Windows® 7 Home Premium
Windows® 7 Home Basic
Windows® 7 Professional
Windows® 7 Ultimate

Chipset
Intel® PM45
Intel® PM45
Main Memory
DDR3 1066MHz DRAM
2 x SODIMM slot for expansion up to 4096MB
DDR2 800MHz DRAM
2 x SODIMM slot for expansion up to 4096MB
Display
16.0-inch HD LED panel (1366 x 768)
16.0-inch HD LED panel (1366 x 768)
Video Graphics
NVIDIA® GeForce® GT 240M with 1GB DDR3 VRAM
NVIDIA® GeForce® GT 220M with 1GB VRAM
Storage

250GB/ 320GB/ 500GB (5400 RPM)
320GB/500GB (7200 RPM)

250GB/ 320GB/ 500GB (5400 RPM)
320GB/500GB (7200 RPM)

Optical Drive

DVD Super Multi Double Layer
Blu-ray DVD Combo

DVD Super Multi Double Layer
Blu-ray DVD Combo

Dimensions and Weight

38.4cm x 26.5cm x 2.78 ~ 3.91cm
2.9kg (with 6-cell battery)

38.4cm x 26.5cm x 2.78 ~ 3.74cm
2.71kg (with 6-cell battery)
Model
ASUS N71Vn
ASUS N71Vg
Processor and Cache Memory

Intel® Core™2 Quad processor Q9000, 2GHz
Intel® Core™2 Duo processor T9550/P8700/P7350, 2.66-2 GHz

Intel® Core™2 Duo processor T9550/P8700/P7350, 2.66-2GHz

Operating System

Genuine Windows Vista® Home Premium 32-bit
Windows® 7 Home Premium
Windows® 7 Home Basic
Windows® 7 Professional
Windows® 7 Ultimate

Genuine Windows Vista® Home Premium 32-bit
Windows® 7 Home Premium
Windows® 7 Home Basic
Windows® 7 Professional
Windows® 7 Ultimate

Chipset
Intel® PM45
Intel® PM45
Main Memory
DDR3 1066 MHz DRAM
2 x SODIMM slot for expansion up to 4096MB
DDR2 800 MHz DRAM
2 x SODIMM slot for expansion up to 4096MB
Display
17.3-inch HD+ LED panel (1600 x 900)
17.3-inch HD+ LED panel (1600 x 900)
Video Graphics
NVIDIA® GeForce® GT 240M with 1GB DDR3 VRAM
NVIDIA® GeForce® GT 220M with 1GB VRAM
Storage

320GB/ 500GB (5400 RPM)
320GB/500GB (7200 RPM)

Dual HDD support

320GB/ 500GB (5400 RPM)
320GB/500GB (7200 RPM)

Dual HDD support

Optical Drive

DVD Super Multi Double Layer
Blu-ray DVD Combo

DVD Super Multi Double Layer
Blu-ray DVD Combo

Dimensions and Weight

42cm x 28.4cm x 3.7 ~ 4.1cm
3.4kg (with 6-cell battery)

42cm x 28.4cm x 3.65 ~ 3.95cm
3.2kg (with 6-cell battery)

Source: Asus