ASUS ROG G73Jh gaming laptop announced

Asus today introduced the Republic of Gamers (ROG) G73Jh gaming notebook, design inspired by a stealth fighter. The laptop is powered by latest Intel Core i7 processor(top-of-the-line model has i7-820QM), DirectX 11-capable ATI Radeon HD5870 graphic card and up to 8GB of DDR3 system memory.
The Asus G73Jh comes with 17.3" FHD LED-backlit screen (1920 x 1080),  Intel  HM55 Chipset, up to 1TB SATA HDDs,  DVD Super-Multi / Blu-ray Combo, 2 megapixel camera and simulated 7.1-channel HD audio with EAX 4.0 compatibility. The G73Jh also features one-click, on-the-fly overclocking capabilities—perfect for gamers looking to push the hardware to the very limit.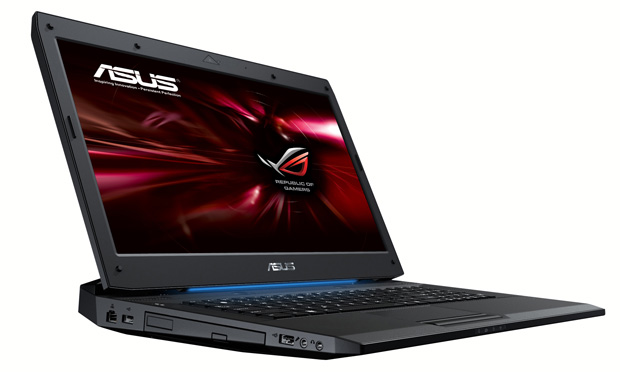 "The G73Jh sports a striking angular design inspired by the iconic F-117 Nighthawk." Far from being merely cosmetic, every facet of the G73Jh's design reflects a conscious effort to improve the user experience. For example, the placement of all the heat and noise-generating components at the rear of the notebook and the implementation of a unique twin rear venting system keep the heat and noise as far away from the user as possible. The innovative placement of components also allows the palm rest to be exceptionally thin, just like a desktop keyboard. Furthermore, the keyboard plane is inclined 5 degrees, improving ergonomics and thus ensuring optimal comfort while gaming and typing."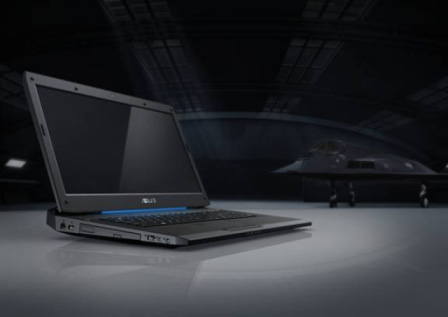 Specifications
ASUS ROG G73Jh
Display
17.3" FHD LED-backlit (1920 x 1080)
17.3" HD+ LED-backlit (1600 x 900)
Operating System
Genuine Windows® 7 Ultimate
Genuine Windows® 7 Home Premium
CPU
Intel® Core™ i7-820QM/i7-720QM Processor
Intel® Core™ i5-620M/540M/520M/430M Processor
Intel® Core™ i3-350M/330M Processor
Chipset
Mobile Intel® HM55 Chipset
Memory
DDR3 1066 MHz up to 8GB (Intel® Core™ i7-720QM / i7-820QM platform)
DDR3 1066 MHz up to 4GB (Intel® Core™ i7-620 / i5 / i3 platform)
Graphics
ATI® Mobility Radeon® HD 5870 with 1GB GDDR5 VRAM
Storage
2.5" SATA 320/500/640GB (5400 rpm)
2.5" SATA 320/500GB (7200 rpm)
Double HDD Support (Without RAID 0/1)
Optical Drive
DVD Super-Multi / Blu-ray Combo
Camera
Built-in 2 megapixel camera
Dimensions
320mm x 415mm x 56.89~18.9mm
Source: Asus