The new ASUS UnLimited Series of notebooks is designed to provide the very best of cutting-edge computing for individuals who accept zero compromise on performance. It features the latest Intel® Core™2 Duo SU7300 processor for unparalleled multitasking muscle to take on process-intensive applications, as well as a dedicated NVIDIA® GeForce® G 210M graphics card for true-to-life images for games, videos and movies.
The ASUS UnLimited Series is capable of delivering these benefits with up to 12 hours* of battery life, thanks to the exclusive ASUS GraphiX Boost which allows users to conserve their battery power by switching between dedicated and integrated graphics. These innovations adorn a stunningly slim chassis, measuring less than 1-inch in profile and tastefully decked in brushed aluminum finishing.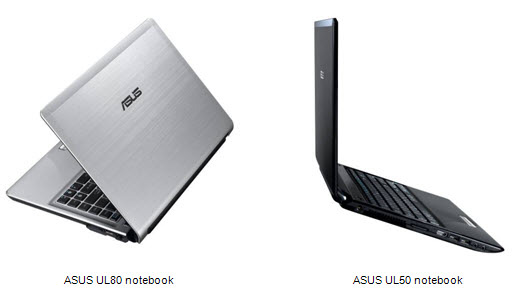 UnLimited Performance, Infinite Possibilities
The ASUS UnLimited Series is a hugely capable mobile computing companion that delivers powerful multitasking capabilities to users while on-the-go. Powered by an Intel® Core™2 Duo SU7300 processor, it features multi-core processing which combines two independent processor cores into one physical package. With up to 8GB DDR2 memory on tap, the result is the rapid acceleration of system processes which translate into a smoother computing experience.
The ASUS UnLimited Series is also designed to provide users with unlimited entertainment after hours. It features a high definition LCD display with a 16:9 aspect ratio, with graphics powered by a dedicated NVIDIA® GeForce® G 210M graphics card with 512MB VRAM. It delivers true-to-life graphics for a myriad of entertainment purposes, from videos to movies and games. Working in concert with the stunning visuals are two specially designed Altec Lansing® speakers supported by SRS Premium Sound™ that provide a wider frequency range, delivering lower pitches to allow users to hear every reverberation of the drums, as well as every note in pitch perfect quality.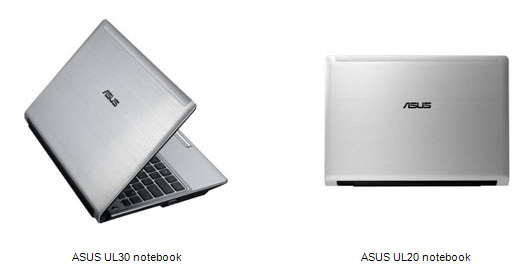 UnLimited Battery Life, Endless Entertainment
To provide users with longer lasting battery life for unlimited, all-day computing and entertainment, the ASUS UL Series boasts a battery lifespan of up to 12 hours*. This is attributed to an ingenious and exclusive GraphiX Boost technology, which gives users the option of switching between the dedicated NVIDIA® GeForce® G 210M graphics card for graphically intensive applications, and integrated graphics for better energy savings. Equally exclusive is the ASUS Power4Gear, which facilitates the deployment and usage of power according to the users' preferences in relation to the specific tasks that they need to perform. The user can choose from four power profiles to suit their prevailing usage. Power4Gear also offers the option of turning off hardware devices to conserve even more energy.
UnLimited Mobility, Limitless Discoveries
A powerful, go-anywhere, do-anything notebook, the ASUS UnLimited Series measures less than 1-inch thick and features a lightweight yet highly robust brushed-aluminum lid. It provides a contemporary exterior with incredible resilience against the bumps and knocks of day-to-day use—perfect for work and play. A flushed multi-touch touchpad delivers ease of use by allowing users to intuitively zoom in or out of pictures via pinching, or navigate up and down pages by sliding their finger. The ASUS UnLimited Series is also equipped with an ergonomic chiclet keyboard and full-sized numerical keypad** which minimizes dust accumulation enables faster numeric input via with larger key-caps.
Specifications
Integrated Graphics
Model
UL20A
UL30A
Processor and Cache Memory

Intel® Core™2 Duo Processor SU7300, 1.3GHz
Intel® Core™2 Solo Processor SU3500, 1.4GHz
Intel® Celeron Processor SU2300/743, 1.2GHz

Intel® Core™2 Duo Processor SU9400/SU7300, 1.4-1.3GHz
Intel® Celeron Processor SU2300/743, 1.2GHz

Operating System
Genuine Microsoft Windows® Vista
/ Windows® 7 upgradeable

Genuine Windows Vista® Ultimate
Genuine Windows Vista® Business
Genuine Windows Vista® Premium
Genuine Windows Vista® Basic
Windows® 7 upgradeable

Chipset
Mobile Intel® GS45 Chipset
Mobile Intel® GS45 Chipset
Main Memory
Up to 4GB DDR2 800MHz
Up to 4GB DDR3 1066MHz
Display
12.1″ LED Backlight WXGA Glare-type (1366 x 768)
13.3″ 16:9 HD slim-type LCD (1366 x 768)
Video Graphics
Intel® GMA 4500MHD
Intel® GMA 4500MHD
Storage

160GB (5400rpm)
250GB (5400rpm)
320GB (5400rpm)

250GB (5400rpm)
320GB (5400rpm)
500GB (5400rpm)

Optical Drive
N/A
N/A
Communications
Built-in 0.3 megapixel camera

Built-in 0.3 megapixel camera
3.5G WWAN optional

Dimensions and Weight

296mmx210mmx25.1mm (3 cell)~30.9mm (6 cell)
1.5kg

322mm x 232mm x 14.8-24.2mm
1.5Kg
Integrated Graphics
Model
UL50A
UL50Ag
Processor and Cache Memory

Intel® Core™2 Duo Processor SU7300, 1.3GHz
Intel® Core™2 Solo Processor SU3500, 1.4GHz

Intel® Core™2 Duo Processor SU9400/SU7300, 1.4-1.3GHz
Intel® Celeron Processor SU2300, 1.2GHz

Operating System

Genuine Windows Vista® Ultimate
Genuine Windows Vista® Business
Genuine Windows Vista® Premium
Genuine Windows Vista® Basic
Windows® 7 upgradeable

Genuine Windows Vista® Ultimate
Genuine Windows Vista® Business
Genuine Windows Vista® Premium
Genuine Windows Vista® Basic
Windows® 7 upgradeable

Chipset
Mobile Intel® GS45 Chipset
Mobile Intel® GS45 Chipset
Main Memory
Up to 4GB DDR3 1066MHz
Up to 4GB DDR2 800MHz
Display
15.6″ 16:9 HD slim-type LCD (1366 x 768)
15.6″ 16:9 HD (1366 x 768) slim-type LCD
Video Graphics
Intel® GMA 4500MHD
Intel® GMA 4500MHD
Storage

250GB (5400rpm)
320GB (5400rpm)
500GB (5400rpm)

250GB (5400rpm)
320GB (5400rpm)
500GB (5400rpm)

Optical Drive
DVD Super Multi
DVD Super Multi
Communications
Built-in 0.3 megapixel camera
Built-in 0.3 megapixel camera
Dimensions and Weight

386mm x 259mm x 16.4-26.4mm
2.1kg

386mm x 259mm x 16.4-26.4mm
2.1kg
Integrated Graphics
Model
UL80Ag
Processor and Cache Memory

Intel® Core™2 Duo Processor SU9400/SU7300, 1.4-1.3GHz
Intel® Celeron Processor SU2300/743, 1.2GHz

Operating System

Genuine Windows Vista® Ultimate
Genuine Windows Vista® Business
Genuine Windows Vista® Premium
Genuine Windows Vista® Basic
Windows® 7 upgradeable

Chipset
Mobile Intel® GS45 Chipset
Main Memory
Up to 4GB DDR2 800MHz
Display
14.0″ 16:9 HD (1366 x 768) slim-type LCD
Video Graphics
Intel GMA 4500MHD
Storage

250GB (5400rpm)
320GB (5400rpm)
500GB (5400rpm)

Optical Drive
DVD Super Multi
Communications
Built-in 0.3 megapixel camera
Dimensions and Weight

338mm x 240mm x 14-26.8mm
2kg
Dedicated Graphics
Model
UL80V
UL50Vg
Processor and Cache Memory

Intel® Core™2 Duo Processor SU9400/SU7300, 1.4-1.3GHz
Intel® Celeron Processor SU2300/743, 1.2GHz

Intel® Core™2 Duo Processor SU9400/SU7300, 1.4-1.3GHz
Intel® Celeron Processor SU2300, 1.2GHz

Operating System

Genuine Windows Vista® Ultimate
Genuine Windows Vista® Business
Genuine Windows Vista® Premium
Genuine Windows Vista® Basic
Windows® 7 upgradeable

Genuine Windows Vista® Ultimate
Genuine Windows Vista® Business
Genuine Windows Vista® Premium
Genuine Windows Vista® Basic
Windows® 7 upgradeable

Chipset
Mobile Intel® GS45 Chipset
Mobile Intel® GS45 Chipset
Main Memory
Up to 4GB DDR3 1066MHz
Up to 8GB DDR2 800MHz
Display
14.0″ 16:9 HD slim-type LCD (1366 x 768)
15.6″ 16:9 HD slim-type LCD (1366 x 768)
Video Graphics
NVIDIA® GeForce® G 210M with 512MB DDR3 VRAM
NVIDIA® GeForce® G 210M with 512MB DDR3 VRAM
Storage

250GB (5400rpm)
320GB (5400rpm)
500GB (5400rpm)

250GB (5400rpm)
320GB (5400rpm)
500GB (5400rpm)

Optical Drive
DVD Super Multi
DVD Super Multi
Communications
Built-in 0.3 megapixel camera
Built-in 0.3 megapixel camera
Dimensions and Weight

338mm x 240mm x 14-26.8mm
2kg

386mm x 259mm x 16.4-26.4mm
2.1kg

Source: Asus