World-leading innovator of digital lifestyle products, BenQ, staked their claim in the emerging ULV (Ultra-Low Voltage) notebook market with the debut today of their 3.5-pound 13.3" Joybook S35 and 4.6-pound 14" Joybook S43, powered by Intel's® latest ULV processors. Engineered for the mobile businessman and Internet enthusiast, the Joybooks feature super-fast WIFI, eSATA high-speed data transfer, and extra-long battery life – 11 hours on the S35 using an optional 8-cell battery and 5.5 hours with the standard 4-cell battery; almost 5 hours on the S43 with a standard 6-cell battery. A suite of multimedia must-haves for work and play include HDMI, dGPU (S43 only), a 2-channel TruSurround HD™ system, 500GB HDD, 8X Super-Multi DVD (S43 only), and UltraVivid™ high-definition LED screens sporting 16:9 aspect ratios.* Despite their mainstream consumer price point, the new Joybooks reflect luxury style distinctive of the BenQ brand.
Addressing the inevitable comparison of ultra-thin notebooks to that of netbooks, Peter Chen, General Manager of BenQ Technology Product Center, explained: "Our new Joybooks employing ULV components are tailored to enhance the digital lifestyle enjoyment of a very specific consumer: one that desires the portability and affordability of a netbook, but requires the higher functionality of a notebook. The S35/S43 is the clear, distinct solution between these two categories of laptops."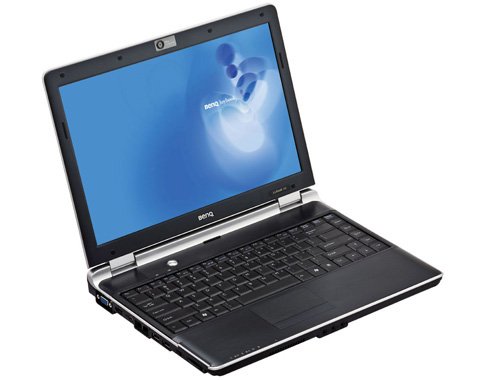 Indeed, the S35/43 is designed to the everyday-use standards of businessmen and serious Internet surfers, delivering higher speed and more capability than light-use netbooks. First, Intel's ULV processors (Core™2 Duo SU7300, Core™2 Solo SU3500, or Celeron® 723/743)* ensure solid performance for office, multimedia, and Internet. Second, visual magnificence is guaranteed full-screen and artifact-free in native 1366×768 resolution courtesy of an 8ms response time, performance GPUs (ATI Mobility Radeon™ HD4330 dGPU on the S43; Intel GMA4500M iGPU on the S35), all-digital HDMI connection, and the sheer benefits in color and contrast that come with LED technology. BenQ's exclusive UltraVivid technology with low-reflectivity, anti-glare Display Brilliance Enhancement Film further optimizes visuals, indoors or out, for exceptional color depth, contrast, and detail definition.
For multimedia bliss, the S35 and S43 are equipped with a webcam (with Magic-i™ Visual Effects 2 and WebCam Companion™ 3), microphone, integrated speakers, a 2-channel TruSurround HD™ sound system with SRS Headphone 360™, and a large-capacity HDD (available up to 500GB) for loading a take-anywhere digital multimedia library. Both models boast eSATA high-speed data connection for data transfer that's three times faster than USB 2.0. The S43 is further distinguished by an 8X DVD Super-Multi optical disc drive.
Users will also delight in the Joybooks' highly accommodating, effortless connectivity featuring 802.11b/g/n WLAN card, built-in 10/100/1000 Ethernet, and optional Bluetooth 2.1+EDR. A 4-in-1 card reader, USB 2.0 x 3, RJ-45, and future-proof HDMI are also included.
To promote an ultra-portable, happy-go-lucky digital lifestyle, BenQ graced the new Joybooks with carefully-chosen, highly energy-efficient components so that the S43 lasts nearly 5 hours, and the S35 up to a carefree 11 hours (using the optional 8-cell battery). Both models are available in super high-gloss cobalt or ebony, with extreme polish and wear resistance made possible by IMR processing. User comfort is enhanced by a full-size keyboard (flip-top on S43) and a gapless touchpad that is seamlessly continuous with the palm rest, preventing unsightly dust from accumulating in fine crevices. The S35 also boasts a unique "flying eaves" hinge design and a raised dot pattern that distinguishes the palm rest from the sunken pattern of the touchpad for visual fluidity in design that is easily discerned by touch.
The Joybook S35 and S43 ULV notebooks will begin launching end of August and will eventually be sold throughout China, Taiwan, and the Asia Pacific. For more information, please visit BenQ.com.
Source: BenQ