Dospara is a company that perhaps many of you haven't heard of but the company hails from Japan and deals with high-end computers. After the recent launch of the high-end Prime Galleria ARK FRONTIER HZ gaming desktop PC Dospara has prepared a new mobile gaming monster for PC gamers and enthusiasts out there. Let's find out what they have to offer!
The new gaming laptop carries the model name Prime Note Galleria QF880. Being a gaming notebook the device delivers – it is powered by an Intel Core i7-3720QM CPU (2.6 GHz default clock, 3.6 GHz in Turbo mode) or an Intel Core i7-3820QM, which runs at 2.7 GHz default and at 3.7 GHz in Turbo mode. All aforementioned CPUs utilize the latest Intel Ivy Bridge architecture as the CPU model number suggests.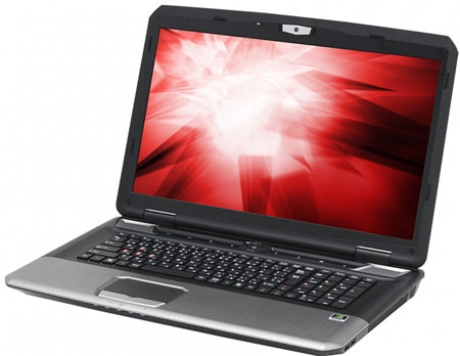 Inside you will also find 8 GB of DDR3 memory, an NVIDIA GeForce GTX 680M graphics card with 4 GB of VRAM, an optical drive and a 750 GB hard drive. The screen that will display your games is 17.3-inch with a working resolution of 1920 x 1080 pixels. Certain components can be upgraded if the user wishes to do so – apart from the faster Core i7-3820QM chip you can also get a 120 GB SSD and the hard drive capacity can jump to 1 TB. You can also add more memory – up to 16 GB and a Blu-Ray drive. The laptop also comes with 802.11b/g/n Wi-Fi, Bluetooth 3.0 + HS, Ethernet, a card reader device, a web camera, three USB 3.0 ports and two USB 2.0 ports. There also are one eSATA port and HDMI and Mini-D-Sub video ports.
Size-wise the Dospara Prime Note Galleria QF880 measures 428 x 288 x 55 mm and weighs 3.7 kilograms. The built-in battery lasts for up to 5 hours the company claims.
As with everything new, shiny and powerful there's a downside – price. The base Dospara Prime Note Galleria QF880 model costs 2302 USD, which isn't exactly cheap.
Source: HWP.ru