Eurocom has been in the mobile tech business for quite some time, creating nice long life and fully upgradeable notebooks with high performance. Its latest offering – the Eurocom Leopard 2.0 does not betray the company image.
The new notebook comes with a large 18.4-inch display and more importantly – support for dual-GPU technology by AMD or NVIDIA. Customers can choose between NVIDIA GeForce GTX 560M and AMD Radeon HD 6990M and HD 6970M GPUs which are among the fastest mobile GPUs at the moment.
"This notebook is the epitome of mobile luxury computing, being the ultimate in mobile computing with not a single performance weakness" explains Mark Bialic, Eurocom President.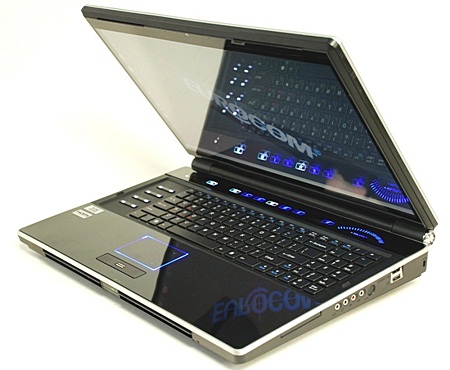 And truly the Eurocom Leopard 2.0 is a masterpiece – it is fully configurable and customizable and allows users to build their system to their exact specifications, operational and/or application requirements. For example THX Trustudio allows Eurocom customers to enhance the music and movies to make them sound livelier, enhance the sound quality and bass of any speaker system, and control the level of audio immersion in music, movies and games.
The Eurocom Leopard 2.0 comes with a pretty 18.4-inch FHD 1920x1080p LCD display that using the equipped Auto Light Sensor technology can smartly auto-adjust panel brightness depending on the environment.
On the hardware side the new notebook comes with support for up to 24 GB of RAM and second generation Intel Core i7 and Core i7 Extreme processors, fueled by Intel's HM67 chipset.
Such a high performance system also requires a redundant storage solution. The Eurocom Leopard 2.0 supports 4 storage drives, for up to 4 TB in RAID 0/1/5/10. For an optical drive users can choose between DVD-RW and a Blue-Ray drive. Connectivity is provided by 2 USB 3.0 ports, 4 USB 2.0 ports, eSATA, Firewire 1394a, HDMI, RJ-45 LAN jack.
Source: Hexus.net