Fujitsu today launched seven latest computing machines to their notebook series that run on the Windows® 7 operating system from Microsoft – LifeBook A1220, P3110, P3010, P8110, T4310, T4410 and Fujitsu M2010. Besides these latest additions, many of Fujitsu's favourites are also donning the Windows® 7 outfit – LifeBook A6230, T2020, T5010, S6510, S6520, S6420, S6421 and Fujitsu L1010.
In conjunction with the launch of the much anticipated Windows® 7 operating system, Fujitsu extends a comprehensive range of notebooks across some of its most popular series. Catering to varied computing needs, the new Fujitsu models equipped with the new operating system promise to bring new experiences in computing while maintaining style, functionality and robustness.
"Fujitsu always targets to arm our customers with the latest technology. Aside from our newly launched products running on the Windows® 7 operating system, we have also offered software upgrades for selected Fujitsu notebooks which are preinstalled with Windows Vista® software, providing our customers with a value-added service," comments Mr YS Ng, Senior Vice President, Sales and Marketing, Fujitsu PC Asia Pacific Ltd.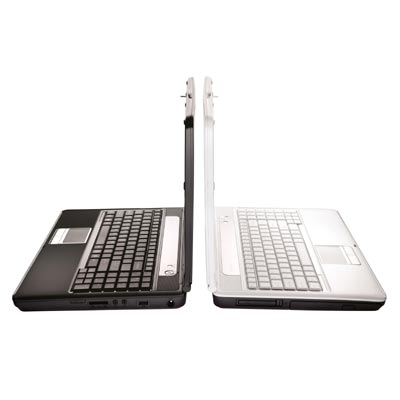 LifeBook A1220
Featuring a lavish 15.6-inch 16:9 High Definition Widescreen LED back-light display of 1366 by 768 pixels of 220nits brightness and 350:1 Contrast Ratio, the LifeBook A1220 delivers brilliant graphic and video displays. It also gives you the option of projecting your favourite movie on a HD TV screen through a HDMI output.
Offered as a desktop replacement, the LifeBook A1220 is packed with a generous 500GB Hard Disk Drive storage option with a maximum supported memory of 8GB RAM.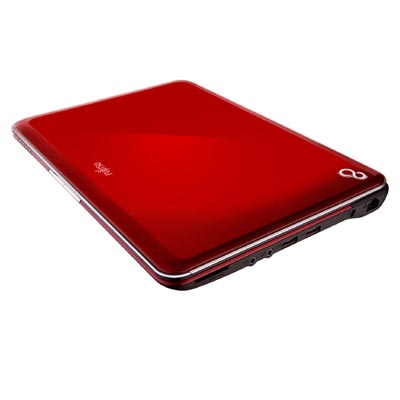 LifeBook P3110 and P3010
With a weight of just 1.6kg and a petite and slim structure, the LifeBook P3110 and P3010 are bundles of joy to carry around. Designed to accompany you wherever you go, these two notebooks bring convenience and ease to users when on-the-road.
Customers can opt for the Intel® powered LifeBook P3110 or the AMD powered LifeBook P3010 according to their preference and requirements. Available in desirable shades with a glossy finish, the LifeBook P3110 stands out in glossy finish in Black, Silver and Ruby Red while the LifeBook P3010 gleams with eye-catching elegance in Black and Ruby Red.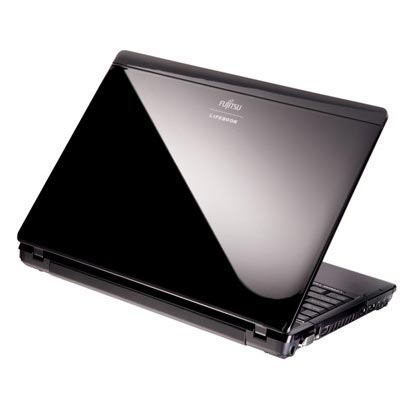 LifeBook P8110
Built as a computing powerhouse, this incredibly lightweight machine registers a mere 1.4kg even with built-in DVD DLSM and comes decked out in a 12.1-inch SuperFine WXGA TFT screen with 300nits brightness. Despite its petite frame, the LifeBook P8110 is set out to pamper its owner with a luxurious viewing experience.
Designed to impress with its high-gloss design with a unique accent line, the LifeBook P8110 dazzles with its stylish and lustrous piano black casing. It is a computing companion ideally suited for corporate warriors and stylish fashionistas alike.
With battery life of up to 8 hours and a further extension of up to 1.5 times via the Fujitsu Power Eco button, the P8110 further impresses with a series of quick launch buttons to allow instantaneous launch of preset applications. Coupled with the Windows® 7's new features, you will be pleasantly surprised at how much more effective and productive you will be with the LifeBook P8110.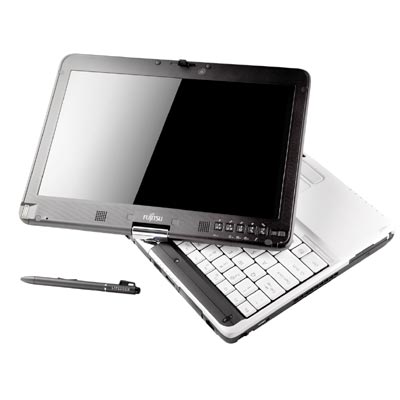 LifeBook T4410 and T4310
As Fujitsu's Dual-Digitizer tablet-convertible notebooks, the performance-driven LifeBook T4410 and pocket-friendly LifeBook T4310 are set to wow audiences with ease.
Equipped with the latest Windows® 7 operating system, both the LifeBook T4410 and LifeBook T4310 incorporate the multi-touch feature where users can go beyond tapping on the screen with a stylus. They can now have the option of using the Two Finger Touch feature for simple zoom, rotate, pinch and flick functions.
Both tablet-convertibles give users the choice of slotting in a hard disk drive, a second battery or even a DVD writer according to their preference and needs with the built-in hot-swappable modular bay device.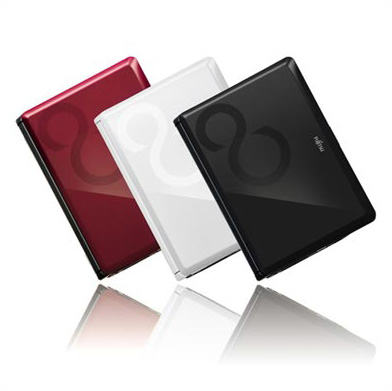 Fujitsu M2010
Proudly possessing a generous storage capacity of 250GB, an upgrade from the previous 160GB Hard Disk Drive, the Fujitsu M2010 stretches its capabilities to allow users to store even more documents, photos and movies on-the-go without the need for any external storage device.
The 10.1-inch WSVGA back-light LED Glare display with 1024 by 600 pixels resolution, 200nits brightness and 400:1 Contrast Ratio prepares users for a delightful indoor or outdoor viewing experience. On top of that, video conferencing or web conversations through SKYPE are made more enjoyable with the 1.3 Mega Pixel camera and digital microphone for clear communications online.
Ensuring that productivity is not compromised by upping the mobility factor, the Fujitsu M2010 comes with the full suite of ThinkFree Mobile Office for quick editing of documents, spreadsheets or presentation slides while you are on the move.
Fujitsu remains firmly committed to the promotion of a cleaner environment and complies with the European Union's Restriction of Hazardous Substances directive (RoHS) across its entire range of products. In addition, Fujitsu has established a set of commitments that goes beyond RoHS requirements, thus allowing it to stay keenly focused on its customers' health and well-being as well as to embrace a healthier environment for all. By adopting a green factory concept and being committed to the cause of energy-efficient computing, Fujitsu also fights to sustain the Earth as a sponsor and a member of the Climate Savers Computing Initiative.
Source: Fujitsu