Gateway, a wholly owned subsidiary of Acer Inc., today launched the Gateway® P-7808u FX Edition notebook PC, the latest high-end notebook in the award-winning P-Series FX Edition line for gaming, entertainment and digital media.
Newest Model in P-Series FX Edition Line Features Intel Core 2 Quad Processor for Enhanced Performance at Incredible Value
The new Gateway P-7808u FX Edition notebook continues the highly acclaimed lines' goal of providing incredible performance and features at an incomparable value. As a desktop replacement notebook PC, the new Gateway P-7808u FX is ideal for mobile enthusiasts who want the latest in high-end technology, but still need to remain on a budget. This model has a manufacturer's suggested retail price of $1,799.99.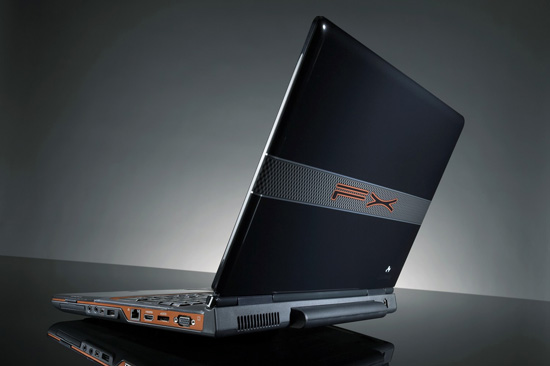 The P-7808u FX is the first P-Series FX Edition notebook to include the new Intel Core 2 Quad processor, which, combined with the many other features and technologies in the notebook, powers through resource-intensive tasks with unparalleled quad-core speed. The P-7808u FX includes the Intel Core 2 Quad processor Q9000 (2.0GHz, 6MB L2 cache, 1066MHz FSB), allowing consumers to dominate games, enjoy cinematic entertainment and take part in digital media hobbies.
"The Gateway P-Series FX Edition has developed a huge fan base, as enthusiasts have experienced the value of these PCs and recommended them to others for their incredible combination of performance and features," said Ray Sawall, senior product marketing manager for Acer America. "The Gateway P-7808u FX can handle just about everything consumers want to do with their PCs today – intense gaming, uploading and editing video, creating multimedia projects for school and managing home finances. It is the ultimate notebook for enthusiasts and any consumer who wants unparalleled performance at an incredible value."
Performance, Value Abound in Gateway P-7808u FX Notebook Page
Powering the first-rate gaming experience, the Gateway P-7808u FX is equipped with the NVIDIA GeForce 9800M GTS graphics solution with a full 1GB of GDDR3 discrete video memory. As a result, consumers can enjoy incredibly life-like and real-time 3D graphics effects used in the latest PC games. The impressive 17-inch widescreen has a 1440×900 resolution to further show the brilliant detail in vibrant clarity and realism.
The powerful Intel Core 2 Quad Q9000 processor and NVIDIA GeForce graphics lay the foundation for the notebook's many other features that combined deliver the best possible consumer entertainment experience. Performance is enhanced with a full 4GB of memory, while the huge 500GB(1) hard drive provides ample storage for video, photos, music and other files. Consumers can store content and then easily label the disc with text and photos with the notebook's Multi-Format Dual Layer DVDRW with DVD-RAM featuring LabelFlash (2)Technology. The illuminated multimedia keys are integrated into the keyboard surround to allow access to frequently-used audio and video functions, while the touch-control slide lets customers conveniently increase and decrease the volume.
Connecting to an array of devices is easy with the Gateway P-7808u FX. The HDMI v1.2 media connection lets consumers connect their notebook to a display device (TV, monitor) to enjoy high-definition video as well as audio through a single connection. Getting access to digital media stored on popular flash media is easy thanks to the 5-in-1 digital media card reader. Plus, consumers have ample ways to connect to electronics, peripherals and digital media with the notebook's three USB 2.0 ports and an IEEE 1394b port. The eSATA port delivers an industry-leading fast connection to external storage devices.
Consumers can take advantage of the many WiFi hotspots at work, school, and hotels with the P-7808u FX notebook's Intel WiFi Link 5100 802.11 a/g/Draft-N wireless. Staying in touch is easy with the P-7808u FX notebook thanks to its 1.3 megapixel webcam that lets consumers enjoy video conferencing, video emails, voice over IP and still photos.
Ready to take on the latest 64-bit applications, the Gateway P-7808u FX comes with Microsoft Windows Vista Home Premium 64-bit edition. It also comes with Microsoft Works 9.0 SE, Adobe Reader and a 60-day complimentary trial of Microsoft Office Home and Student 2007.
Availability and Price
The new Gateway P-7808u FX is available now through several online retailers. It has a manufacturer's suggested retail price of $1,799.99.