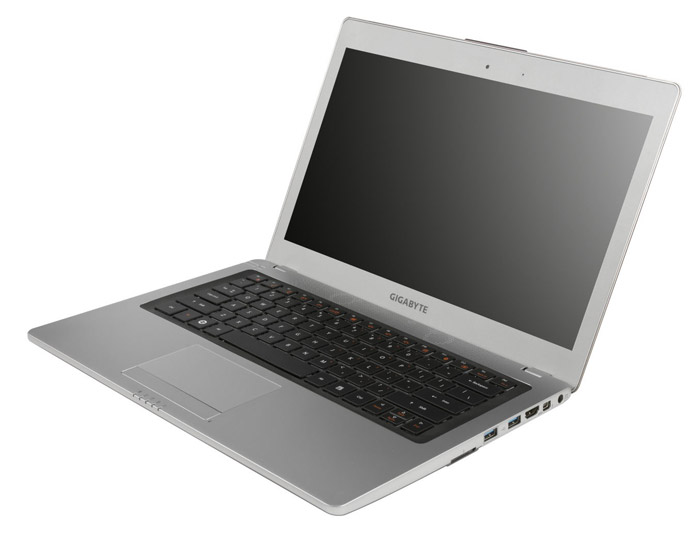 Trying to appeal to more customers and gain a larger market share the Taiwanese Gigabyte has added three new notebook models to its product range – the sleek U2442 ultrabook, the powerful P2542G Blu-Ray gaming notebook and another notebook of the same class – the Gigabyte P2742G.
The Gigabyte U2442 offers a sleek form factor and a weight of just 1.57 kg. Based on a 14-inch display the ultrabook is powered by a range of Intel Core Ivy Bridge processors and NVIDIA GeForce GT 650M/GT 640M graphics. In addition the ultrabook boasts a dual air vent design for low heat and low noise and offers an automatic light sensing backlit keyboard that adjusts to brightness and allows ease of typing even under low light conditions.
The Gigabyte P2542G is a high-end gaming notebook that offers the powerful Intel Core i7-3610 quad-core processor and the impressive NVIDIA GeForce GTX 660M GPU with 2 GB of GDDR5 VRAM. The P2542G is also based on a Full HD display and comes with a Blu-Ray drive, THX TruStudio Pro sound, Intel Rapid Start technology, either a fast 7200 rpm hard drive or a SSD, HDMI and more.
Finally the P2742G is the ultimate in mobile PC gaming. Offering a 17-inch display the P2742G is based on third generation Intel Core processors and an NVIDIA GeForce GTX 660M graphics card. The notebook comes with two bays for storage too allowing for storage capacity of up to 2 TB and support for RAID. The P2742G has 1080p Full HD display, THX TruStudio Pro Technology, a Blu-ray Combo Drive, USB 3.0 and Bluetooth 4.0 to create an incredible gaming environment. Complete with powerful features and amazing performance, the P2742G stands out as the unrivalled gaming notebook.
Source: Gigabyte