HP has announced two new major products that will reach the market next month – the new Pavilion x2 detachable tablet and new ENVY notebooks that offer excellent performance levels and the latest notebook hardware.
"Customers want devices that are portable without sacrificing battery life or power," said Kevin Frost, vice president and general manager, Consumer Personal Systems, HP. "For 2015, we are reinventing our ENVY notebook product line to deliver great battery life, thinner and lighter designs, bright, high resolution displays and Bang & Olufsen audio for better entertainment, communications and productivity experiences."
The new HP Pavilion x2 is a tablet that combines notebook experience in one device. The new Pavilion x2 is based on an Intel Atom processor with four processing cores and has up to 64 GB of internal storage memory and a microSD card slot that will help you with expansion. It also sports a 10-inch HD IPS display that opens at a best-in-class angle of 135 degrees for a great viewing experience. The tablet will be available in Blizzard White, Sunset Red and Turbo Silver colors and allows the attachment of a keyboard through a latch less magnetic connector for a full notebook experience. The device is just 9.65 mm (0.37 inches) thick and 16.75 mm (0.66 inches) thick with the keyboard attached. As to weight the device weighs 1.29 pounds (0.586 kilograms) and 2.48 pounds (1.13 kilograms) with the keyboard attached. The Pavilion x2 also has a USB Type-C connector to charge and power the device and a full-sized USB 2.0 port for attaching external devices without a dongle. It also has a micro HDMI port to connect to an external display or TV.
The new HP ENVY notebooks offer three display sizes – 14 inches, 15.6 inches and 17.3 inches and depending on the screen size users get different hardware and resolutions. The 14-inch and 15.6-inch models offer a choice between 5th generation Intel Core i5 and Core i7 Broadwell processors but the 15.6-inch models also include AMD FX and A10 accelerated processors. In addition customers get a choice between NVIDIA GeForce 940M and 950M discrete video cards or AMD Radeon R7 and R6 models for the 15.6-inch ENVY models. The smaller –sized models offer plenty of storage – up to 2 TB of hard drive space or a choice between a hybrid hard drive and a SSD. The notebooks support up to 16 GB of DDR3 memory as well. The AMD models, however, offer up to 1 TB of hard drive space and up to 8 GB of RAM memory. As to the displays, the 14-inch screen can work at HD or Full HD resolution, while the 15.6-inch models come with a choice of HD, Full HD and Quad HD+ panels with optional touch.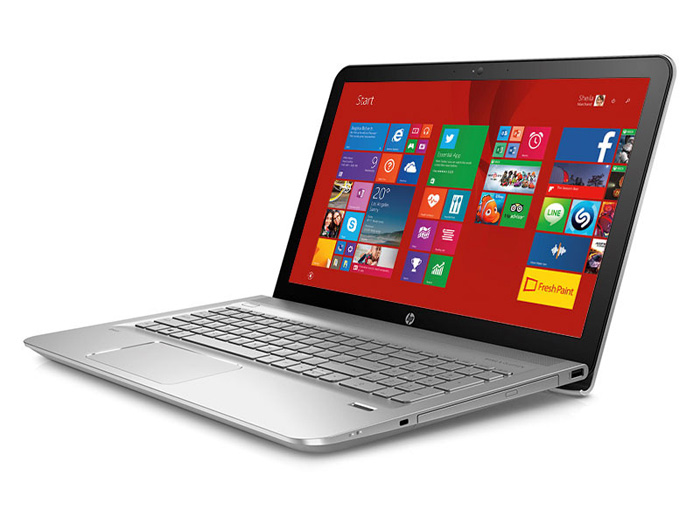 The 17.3-inch ENVY notebook steals the show with the most powerful hardware in the entire line. The notebook comes with 5th generation Intel Core i7 processors, NVIDIA GeForce 940M or GeForce 950M discrete graphics cards, optional dual hard drives for up to 4 TB of storage, a choice among mechanical hard drives, hybrid hard drives and SSDs for storage, Full HD resolution for the display, four USB 3.0 ports, a full-sized HDMI port, an RJ45 port and an optional DVD or Blu-Ray optical drive. In addition this model features Bang & Olufsen audio and quad speakers and subwoofers for premium sound – something that is also true for the smaller 14-inch and 15.6-inch ENVY models. The AMD-based versions of ENVY come with dual speakers and subwoofer.
The new HP Pavilion x2 will be available on July 21, 2015 for USD 299.99 and up. The new ENVY notebooks will be available next month too – the 14-inch model will start at USD 699.99 and up, while the 15.6-inch AMD and Intel notebooks will start at USD 629.99 and USD 799.99, respectively. The 17.3-inch ENVY notebook starts at USD 999.99.
Source: HP