HP has announced a major update to its business-oriented desktop and notebook PCs in order to meet the changing needs of today's businesses. The most important change in the line is the addition of Intel's latest 6th generation Skylake processors but HP has also added a few AMD chips to the new and updated line for those people who like to see competition on the CPU market.
HP's updated ProBook 400 series of mobile computers now meets the needs of users on the go in a better way – the notebooks are up to 17 per cent thinner and up to 12 per cent lighter than before. There are four models in the line – the ProBook 400 G3 has a 13.3-inch HD display, while the ProBook 440 G3 comes with a 14-inch HD display; the ProBook 450 G3 and ProBook 455 G3 both come with 15.6-inch HD displays with a touchscreen being an option for these notebooks. The top model among the four can be configured with an Intel Core i7 Skylake processor, 16 GB of DDR3 SDRAM and 1 TB HDD or 128 GB of SSD storage and there are spill-resistant keyboards for all models or an optional backlit keyboard. The ProBook 455 G3 is the notebook that adds some flavor to the picture – this is the only model that comes with AMD's latest processors with an AMD A10 APU being the fastest among them all.
All models in the ProBook 400 line have two USB 3.0 ports, one USB 2.0 port, HDMI, a headphone and microphone combo jack, a card reader, Ethernet and VGA ports. The larger 15.6-inch models feature an additional USB 2.0 port and an optional integrated optical drive. The ProBook 400 G3 measures 12.83 x 9.2 x 0.88 inches (32.6 x 23.37 x 2.24 cm) and weighs 3.31 pounds (1.5 kg). The ProBook 440 G3 measures 13.35 x 9.61 x 0.89 inches (33.92 x 24.42 x 2.25 cm) and weighs 3.69 pounds (1.68 kg). The ProBook 450 G3 and 455 G3 measure 14.88 x 10.42 x 1.04 inches (37.8 x 26.45 x 2.65 cm) and weigh 4.74 pounds (2.15 kg). The notebooks will be available later this month starting at USD 499.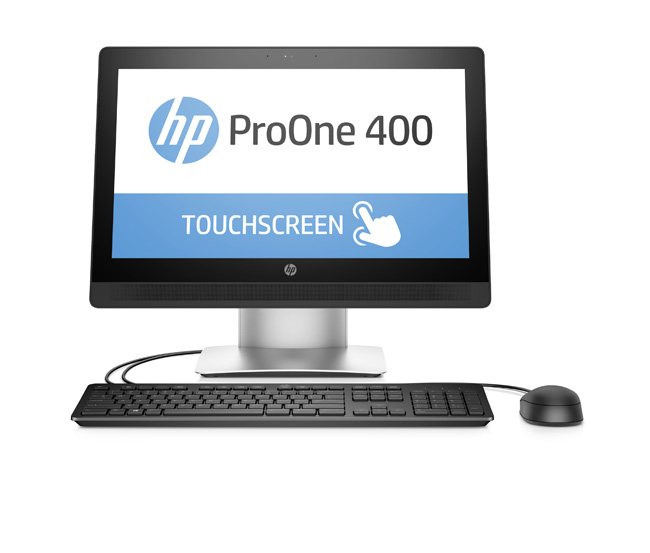 HP has also unveiled a new 2nd generation ProOne desktop computer that has been improved in many ways. The new HP ProOne 400 G2 has a variable-angle reclining stand that allows you to choose the perfect angle to work with your content. In addition the computer can be used with a desktop mounting stand or with a VESA-compatible mount and has a number of colors, a cable management system and HP Noise Reduction Software for better compatibility with Windows 10's Cortana service. The new computer houses Intel Skylake processors and starts at USD 679.
Source: Liliputing.com