Lenovo has launched a bunch of new laptops in unison with the start of CES 2012. The novelties cover all market niches and target users of all ages and wallets.
The new laptops belong to the IdeaPad U series, Y series, S series and Z series with new devices in the IdeaCentre desktop range and the K series desktop line. There's also a new all-in-one IdeaCentre B series line. The new computers are so many it is very easy to get lost in the long list of new Lenovo offerings.
We'll start with the new mini laptops that aim to fill the computer needs that lie between the netbook and the notebook. The Lenovo IdeaPad S200 and S206 are both lightweight and very thin and come with a large 11.6 inch HD widescreen and thickness of just 0.81 inches (20.7mm) and weight of just 2.8 pounds (1.3kg).
The S200 features an Intel Atom dual-core processor and up to 32 GB of SSD storage with the S206 coming with a dual-core AMD processor. Created to be an ideal travel companion with up to 4 hours of battery life, these mini laptops allow users to get online in seconds and run basic apps without starting Windows thanks to the Lenovo Quick Start 'instant on' function. Additional extras include an integrated 0.3-megapixel HD web camera for video chatting and web calling and 802.11b/g/n Wi-Fi. Certain models also come with Bluetooth connectivity. The new S models are available in nice colors – Cotton-candy Pink, Crimson Red, Electric Blue, Graphite Grey and Pearl White.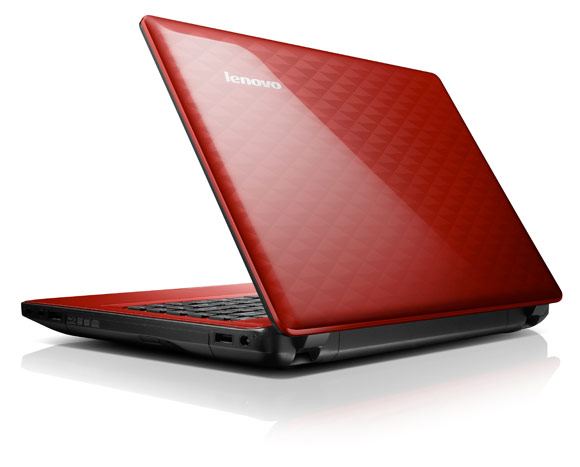 The new IdeaPad Y480 and Y580 offer users enough power for intense multimedia applications. They come with fast Intel Core processors, 14" or 15" screens and allow the hottest games to run really fast thanks to the included NVIDIA GeForce GTX 660M 2 GB GDDR5 videocard.
The new IdeaPad Z580, Z480 and Z380 models feature the right balance of value and performance with the latest processor and graphics technology options. The Z series laptops debut with a range of dazzling colors – Amber Orange, Apple Green, Cherry Red, Coral Blue, Graphite Grey, and Peony Pink. Hardware specs are also pretty good – powerful Intel Core processors run the show with graphics provided by NVIDIA's GeForce GT 640M 2 GB videocards. Screens vary from 13.3 inches to 15.6 inches and feature a backlit LED HD display (1366×768) and 16:9 widescreen ratio. Other specs include a DVD reader or Blue-Ray optical drive and HD graphics support, HDMI and Intel Wireless Display Technology.
The Lenovo G480, G580 and G780 models arrive with 14", 15.6" and 17.3" screens, OneKey Rescue System for simple data backup and recovery, smart Lenovo technologies and basic multimedia functions for an affordable price.
The new IdeaCentre B540 and B340 desktops are designed for a truly powerful and interactive entertainment experience. They come with 23-inch full HD frameless screens with state-of-the-art multi-touch and optional 3D vision and feature Intel Core processors and superior graphics technologies for a great gaming experience with up to NVIDIA GeForce GT 650M 2GB graphics.
The IdeaCentre K430 desktop comes with new heights of performance and upgrade capabilities with powerful processing, optional dual graphics support and twin hard drives along with massive memory and storage. The desktop is powered by fast Intel Core processors and can take up to 32 GB of RAM memory. For gamers the IdeaCentre K430 comes with SLI and CrossFireX capabilities and optional twin hard drives in a RAID0 configuration.
The Lenovo H520s is a slim-sized desktop solution that is suitable for home computing at half the size of a standard desktop PC. The H520s combines affordability with a great range of entertainment and processing features, plus Lenovo Assistant – a simple new interface that helps organize favorites, clean history and junk files, and manage the PC's network connections and energy consumption settings.
All new Lenovo laptops and desktops will become available in spring 2012 with prices starting from 349 USD and above depending on model and features.
Source: Hot Hardware