Embodying MSI's first-class R&D and manufacturing technology and the company's commitment to fashionable design, MSI's X-Slim series of ultra-slim notebook PCs represents a further refinement of laptop aesthetics. The new-generation, 13.4-inch diamond-effect X-Slim X350 ultra-slim notebook PC takes the ultra-slim laptop into the luxury goods class!
The X350 features the ultra-slim design and beautiful lines that are the hallmark of the X-Slim series, creating a sense of warmth and a fashionable urban vibe. The X350 weight just 1.5 kg, and is less than one inch thick; this laptop has none of the cold, off-putting bulk of traditional notebook PCs. MSI Notebook Marketing Director Sam Chern notes that the new-generation X350 features MSI's unique, hi-fashion diamond-motif etching treatment, which integrates a lozenge-pattern with diamond carving technology to ensure that each individual lozenges glitters and shines, giving the X-Slim X350 that extra touch of luxury and refinement!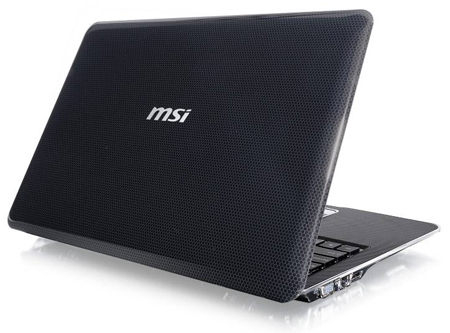 A finely-honed design that constitutes a masterly integration of high technology and high fashion
The apogee of hi-tech luxury goods: MSI's X-Slim series notebook PCs have been repeatedly refined and improved. To the solid, robust magnesium alloy structure and warm, soft supporting materials MSI has added a glittering, shiny effect created through the use of Color-Film Print (CFP) technology, giving the casing a high-fashion feel to complement its beautiful lines. The X350 weighs just 1.5 kg, and is less than one inch thick, making it the ultimate in ultra-slim luxury notebook PCs.
MSI's unique lozenge-pattern etching technique: The new-generation X350 has once again taken the integration of high technology and high fashion to new heights. Building on the X-Slim series' already stunningly beautiful chassis design, MSI has applied the company's unique, hi-fashion lozenge-motif etching technology to the top casing and the section of the chassis on which the user's hands rest while using the keyboard. The lozenge-shape pattern creates a sparkling, glittering crystal-diamond effect. The chassis is rimmed by a silver frame, complementing the lustrous, silvery, chromium-plated power switch, LED indicator light unit and touch-screen rim. All of this, together with MSI's unique Chiclet keyboard, combines to create a trend-setting paradigm of warm, streamlined elegance and refinement.
A highly efficient dual-core processor and 9-hour battery run-time*
The latest Intel Core 2 Duo dual-core processor: The X-Slim X350 is just as impressive on the inside as it is good-looking on the outside. The X350 is equipped with the Intel CULV energy-saving platform, and uses the latest Intel Core 2 Duo dual-core CPU. It combines low power consumption and low heat output with long battery run-time. With its powerful processing capability, the X350 is able to perform a large number of tasks simultaneously while maintaining smooth operation, enabling the user to work more efficiently.
9-hour battery run time: The X350 uses MSI's new ultra-thin, large-capacity lithium-polymer battery, which inserts flush with the base of the laptop, maintaining the X350's smooth lines. The X350 also features MSI's unique ECO energy-saving technology. Press the ECO key, and you can choose between five different power management modes: gaming, viewing video content, preparing presentations, performing word-processing tasks, and "Turbo Battery". Depending on what you want to use the laptop for, it will automatically adjust the screen brightness, CPU performance, sleep time, etc. Thanks to this feature, the X350 has an impressive 9-hour battery run time. With the X350, busy mobile professionals can keep using their laptop all day without needing to carry heavy, awkward power cables around with them
*Actual battery run-time will vary depending on laptop usage and settings.
A 16:9 screen and movie theatre quality audiovisual entertainment performance
An energy-saving 16:9 screen with LED backlight: The X-Slim X350 features a movie theater quality 16:9 high-definition screen with LED backlight and 1366768 resolution. This screen provides rich colors, high saturation, bright images and ultra-clear picture quality. The viewing area on the screen can be expanded to eliminate the irritating black borders when viewing high-definition video content.
Built-in HDMI port: The X350 also has a built-in HDMI (High-Definition Multimedia Interface) port, supporting transmission of 5Gb and 1080p video content. The X350's optical disk drive supports Blu-Ray, enabling the laptop to play Blu-Ray discs with their storage capacity of up to 50GB. You can use the X350's large screen to enjoy 1080p high-definition video; combined with the high-fidelity, multi-channel audio output, this ensures a first-class audiovisual entertainment experience.
X350 Spec
Operating System
Windows 7®Home Premium
Support type @launch
Intel® Core™2 Duo Processor
Chipset
Intel® GS45 + ICH9M-SFF
LCD
13.4 " TFT-LCD Display
VGA
Controller
GMA 4500MHD
VRAM
UMA
Memory
Type
DDR2 667Mhz
Config
DDR2 SO-DIMM x 2 slot
Maximum
2GB
Audio
Speaker
2 HD speakers
Webcam
1.3 M Webcam
Communication
LAN
10/100/1000 LAN
Bluetooth
Optional
Wireless LAN
802.11 b/g/draft-n
I / O
HDMI
1
Card reader
2 in 1 (support SD/MMC)
Mic-in / Headphone out
1 / 1
E-SATA(USB combo)
1
USB 2.0
2
RJ45
1
D-Sub
1
Storage
HDD form factor
2.5″  320/500 GB SATA
Optical Drive
External DVD Super-Multi / Blu-Ray(optional)
Battery
4/8 Cells
Keyboard
87 keys
Power
AC Adapter
65W
Physical Characteristics
Dimension
330x224x24~6(mm)
Full System Weight
1.5 kg (With Battery)
Source: MSI