MSI announces the release of the 17" C series CX700 & CR700 notebook computers. Featuring MSI's unique wedge-shaped design with streamlined 45 degree angled edges. With powerful multimedia capabilities, these notebooks offer unlimited mobility & classic design with audio and video features that will make the ground feel like its shaking beneath your feet.
Classic Form Meets High Tech Lifestyle
MSI new Classic C series CX700 & CR700 feature the latest generation Color Film Print Technology, which protects the external shell while creating vivid crystal patterns, which when viewed from different angles, reveal unique layered lines. Whether at home or on the go, for business or pleasure, the CX700 & CR700 radiate a minimalist classic elegance that defines today's fashion-conscious lifestyles.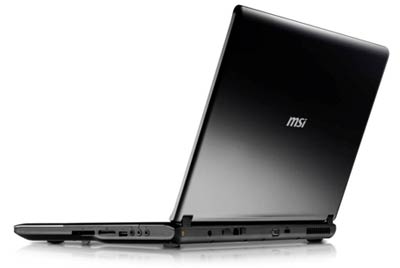 Multimedia Powerhouse
For a full multimedia experience on large display, the 17″ CX700 & CR700 are packed with powerful features. The CX700 is equipped with the ATI Mobility Radeon™ HD 4330 High Performance 3D discrete graphic card. With 49% improved performance compared to previous generations, and sharper, crisper images, the CX700 takes enjoyment to a new level. The CR700 comes with the NVIDIA GeForce 8200M G GPU, also well-suited for multimedia applications. With a fully integrated Northbridge/Southbridge chipset, 3D display performance is outstanding, and image & software applications run effortlessly.
Both the CX700 and the CR700 are fitted with internal 2.1 channel speakers. With surround sound and deep bass, music, movies, and other media are able to deliver big, rich sound to excite your senses. Both models also feature a HDMI output port, and LED-backlit widescreen 16:9 aspect ratio displays. Whether you're enjoying content on the C series notebooks, or one is connected to a digital TV in your living room, family and friends will be able to enjoy the ultimate audio/video multimedia experience.
Unlimited Real-time Communications
The C Series CX700 & CR700 notebooks come with built-in 1.3 megapixel webcams and microphones. They are also equipped with 802.11 b/g/n WLAN and Bluetooth V2.0+EDR, which is capable of providing threefold data rate enhancement. These connectivity solutions ensure that no matter where you are, you can stay in touch with friends and family around the world. When coupled with MSI's exclusive video recording capabilities, creating and sharing videos is a snap.
ECO: The Intelligent Power Consumption Solution
The all new C series CX700 & CR700 notebooks stand out in power management thanks to MSI's own ECO engine power saving technology. With the push of a single button, multimedia, productivity, and battery saving modes can be freely selected to supply the optimal power setting for different applications. This technology fulfils reduced energy consumption goals while maximizing task efficiency and entertainment applications. Together with MSI's new clear and user-friendly keyboard design, switching between ECO, WLAN, Bluetooth, or making screen brightness & volume adjustments is nearly effortless, allowing for more immersive multimedia experiences.
The MSI C series CX700 & CR700 notebooks, with 17" displays and high capacity 6-cell batteries, weigh in at a paltry 3 kg. Light and portable with energy-saving LED backlit displays and integrated board/display technologies, these high-endurance batteries make the CX700 & CR700 ideal mobile companions.
CX700 Spec

Operation System
Genuine Windows Vista® Home Premium
Support type @launch
Intel® Core™2 Duo processor
Chipset
SIS 672DX+SiS968
LCD
17.3" 1600×900 HD+
VGA
Controller
ATi Mobility Radeon HD4330
VRAM
DDR2 512MB
Memory
Type
DDR2 667Mhz
Config
DDR2 SO-DIMM x 2 slot
Maximum
4GB
Audio
Speaker
2+1 subwoofer
Webcam
1.3 M Webcam
Communication
LAN
Gigabit LAN
Bluetooth
Optional
Wireless LAN
802.11 b/g/n
Expansion
Express Card
1
I / O
Card reader
4 in 1 (support SD,MMC,MS,XD)
Mic-in / Headphone out
1/1
USB 2.0
3
RJ45
1
D-Sub
1
HDMI
1
Storage
HDD form factor
2.5″ 250 /320/500 GB SATA
Optical Drive
DVD Super-Multi
Battery
6/9 Cells
Keyboard
103 keys
Power
AC Adapter
65W
Physical Characteristics
Dimension
414x 267 x 33.7-37mm
Full System Weight
3kg (With 6 Cell Battery)
CR700 Spec
Operation System
Genuine Windows Vista® Home Premium
Support type @launch
Intel® Core™2 Duo processor
Chipset
Nvidia MCP79MVL
LCD
17.3" 1600×900 HD+
VGA
Controller
GeForce 8200M G
VRAM
share with system memory
Memory
Type
DDR2 667/800Mhz
Config
DDR2 SO-DIMM x 2 slot
Maximum
4GB
Audio
Speaker
2+1 subwoofer
Webcam
1.3 M Webcam
Communication
LAN
Gigabit LAN
Bluetooth
Optional
Wireless LAN
802.11 b/g/n
Expansion
Express Card
1
I / O
Card reader
4 in 1 (support SD,MMC,MS,XD)
Mic-in / Headphone out
1/1
USB 2.0
3
RJ45
1
D-Sub
1
HDMI
1
Storage
HDD form factor
2.5" 250 /320/500 GB SATA
Optical Drive
DVD Super-Multi
Battery
6/9 Cells
Keyboard
103 keys
Power
AC Adapter
65W
Physical Characteristics
Dimension
414x 267 x 33.7-37mm
Full System Weight
3kg (With 6 Cell Battery)
Source: MSI