MSI has supplemented its classic C series notebook computers with two new 16 inch models, the CX600 & the CR600. Both devices feature wedge-shaped designs with streamlined 45 degree angled edges and optical drive & I/O ports designed with a clean, minimalist style. A distinctive imprint finish on the lid interacts with light to provide ever-changing patterns thanks to MSI's Color Film Print technology. Inside, the touch pad area is treated with sturdy, scratch resistant material that gives off a luminescent shine and brings classic design and functionality into daily life—ideal for entertainment, learning, and business applications.
Classic Lines & Radiant Shine
The C series CX600 & CR600 trendy design is achieved through MSI's wedge design techniques. Striking 45 degree-angled edges define streamlined contours while the optical drive, I/O ports, fan assembly, and battery configuration are all seamlessly designed into existing space, creating clean lines and a minimalist curved profile. The CX600 & CR600's large 16″ display has a thickness of only 3 cm, 20 percent thinner than traditional 16″ notebook displays. With 6-cell battery, total weight is merely 2.48 kg. With the introduction of the CX600 & CR600, MSI has ushered in the era of the light and portable 16″ notebooks!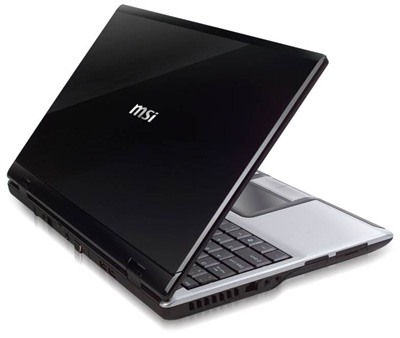 The CX600/CR600 external casing benefits from the application of Color Film Print technology, which allows the surface to interact with ambient light, creating vivid visual effects and changing design patterns. Other special features of both models include LED backlight displays, brushed metal touch pad buttons, and a keyboard treated to enhance surface texture and aesthetic qualities, creating a discreet yet high quality feel. In short, both the CX600 and the CR600 are portable fashion statements.
Entertainment Capabilities Galore
The MSI C series 16″ CX600 & CR600 both feature widescreen 16:9 aspect ratio high resolution displays (1366×768) so DVDs can be viewed in all their original glory—no more horizontal black bars.
The CX600 is equipped with the ATI Mobility Radeon HD4330 3D discrete graphic card (512MB VRAM), capable of increasing display effectiveness by 49% with rich colors, sharper contrasts and better picture clarity. The CR600 comes with the nVIDIA GeForce 8200M G GPU and an additional HDMI port for outstanding display capabilities and an enhanced visual experience.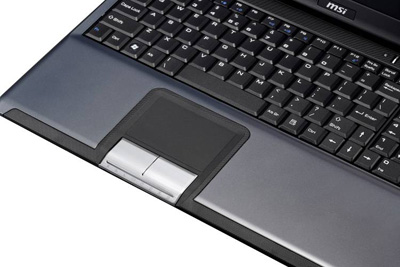 Always in Touch
The new CX600 & CR600 both offer 802.11 b/g/n high speed WLAN and the new Bluetooth V2.0+EDR module, 1.3 megapixel webcam on demand creation and sharing of video content from anywhere, to anyone in the world. When paired with MSI's exclusive video recording capabilities, creating and sharing videos with friends and family is both effortless and fun.
CX600 Spec

Operation System
Genuine Windows Vista® Home Premium
Support type @launch
Intel® Core™2 Duo processor
Chipset
SIS 672DX+968
LCD
16″ HD Ready16:9 ,1366 x 768 LED Backlight Display
VGA
Controller
ATi Mobility Radeon HD4330
VRAM
DDR2 512MB
Memory
Type
DDR2 667Mhz
Config
DDR2 SO-DIMM x 2 slot
Maximum
4GB
Audio
Speaker
2
Webcam
1.3 M Webcam
Communication
LAN
10/100
Bluetooth
Optional
Wireless LAN
802.11 b/g/n
I / O
Card reader
4 in 1 (support SD,MMC,MS,XD)
Mic-in / Headphone out
1/1
USB 2.0
3
RJ45
1
D-Sub
1
Storage
HDD form factor
2.5″ 250 /320/500 GB SATA
Optical Drive
DVD Super-Multi
Battery
6/9 Cells
Keyboard
103 keys
Power
AC Adapter
65W
Physical Characteristics
Dimension
374x 247 x 18-30mm
Full System Weight
2.48kg (With 6 Cell Battery)
CR600 Spec
Operation System
Genuine Windows Vista® Home Premium
Support type @launch
Intel® Core™2 Duo processor
Chipset
Nvidia MCP79MVL
LCD
16″ HD Ready16:9 ,1366 x 768 LED Backlight Display
VGA
Controller
GeForce 8200M G
VRAM
share with system memory
Memory
Type
DDR2 667/800Mhz
Config
DDR2 SO-DIMM x 2 slot
Maximum
4GB
Audio
Speaker
2
Webcam
1.3 M Webcam
Communication
LAN
Gigabit LAN
Bluetooth
Optional
Wireless LAN
802.11 b/g/n
Expansion
Express Card
1
I / O
Card reader
4 in 1 (support SD,MMC,MS,XD)
Mic-in / Headphone out
1/1
USB 2.0
3
RJ45
1
D-Sub
1
HDMI
1
Storage
HDD form factor
2.5" 250 /320/500 GB SATA
Optical Drive
DVD Super-Multi
Battery
6/9 Cells
Keyboard
103 keys
Power
AC Adapter
65W
Physical Characteristics
Dimension
374x 247 x 18-30mm
Full System Weight
2.48kg (With 6 Cell Battery)
Source: MSI