MSI is offering tailor-made solutions with the release of the all-new Intel® ATOM processor N450 with integrated architecture for the stylish Wind Series Special Edition U135 and the U130—now covered head-to-toe with Color Film Print coating. These two netbook models are the world's first two Intel Pine Trail platform netbooks to receive International WiMAX Forum certification.
MSI Notebook Marketing Director Sam Chern noted that the Wind Series Millions Special Edition U135 is based on feedback from millions users. This feedback is being used to meticulously create a new generation of Wind netbooks that are Windows 7 pre-installed. MSI's attention to detail and its pursuit of perfection in product design are also demonstrated by the all-new Intel® ATOMTM processor N450 with integrated architecture, an even more stylish design, a sturdier and quieter MSI Chiclet keyboard, a lid treated with Color Film Print coating over a stylish woven pattern, a 20% larger touch pad for extra comfort, and longer battery life.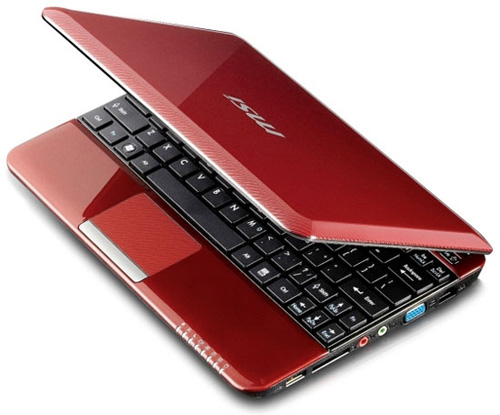 Wind Millions Special Edition: Created for You with Stylish Refinement
Exceptionally Stylish Character: MSI Wind U135 and U130 both have extraordinary styling, incorporating elements from trendy global products. The outer shell is treated with MSI's exclusive Color Film Print coating and features flowing silver lines and rippling water designs to create the U135 in four dazzling colors: Refined Silver, Wind Dancer Black, Trendy Blue, and Cherry Red. The U130 comes in two all-new standard colors: Angelic White and Wind Dancer Black. The U135 and U130, with their sparkling high-end feel, are also scratch-resistant and stay looking new after long periods of use.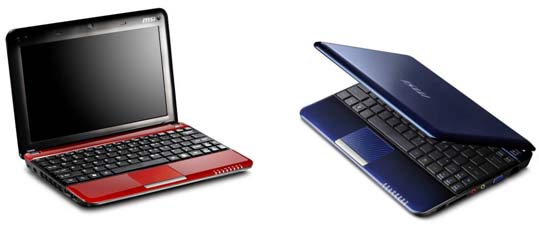 Attention to Detail, Original Taste: The U135 and U130 continue the outstanding tradition of MSI U Series netbooks. With an exterior as light as it is sharp and an efficient 10″ LED backlit display with 1024 x 600 screen resolution, web pages and documents can be viewed more easily in richer, more beautiful color. In addition, these two models do away with the straight lines and angles of tech products, employing graceful curves and arched designs that flow together in harmony. Underneath, the subtle three-dimensional material not only has practical anti-slip properties, but its luminous presence also adds contrasting layers that reveal detail and extraordinary, original styling.
Absolute Comfort & A Perfect User Experience
MSI's Exclusive Chiclet Keyboard: MSI's focuses on detail and is devoted to providing consumers with the most comfortable user experience. The Wind U135 features MSI's exclusive Chiclet keyboard that uses an independent key design for more stable, quiet operation. At the same time, it gives the U135's exterior a more exquisite and artistic exterior that creates a sense of particular quality.
20% Wider Touch Pad: For the new generation Wind U135, MSI has specially incorporated a wider touch pad. A 20% larger surface area allows for easier finger movement. It is also a striking design symbol that helps these two models provide an even more flawless and comfortable user experience. Overall quality also results in a nimbler and more aesthetically pleasing presence.
Ultra-Long Battery Life*
The Newest Intel® ATOMTM processor N450: The Wind U135 and U130 both use the newest Intel® ATOMTM processor N450 and a new generation single chipset architecture that provides extremely low consumption of 7 watts, increasing battery life by 15% and overall performance by 10%!
Exclusive MSI ECO Engine Technology: An efficient LED display and MSI's exclusive ECO Engine technology are even more capable of bringing the new generation Intel® ATOMTM processor N450's special qualities into play and effectively increasing the time these netbooks can be used. With ECO Engine technology, users can choose from 5 power supply modes–Gaming, Movie, Presentation, Document and Turbo Battery–to customize the power supply based on user requirements. This flexible allocation of power during use extends endurance to its limits and gives the U135 and U130 all-day, uninterrupted, ultra-long battery life.
*Actual battery performance depends on operating circumstances and user settings.
The Extreme Limit of Current Generation Mobile Technology
International WiMAX Forum Certification: The U135 and U130 are not just nimble, smart, and stylish; they also include the latest current generation technologies. Both models support 3.5G WiMAX communication technologies (optional) and they are the first netbook products on the market with the new generation Intel® ATOMTM processor N450 that have received International WiMAX Forum Certification.
802.11 b/g/n WLAN: What's more, these two models also have built-in 802.11 b/g/n WLAN, 1.3MP webcams, V2.0 EDR Bluetooth, stereo speakers, and microphones. Plus, MSI's exclusive Easy Face, Webcam Companion, Visual Effect2, and Print Creation software applications all help make your mobile computing lifestyle more exciting and convenient.
U135/U130 Spec
CPU
Intel® ATOMTM processor N450 (1.66GHZ)
Chipset
Intel® NM10 Express Chipset
Graphic
Intel® Graphics Media Accelerator 3150
Memory
DDR2 667 support up to 2 GB(1 DIMM slot)
LCD
10" (1024 x 600) WSVGA LED
HDD
160 GB / 250 GB (2.5" SATA)
Optical
W/O
Card reader
4 in 1 (support SD,MMC,MS,MS Pro)
I/O
D-sub*1 , USB 2.0*3 , Mic-in
Headphone, RJ45
Battery
3 cells  / 6 cells ( optional)
Wireless
802.11 b/g/n, Bluetooth V2.0EDR
Webcam
1.3 M Webcam
Sound
HD Audio, Stereo speakers
Dimension
260x180x19-31.5mm
Weight
1.2 Kg (with 3 cell battery)
OS
Microsoft ® Windows® 7 Starter
Source: MSI