The Wind U160, MSI's exquisitely designed small notebook PC, which has already won an Germany's iF product design awards and become a major talking point in the IT industry, has been formally launched onto the market! The Wind U160 is less than one inch thick, and weighs just 1 kg. It uses Intel's Pine Trail platform, with the highly-integrated N450 Atom processor. The laptop casing features MSI's unique color-film-print (CFP) technology with a two-color – Fancy Gold and Jet Black – color scheme. With its attractive external appearance, slim, lightweight design and painstaking attention to detail, the U160 is sure to appeal to any fashion-conscious consumer.
MSI Notebook Marketing Director Sam Chern explains that the Wind U160 is a hi-tech, high-fashion product of MSI's outstanding craftsmanship. The Wind U160's energy-saving 10-inch LED display boasts a reaction time of just 8 millisecond, twice as fast as any other comparable product. The U160 also incorporates MSI's unique Chiclet keyboard, a seamless touchpad and other innovative design features. Besides being attractive to look at and convenient to use, the Wind U160 has a battery run-time in excess of 15 hours, enabling users to keep working all day without having to worry that they may run out of power.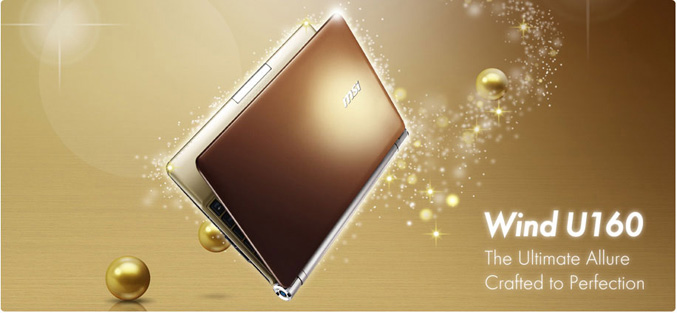 An iF design award adds extra luster to this luxury hi-tech device
An innovative design and outstanding tactile appeal: The Wind U160 has an ultra-slim, lightweight body, with a rod-type screen hinge exclusive to MSI. The power switch features an embedded blue LED light, while the chassis exterior has MSI's brand-new color-film-print surface treatment, with an attractive Fancy Gold and XXX Black color scheme; when the laptop is switched on, the MSI brand logo shines out in lustrous silver-white. The section of the chassis on which the user's hands rest is also coated with scratch-resistant, hard-wearing color-film-print. This attention to detail gives the Wind U160 immense visual and tactile appeal; every aspect of the laptop radiates class and elegance.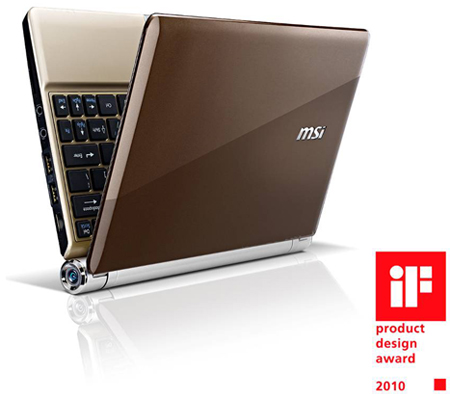 iF product design award: With its revolutionary exterior design, which incorporates many new, high-fashion elements, the MSI Wind U160 has attracted a great deal of positive comment, and has been the recipient of a product design award at the 2010 iF design awards in Germany. All of this has made the Wind U160 one of the most sought-after hi-tech luxury mobile computing devices. The U160 uses the latest rod-type screen hinge design, with the power switch located on the end of the hinge. It also features a seamless touch-pad that is exclusive to MSI, and a unique, beautiful Chiclet keyboard. The combination of the bright, shiny color-film-print coating in the keyboard area with the sparkling silvery touch pad key creates an all-over luxury feel that makes it difficult for people to keep their eyes off it.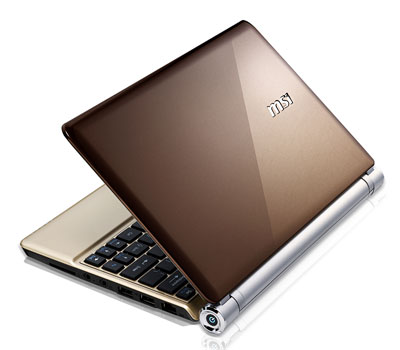 MSI's attention to detail makes the Wind U160 very user-friendly
A wide, seamless touch-pad: The Wind U160 uses a seamless touch-pad design that is exclusive to MSI. By widening the touch-pad, MSI has given the keyboard area a more streamlined look, while also ensuring smooth touch-pad's cursor operation. All of this combines to make life more enjoyable for Wind U160 users.
A brand-new design, with the unique Chiclet keyboard: The U160 uses a Chiclet keyboard, exclusive to MSI, where each key is situated independently; this makes for greater stability, and also makes the keyboard quieter to use. Every time your fingers touch the keys, you experience MSI's commitment to providing a perfect user experience; this commitment to user comfort underpins all of MSI's R&D and manufacturing operations.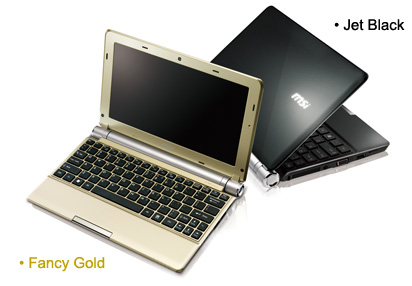 A 10-inch LED screen with a reaction time of just 8 millisecond: The Wind U160 has an energy-saving 10.1-inch screen with LED backlight. The display's reaction time of just 8 seconds makes it twice as fast as a traditional notebook PC, and provides ultra-smooth performance when watching a film or animation. With highly detailed image quality and bright colors, the Wind U160 demonstrates that a small notebook PC can provide movie theater quality audiovisual enjoyment.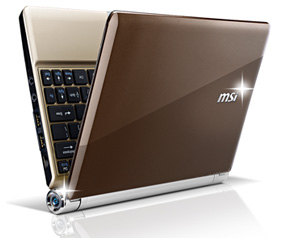 Ultra-long 15-hour battery run-time
Intel's latest N450 Atom processor: The Wind U160 uses the Intel Pine Trail platform, with the new-generation, single-chip architecture Intel Atom N450 processor. With very low power consumption of just 5.5 watts, this processor supports extra-long battery run-time, while also providing outstanding display performance.
MSI's unique ECO technology: The Wind U160 features MSI-developed "ECO" energy-saving technology. Just by pressing a button, the user can switch between five different power usage modes: gaming, film viewing, presentation, word processing, and Turbo Battery. This feature helps to increase battery run-time. Testing has shown that the MSI Wind U160 can achieve battery run-time of up to 15 hours, enabling users to keep working all day without needing to worry about the battery running down.
Support for 3.5G mobile communications: Besides providing ultra-long battery run-time of 15 hours, the Wind U160 also offers comprehensive wireless networking functionality. The U160 has built-in 802.11 b/g/n capability, Bluetooth V2.0 EDR, and supports 3.5G (Enhanced Third Generation) mobile communications. With the Wind U160, you can enjoy convenient, high-speed wireless Internet communications at any time and from any location, overcoming the barriers of distance. The U160 allows you to experience the future of high-end mobile computing!
U160 Spec

| | |
| --- | --- |
| OS | Microsoft ® Windows® 7 Starter |
| CPU | Intel® Atom™ Processor N450 (1.66GHZ) |
| Chipset | Intel® NM10 Express Chipset |
| Graphic | Intel® Graphics Media Accelerator 3150 |
| Memory | DDR2 667 support up to 2 GB(1 DIMM slot) |
| LCD | 10.1" (1024 x 600) WSVGA LED |
| HDD | 160 GB or above (2.5″ SATA) |
| Card reader | 2 in 1 (support SD,MMC) |
| I/O | D-sub*1 , USB 2.0*3 , Mic-in, Headphone, RJ45 |
| Battery | 3 cells / 6 cells ( optional) |
| Wireless | 802.11 b/g/n, Bluetooth V2.0EDR |
| Webcam | 1.3 M Webcam |
| Sound | HD Audio, Stereo speakers |
| Dimension | 265 x 165 x 24-25.4mm |
| Weight | 1 Kg (with 3 cell battery) |
Source: MSI