The newest member of MSI's X-Slim family, the 15.6″ screen X610 is the multimedia lover's ultimate fantasy. It is equipped with the latest green power saving technologies, including AMD's 2nd Generation Ultrathin Platform, PowerNow!™, and MSI's ECO technology, which together give the X610 more than twice the battery power of conventional 15.6″ notebooks. What's more, its top-end ATI Mobility Radeon™ HD4330 3D discrete graphic card allows this lean, mean, green machine offer the ultimate multimedia experience.
Superior craftsmanship, environmentally friendly, and chic
The overall exterior design takes full advantage of the lightness and power-saving characteristics of X610 hardware. The X610's feather pattern accentuates its grace and beauty as it shakes off the hard, impersonal feeling that characterized high-tech products of the past. Noteworthy is the fact that even with its standard six-cell battery, the X610 tips the scales at just 2.1 kg. A mere 1-inch at its thickest and 6 mm at its thinnest, the X610 is ushering out the age of clumsy, thick large-screen laptops. Its allure of stylish minimalism is made possible by MSI's exquisite craftsmanship.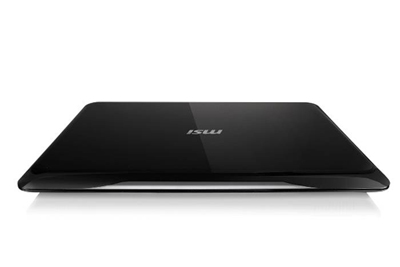 AMD's 2nd Generation Ultrathin Platform not only allows the X610 to run cool, while sipping power, it also extends battery life. The processor runs on only 15W—40% of that consumed by conventional laptop processors. The 2nd Generation Ultrathin Platform coupled with AMD's PowerNow!™ technology and MSI's exclusive ECO power-saving technology allow the user to select computer game, movie, presentation, word processing, or turbo mode, giving the power supply flexibility and extended life. Tests show that the X610's battery life is twice that of traditional laptops in its size category.
*Actual battery life depends on computer use and settings.
A visual delight
The X610 is a friend of the environment, but it doesn't compromise on performance. Its cinema-class 16:9 LED display, the same ratio used in the latest generation of HDTVs, is ideal for viewing films. Increased display area makes the picture looks bigger and more true-to-life, maximizing your enjoyment of high definition films regardless of the viewing angle.
The high-end ATI Mobility Radeon™ HD4330 3D discrete graphic card (with embedded 512MB display memory) for rich color quality works hand-in-hand with the extra large 15.6″ Amazing Crystal Vision LCD to give you the most comfortable visual enjoyment available. So whether you're playing computer games or watching a movie, the X610 is designed to maximize your experience.
Shock and awe
And the multimedia experience doesn't stop there. The X610 also boasts four embedded speakers certified by 2nd Generation Dolby® for high-quality audio performance with surround-sound bass to kick that home cinema experience up a notch or two. You can also play Blu-Ray discs, offering 50GB of storage space, if you choose to go with the optional Blu-Ray player. The X610's embedded High-Definition Multimedia Interface (HDMI) allows you to enjoy a crisp picture with maximum 1080i resolution.
The X610 also offers embedded 802.11b/g/n Wi-Fi® and optional Bluetooth capabilities, freeing you from that Gordian knot of tangled wires and making your multimedia experience truly mobile.
X610 Spec
Operation System
Genuine Windows Vista® Home Premium
Support type @launch
AMD Athlon™ Neo Processor
Chipset
AMD RS690E
LCD
15.6″ TFT-LCD Display
VGA
Controller
ATi Mobility Radeon HD 4330
VRAM
DDR2 512MB
Memory
Type
DDR2 800Mhz
Config
DDR2 SO-DIMM x 1 slot
Maximum
2GB (MAX: up to 4GB)
Audio
Speaker
4
Webcam
1.3 M Webcam
Communication
LAN
10/100/1000 GB LAN
Bluetooth
Optional
Wireless LAN
802.11 b/g/n
I / O
HDMI
1
Card reader
2 in 1 (support SD/MMC)
Mic-in / Headphone out
1 / 1
USB 2.0
3
RJ45
1
D-Sub
1
Storage
HDD form factor
2.5″ 320/500/640 GB SATA
Optical Drive
External DVD Super-Multi / Blu-Ray(optional)
Battery
6/9 Cells
Keyboard
103 keys
Power
AC Adapter
65W
Physical Characteristics
Dimension
39.2cm x 25.5cm x 2.5cm
Full System Weight
2.1kg (With 6 Cell Battery)

Source: MSI