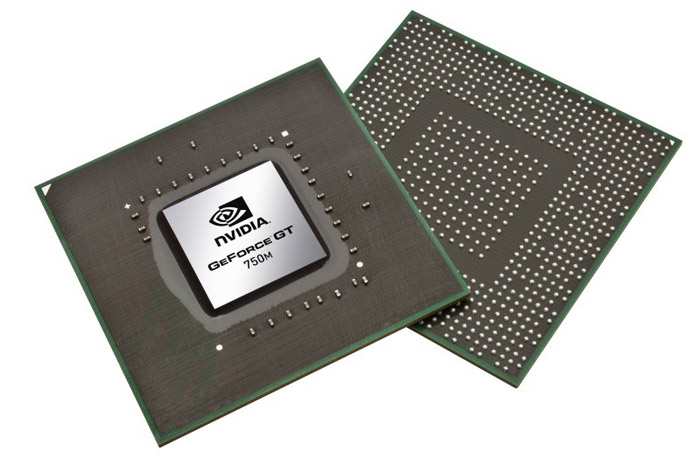 The graphics chip maker NVIDIA has officially introduced five new graphics solutions for notebooks that all fall under the new GeForce 700M series.
The list of chips includes the high-end GeForce GT 750M, GeForce GT 745M and GeForce GT 740M while the GeForce GT 735M and GeForce GT 720M will serve the mainstream and budget market segments. All new chips support GPU Boost 2.0 and NVIDIA Optimus technologies – the first one dynamically changes the GPU clock speed when needed while the second one switches from the discrete NVIDIA graphics card to the CPU's integrated GPU when high 3D performance is not needed. Thus both technologies save power and extend the laptop's battery life. Furthermore the latest mobile NVIDIA series of graphics chips comes with GeForce Experience – a technology by NVIDIA that dynamically changes games' settings for the best visual experience and checks on a regular basis for the latest NVIDIA GeForce drivers.
As to performance NVIDIA claims that the new GeForce 700M chips achieve between 3.4 and 6.3 times higher performance in Crysis 2 (1366 x 768, 1x AA, High Detail settings) when compared to Intel's HD 4000 graphics. When graphics details are set to Medium the new mobile graphics chips reach up to 90 FPS in StarCraft II: Heart of the Swarm, 65 FPS in the Elder Scrolls V: Skyrim, 66 FPS in Batman: Arkham City, 48 FPS in Battlefield 3 and 64 FPS in Shogun 2: Total War.
The new GeForce 700M chips are now available in various notebooks by ASUS, Acer, Lenovo, HP, Dell, Samsung, Sony and Toshiba.
Source: NVIDIA