Just before Christmas 2015 NVIDIA promised it would soon refresh its mobile GPUs with a number of new budget-oriented chips. The promise has just been kept – NVIDIA has quietly added three new budget-oriented video cards in its product portfolio – meet the GeForce 940MX, GeForce 930MX and GeForce 920MX.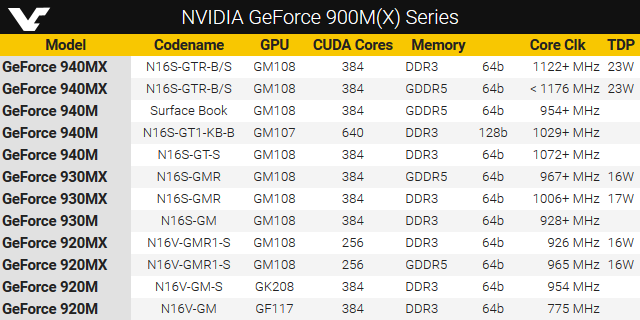 All three new video cards are faster versions of the GeForce 920, 930 and 940 video cards and are based on the same Maxwell-based GM108 GPU, which features 384 stream processors. The GeForce 920MX, however, features just 256 stream processors, although it uses the same GM108 GPU. The new cards also utilize either DDR3 or GDDR5 memory over a 64-bit memory bus so each one of them will enjoy one of the possible memory subsystems. The chips, however, run at different clock speeds, which distinguish the new cards even better. In all cases, however, they are faster than the GeForce 920, 930 and 940 GPUs that they have come to replace.
Notebooks based on the new NVIDIA GPUs will surface any time soon.
Source: NVIDIA