NVIDIA intros new mobile GPUs, GeForce GTX 770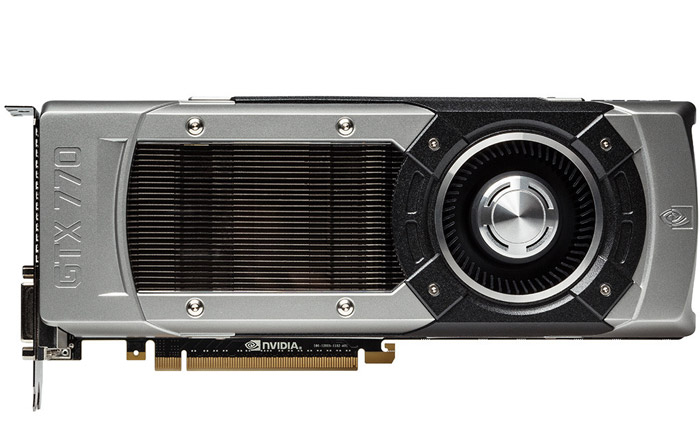 NVIDIA has had a big day announcing no less than five new products – four mobile GPUs and the rumored GeForce GTX 770 graphics card.
The new mobile GPU family belongs to the Kepler generation and consists of four models – the GeForce GTX 780M, GTX 770M, GTX 765M and GTX 760M. All of them are built on 28 nm tech process and feature the latest GPU Boost 2.0 technology.
The GTX 780M is based on the well-known GK104 GPU and features 1536 CUDA cores at 823 MHz and 4 GB of memory at 5000 MHz accessed over a 256-bit bus. The other three models are based on the GK106 core and offer the following hardware specs – GTX 770M (960 CUDA cores at 811 MHz, 3 GB of memory at 4000 MHz accessed over a 192-bit bus), GTX 765M (768 CUDA cores at 850 MHz, 2 GB of memory at 4000 MHz accessed over a 128-bit bus) and GTX 760M (768 CUDA cores at 657 MHz, 2 GB of memory at 4000 MHz accessed over a 128-bit bus). Some of the new mobile GPUs have already been announced in the newest gaming notebooks out there.
In addition to the new Kepler mobile GPU family NVIDIA also announced the expected and widely rumored GeForce GTX 770. As expected the GTX 770 is a faster version of the GTX 680 at a lower price. The new card is based on GK104 silicon and features 1536 CUDA cores, 128 texture units and 32 ROPs. The GPU itself runs at 1046 MHz (1085 MHz in Boost mode), while the installed GDDR5 memory runs at record 7000 MHz – a first for the industry. The GTX 770 will also offer 2 or 4 GB of memory, a 256-bit memory bus and the same cooling found in the faster GTX 780, which may make the card suitable for overclocking. The card is expected to cost around USD 400.
Source: NVIDIA