The brand new Packard Bell EasyNote DT85 notebook is the answer for those who desire the power and the multimedia experience of a desktop but still with the portability of a laptop.
With its 18.4-inch widescreen, its smart usage of technology and its reliable technical features, EasyNote DT85 has been designed to grant an immersive home entertainment experience – home theatre included – while bringing a chic and stylish touch to your home. Once again, EasyNote DT85 is the right combinationof design, customer-oriented features and ease-of-use, well-known as the added-value offered by Packard Bell, a brand which has always taken into great consideration needs and requirements of home-users.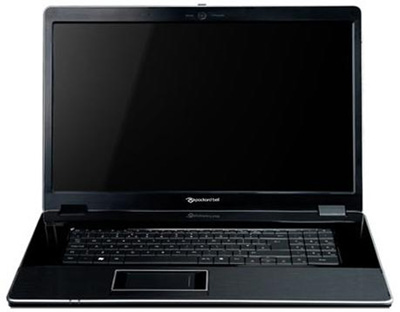 Classy look and feel and ease of use turned into an art
Stylish design and high-end details give an elegant look and feel to this sophisticated notebook. Itslarge chassis – 440.5mm x 298.5mm x 41.5mm – looks incredibly thin and light, thanks to the black, glossy finish and the stylish briefcase-like design full of nice details. A silver trim – with an elegant engraved logo – surrounds vertically the cover; a black brushed-aluminum base merges with a glossy bezel surrounding the keyboard. Keys on the keyboard are accented with a chic matt finishing.
For Packard Bell, elegance doesn't mean doing without "ease-of-use". The wide base provides plenty of room for comfortable typing. The numeric keypad allows typing numbers with an unprecedented simplicity for notebooks. The large multi-gesture touchpad allows easy navigation, scrolling and zooming by simply using 2 fingers: with the new "flick" gesture, your photos, web pages, documents, or media albums may be browsed back-and-forth by sliding two fingers horizontally.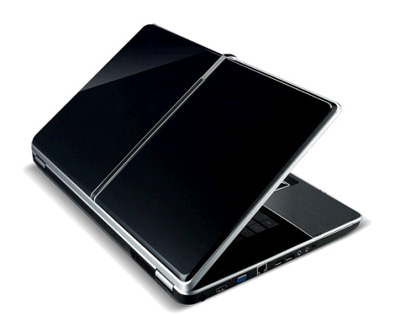 On the right of the keyboard, a glossy strip houses several highly responsive, touch-sensitive keys for easy control over multimedia features such as going forward and backward. All the smart key functions characterizing Packard Bell's notebooks are conveniently placed on the left side of the keyboard: the PowerSave key (to increase battery life), MyBackup Key (to easily and quickly save all your data on the preferred support), the Touchpad lock and the Wi-Fi activation.
The ultimate multimedia experience!
Packard Bell EasyNote DT85 has an 18.4-inch display, which is ideal for watching movies thanks to its 16:9 aspect ratio and its 1920 x 1080 Full HD resolution1. Moreover, the Packard Bell Diamond View LED-backlit display grants deep contrasts and vivid colors. Completed by a Blu-ray drive and  Dolby® Sound Room technology, Packard Bell EasyNote DT85 offers a theater-caliber sound with just two speakers and an unprecedented movie-watching experience.
Thanks to the HDMI port, Packard Bell EasyNote DT85 can be connected to any HD Television or audio/video devices, such as monitors, projectors etc. An optional Media Center remote control enables to use the laptop, while comfortably sitting on your sofa. Four USB ports, a TV tuner card2 plus a 5-in-1-reader complete the offer. A 1.3-megapixel webcam above the display is also available for social networking and web chatting.
An excellent desktop replacement
People looking for an entertainment-centric desktop replacement will be pleased with the great possibilities offered by Packard Bell EasyNote DT85, designed for power-hungry applications. Equipped with Intel® Centrino® 2 technology, featuring the latest Intel® Core™ 2 Duo processors, up to 4 GB of DDR3 RAM for serious multitasking, it may come along with the NVIDIA® GeForce® GT 240M (1GB dedicated memory) or the NVIDIA® GeForce® G210M (512 MB dedicated memory) graphics solutions for HD visual playback. Its storage capacity up to 1,25TB makes it more than capable to store movies, music and more. The 8-cell Li-ion battery pack gives additional power for computing.
Packard Bell EasyNote DT85 will be available from September at an estimated street price of £699. Availability and technical features will vary according to countries.
Source: Packard Bell