Packard Bell is happy to announce today a full range of new incredible notebooks offering a wide range of solutions available to meet everybody's requirements and desires and perfectly in-line with market criteria.
All the new notebooks in the EasyNote NJ, EasyNote TJ and EasyNote LJ Series have an unmistakable look and feel, great attention to detail, elegance and style, while granting the ease of use, typical of Packard Bell's products combined with maximum enjoyment.
In a market in which PCs have become a commodity, end-users look for products able to fully fit their needs and reflect who they are.
High-end design is a standard of the three new series while the key difference is the LED display screen size: 14-inch for the EasyNote NJ Series, enlarging to the popular 15.6-inch EasyNote TJ Series, up to the outstanding 17.3-inch that characterizes the EasyNote LJ Series.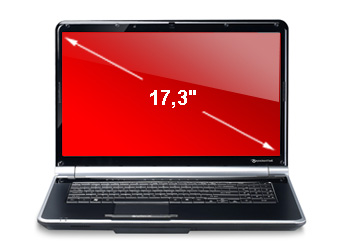 Nowadays, the screen size has become a key criterion when choosing a notebook, which depends on main usage of the consumer. The 14-inch display of the EasyNote NJ Series represents the best choice for portability, while the 15.6-inch fits any digital hobby or activity, while the 17.3-inch is created for more demanding users.
The colour options are also inspired by their appeal to different users. As an example the EasyNote NJ and EasyNote TJ are available in two colour schemes. A distinctive honeycomb pattern moonstone-coloured cover with an extremely elegant mirror logo plate combined with a matt black interior – again with the new engraved logo on the signature touchpad, addresses classic and elegant taste. The same amazing chassis are also offered with a milky and matt white interior for stylish users who love fashion details.
The variety of options is perfectly coherent with the group's multibrand strategy, setting user targets and identifying the ideals that users aspire to, creating products that reflect their desires and needs.
Whatever the platform, users will experience the fastest and latest generation of components with the possibility of choosing the model that best enhances their self-expression.
Either Intel® or AMD based, with integrated graphics or a discrete graphics card, all the new series notebooks have a LED backlight display for sharper and more vivid images, a 16:9 aspect ratio, Dolby® Sound Room® and red capacitive buttons for power saving, backup and touchpad lock.
Collection of software
Software is what makes a notebook fun and interesting, from productivity to education, games to the Internet and digital photos to entertainment. These notebooks are natural entertainers, with a wide range of top-shelf titles from the leading names in software.
The Packard Bell software offer includes Norton Internet SecurityTM, Adobe® Photoshop® Elements 6 full version, Nero 8 Essentials and Microsoft® Works 9. It also comes with a collection of online software and services from Metaboli to download E-Bay'sTM best in class games.
Source: Packard Bell