Silicon Power releases their USB 3.0 express and PCIE cards for those, who want to stay current with modern demands for connectivity bandwidth.
Silicon Power's super speed USB3.0 express card uses the Express/34 interface, has two USB3.0 ports, provides up to 5Gb/ sec maximum transfer rate and is compatible with majority of laptops on the market. The other propose, the USB3.0 PCIE card also comes with two USB3.0 ports, that provides same theoretical transfer rate and can be installed on most motherboards on the market, offering an economical solution.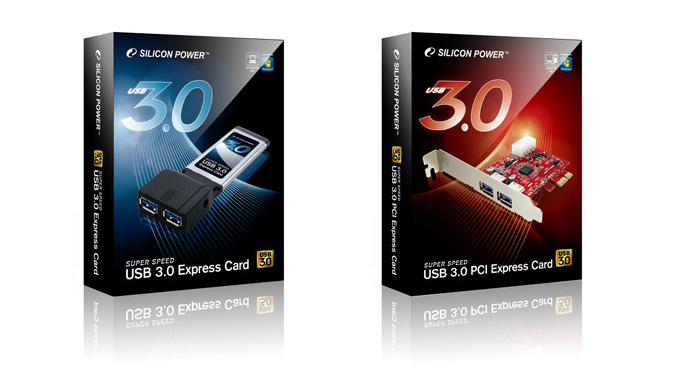 The USB3.0 Port can supply 900mA current (400mA more than USB2.0) to the connecting external device, offering  greater stability and performance. Both device comes with a 2-year warranty.
Feature USB3.0 express card:
Add USB 3.0 ports to laptop with an ExpressCard/34 slot
Two external USB 3.0 ports
Connection bandwidth up to 5Gbits per second (USB 3.0 mode)
Installs easily in Express slot
Compatible with USB 2.0 and USB 1.1 devices
Supports plug and play and hot swapping
Compliant with Intel's extensible Host Controller Interface (xHCI) specification revision 0.95
Features USB3.0 PCIE card:
Add two external USB 3.0 ports to desktop computer with a PCI Express slot
Connection bandwidth up to 5Gbits per second (USB 3.0 mode)
Built-in 4-pin power connector for receiving extra power supply from system.
Installs easily in any PCI Express slot, including x1,x4,x8 and x16 slots
Compatible with USB 2.0 and USB 1.1 devices
Supports PCI Express Card Electromechanical Specification 2.0
Supports PCI Bus Power Management Interface Specification revision 1.2
Compliant with Intel's extensible Host Controller Interface (xHCI) specification revision 0.95