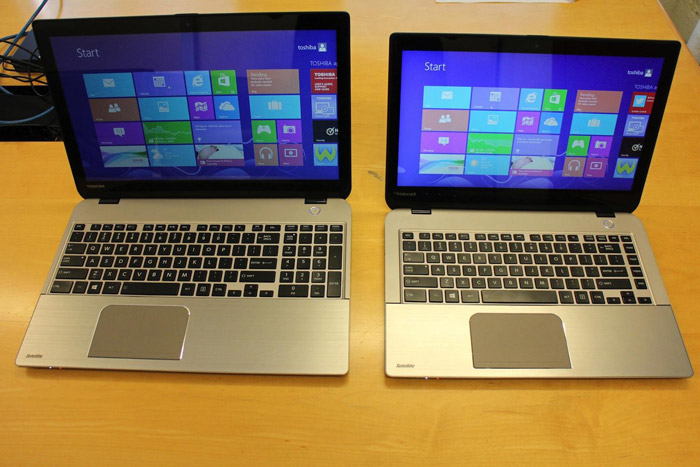 Toshiba has outed two new notebooks that belong to the mid-range and budget notebook segments. Despite this the Satellite E45t and E55t come with decent hardware and thin chassis for improved mobility so these two might be of interest to you.
The Toshiba Satellite E45t is the smaller model of the two. It comes with a 14-inch sensor display that works at 1366 x 768 pixel resolution. Inside the Satellite E45t houses an Intel Core i5 Haswell processor, 6 GB of RAM (up to 16 GB) and a 500 GB hard drive. The notebook does not have an optical drive or a discrete graphics card – instead it relies on the integrated GPU in the Haswell chip to draw images on the display. The rest of the specs include two USB 3.0 ports, one USB 2.0 port, a web camera, an integrated card reader, a HDMI port, an Ethernet port, a 3-cell battery and Windows 8. The entire device measures 340 x 234 x 20.3 mm and weighs 2.1 kilograms. As to pricing Toshiba asks for USD 700.
The Satellite E55t is the larger model between the two. It comes with a 15.6-inch display at 1366 x 768 pixels that is available in two modifications – with a sensor capability and without it. The model offers more hardware to choose from – users can opt for an Intel Core i5 processor or an AMD A6 APU with the Intel model coming with a sensor display only. The sensor display machines offer a 1 TB hard drive, while the notebook without a sensor capability comes with a 750 GB hard drive. Just like the E45t this model does not offer a discrete graphics card or an optical drive. The rest of the specs of the E55t are just like the ones found in the E45t. The pricing here is a bit more complicated – the version with an AMD APU and a sensor display costs USD 700, while the AMD APU plus a non-sensor display combination sells for USD 580. The pricing of the Intel version is unknown.
The notebooks are available now online.
(picture courtesy of Sweclockers.com)
Source: Toshiba