Toshiba's Digital Products Division (DPD), a division of Toshiba America Information Systems, Inc., today announced the availability of its new line of Satellite Pro®, Tecra® and Portégé® business laptops with Windows® 7 support. The Satellite Pro line features new screen size options in 15.6-inch, 17.3-inch diagonal display configurations as well as a 13.3-inch diagonal touch-screen display and includes performance enhancements that will appeal to cost-conscious professionals looking for a reliable PC at the right price.
With models starting as low as $529 , customers can more easily access the rich set of features and functionality in Windows 7. Toshiba will continue to pre-install Windows® XP Professional on most laptops, bundling Windows 7 Professional upgrade media so businesses have the choice to upgrade when they are ready.
"Windows 7 provides us with the ability to offer our customers the many productivity enhancements in the new operating system that enable business professionals to work more quickly and effectively while in the office or on the road, as well as innovative features such as Touch in form factors beyond Tablet PCs," said Carl Pinto, vice president of product development, Toshiba America Information Systems, Inc., Digital Products Division.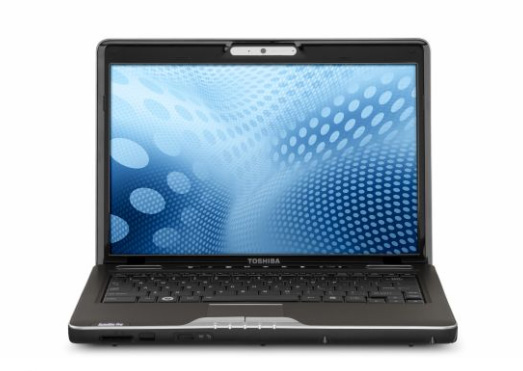 Touch-enabled Laptops Enhanced Productivity
Building on its expertise in Tablet PCs, Toshiba is bringing the intuitive touch experience to laptops built for mobility. Leveraging Windows 7 multi-touch capabilities, the new Satellite Pro U500 Touch laptop features a 13.3-inch diagonal multi-touch screen display that helps mobile professionals easily tap, drag-and-drop and scroll through files, calendars, tasks, or zoom in and out of a window with just a two-finger pinch. In addition, Toshiba is including touch-ready basic productivity software, Toshiba LifeSpace™ on the Satellite Pro U500 Touch. LifeSpace consists of two applications designed to increase personal productivity in a unique way:
Toshiba Bulletin Board™—Gives users fast access to day-to-day activities, tasks and projects in a simple and visual way. Bulletin Board makes organizing disparately stored files easier with the ability to drag and drop links, documents, photos, videos and applications into one place. Customize and organize the board by moving, rotating and resizing using gestures to fit personalized style. Bulletin Board also includes several built in gadgets such as labels, calendars, a clock and a to-do list.
Toshiba ReelTime™—Helps users easily and quickly find files based on when they were opened with a simple visual history. With the flick of a finger, quickly scroll through automatically generated previews of documents, spreadsheets, presentations and more, filter by file type or use the calendar to go back weeks or months.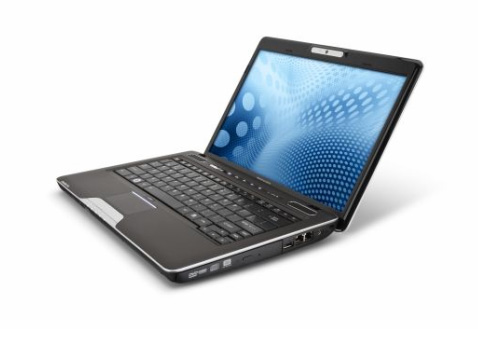 The Satellite Pro U500 Touch laptop is priced at $999.00 MSRP1.
Perfect for students, administrators and teachers, Toshiba has updated the Portégé M750 with more powerful Intel® Core™ 2 Duo processors . With its pen and touch input, the convertible Tablet PC with a 12.1-inch diagonal display supports solutions that encourage 1:1 learning and interaction in the classroom, enabling students and teachers to draw diagrams, take notes or annotate documents in their own handwriting.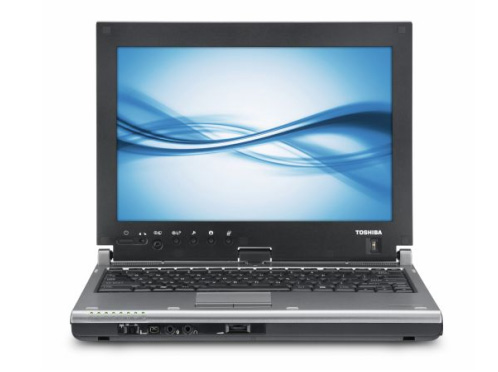 Users can feel confident with their computer purchase as Toshiba delivers the Portégé M750 Tablet PC with the utmost security, functional features and a generous Three-Year Standard Limited Warranty. The Portégé M750 Tablet PC comes equipped with Windows XP Tablet PC Edition with upgrade media for Windows 7 Professional. Prices start at $1,279 MSRP1.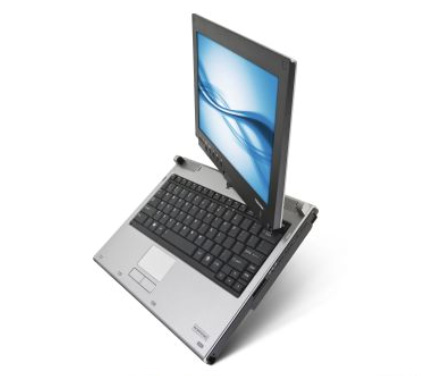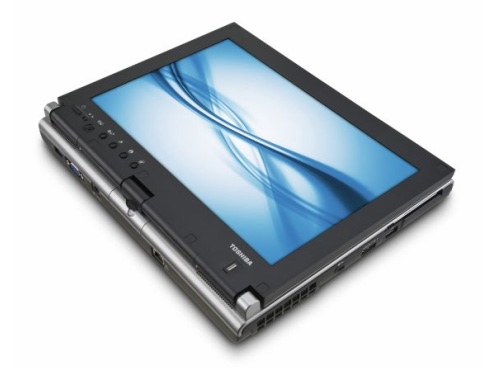 More information and detailed specifications can be found at:
http://laptops.toshiba.com/laptops/satellite-pro/U500
http://laptops.toshiba.com/laptops/portege/M750
"In the next 12 months, SMBs will be looking to upgrade their PC operating systems. Toshiba's business laptops will provide businesses with the choice to upgrade while offering SMBs extended value and mobility. It's crucial for SMBs to stay on the forefront of technology to enhance productivity and efficiency," said Raymond Boggs, vice president, Small/Medium Business and Home Office Research of IDC.
Satellite Pro: Business Essentials at Economical Price Points
Toshiba's Satellite Pro Series are affordable everyday business laptops with the quality, durability, reliability and pricing that small, medium- and home-based businesses have come to expect from Toshiba.
The new Satellite Pro L450 laptop is designed for professionals seeking a portable PC that strikes a balance between basic performance, durability and value. At a desk or away, its large 15.6-inch diagonal widescreen display and powerful Intel Core 2 Duo processor2 help users multitask effortlessly, create effective charts and graphs, plus get the most from today's popular applications. With ample storage, users can save all the files they need. WiFi® 802.11a/g/n and a Webcam are essential for connecting, video conferencing and collaborating. Prices start at $529.00 MSRP1.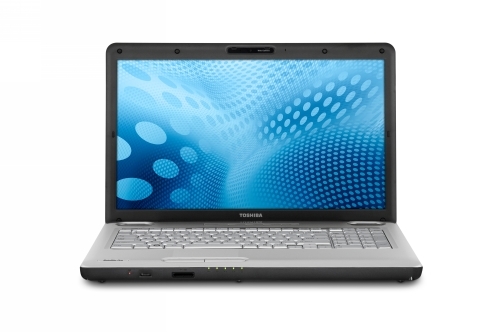 Offering fundamental performance, a large screen and full-size keyboard with a 10-key numeric keypad, the Satellite Pro L550 laptop is a great choice for students, financial professionals and business users needing a true desktop replacement. Its 17.3-inch diagonal high-definition widescreen TruBrite® display is ideal for spreadsheets, tabletop presentations and multitasking with lots of open windows.
Its Intel Core 2 Duo processor2 lends power for solid productivity and wireless connectivity while conserving energy. The laptops also offer many other conveniences, like spacious hard drives, built-in Webcams for videoconferencing, 802.11a/g/n for faster downloads and better Internet connections, a media card reader and more. Prices start at $999.00 MSRP1.
More information and detailed specifications can be found at:
http://laptops.toshiba.com/laptops/satellite-pro
Tecra and Portégé: Pushing the Limits of Performance
Toshiba continues to offer performance and value to help businesses succeed with upgraded models of the Tecra R10, Tecra A10 and Tecra M10 laptops and the popular Portégé R600 ultraportable laptop. These laptops offer quality, reliability and durability to professionals looking for robust business solutions. The laptops also offer better productivity with hassle-reducing innovations like durable chassis designs and security features, as well as a Three-Year Standard Limited Warranty . Toshiba's proprietary 4th generation EasyGuard® Technology and Toshiba PC Health Monitor helps protect laptops from data theft with several security features such as fingerprint reader, device lock utility and cable lock, as well as spills and jolts.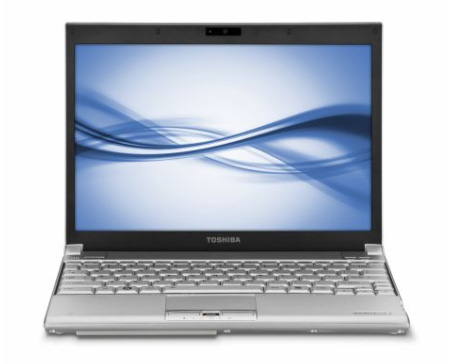 The Tecra line and Portégé R600 laptops feature key elements that help business professionals stay productive and efficient including a Webcam and microphone to allow for videoconferencing, a business card reader to organize contacts, an eSATA port for faster file transfers and a USB Sleep-and-Charge port to keep other mobile devices charged. Building in the latest advancements from Intel featuring Intel Core 2 Duo processors2, the Tecra line offers customers a choice between integrated or discrete graphics. Prices for the Tecra Series start at $999.00 MSRP1 and $2,099.00 MSRP1 for the Portégé R600.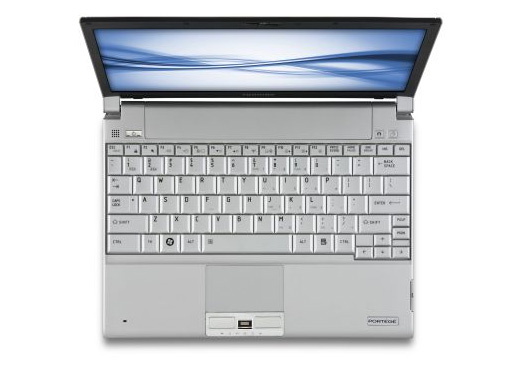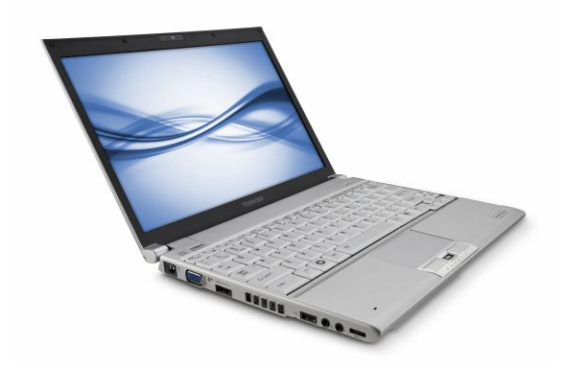 More information and detailed specifications can be found at:
http://laptops.toshiba.com/laptops/tecra
http://laptops.toshiba.com/laptops/portege/R600
Sustainable and Eco-conscious
While providing mobile professionals with industry leading technologies, Toshiba has also focused on green procurement in aspects of its laptops development. In recognition of this effort, the Portégé R600 laptop was named the greenest notebook in Greenpeace's second annual "Green Electronics: The Search Continues" survey. Most business laptops meet EnergyStar's® 5.0 standard and have achieved industry-leading Electronic Product Environmental Assessment Tool (EPEAT) Gold status.
Availability
The Toshiba business laptops, as well as accessories, are now available through select Toshiba Preferred Partner Program resellers, e-tailers and directly at toshibadirect.com.
Source: Toshiba