NVIDIA introduced the Next-generation NVIDIA® ION™ graphics processor today, which will supercharge netbooks with 10 times the graphics performance of standard netbooks and enable up to 10 hours of battery life thanks to NVIDIA® Optimus™ technology.
The new ION graphics processing unit (GPU) vastly outperforms basic netbook graphics by delivering rich HD media in games, movies, and Internet-based video. Unlike netbooks with Intel integrated graphics, ION netbooks have the power to play amazing HD video smoothly from sites like YouTube and support popular PC games like World of Warcraft.
The new ION netbooks also feature NVIDIA's highly acclaimed Optimus technology, which automatically selects the best graphics processor for running any given application – seamlessly routing the workload to either an NVIDIA discrete GPU or Intel integrated graphics. The result is great battery life and superior performance when you need it.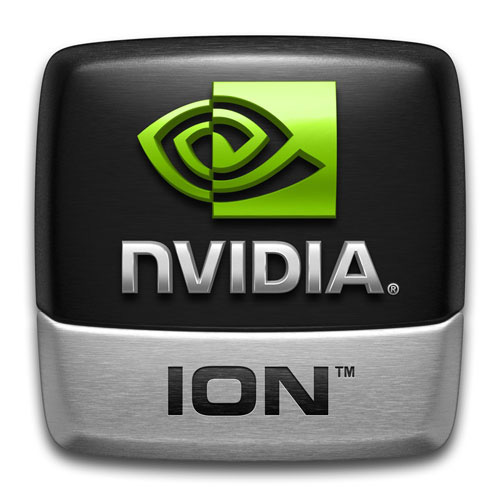 More than 30 products featuring the new ION GPU are expected to launch by this summer including netbooks, small form factor desktops, "barebones" systems, motherboards, and discrete add-in cards. The Acer Aspire One 532G (10-inch) and ASUS 1201PN (12-inch) are expected to be the first new ION netbooks to be introduced. New all-in-one PCs powered by next-generation ION will include the ASUS EeeTop 2010PNT and Lenovo C200. Channel partners including AOpen, AsRock, Asus, Foxconn, Giada, J&W, Jetway, Pegatron, POV, Shuttle, and Zotac also plan to introduce new ION-based products soon.
Facts about Next-generation NVIDIA ION graphics:
It's a discrete GPU (graphics processing unit) with dedicated memory that attaches to an Intel Atom Pine Trail CPU via PCI Express.
It supports streaming HD video on sites like YouTube HD, and smooth gaming performance on titles like World of Warcraft and Spore.
ION netbooks feature NVIDIA Optimus technology, which automatically assigns processing chores to the NVIDIA ION GPU or integrated graphics. Optimus powers down the GPU for basic tasks like web surfing, further extending battery life. When more graphics horsepower is needed for playing 3D games, running videos, or using GPU compute applications, Optimus automatically enables the ION GPU.
It will be available starting in April with the Acer Aspire One 532G netbook.
It accelerates a growing list of media-rich applications including Muvee Reveal for making home movies, Badaboom for media conversion, Total Media Theater and PowerDVD 9 for watching HD video or instantly upscaling standard definition video to near-HD quality.
Source: Nvidia