OCZ Technology Group, Inc., a worldwide leader in innovative, ultra-high performance and high reliability memory and PC components, is pleased to announce that their Z-Series line of PSUs have been certified at the highest efficiency levels by 80 Plus®, making the power supplies an exceptional choice for power users demanding the ultimate in performance and efficiency.
As one of the first consumer PSUs to meet the strict requirements of the 80 Plus Gold 90% efficiency standard, the Z1000 is now in production and is slated to be the first 1KW power supply available to end-users with the prestigious 80 Plus Gold rating. In addition to the 1000W configuration, two Silver 80 Plus rated power supplies are included in the series—the Z550 and Z650.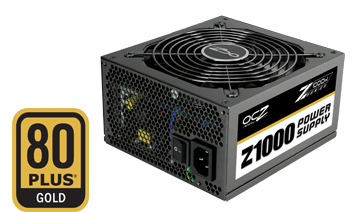 "The Z-Series is the culmination of close to two years of development time within our Power Management division and their partners" commented Ryan Edwards, Director of Product Management at the OCZ Technology Group. "OCZ power supplies now stand at the very forefront of efficiency and performance, offering end-users the ultimate solution for their future-proof build, maximum performance without compromise, cutting-edge power conversion efficiency, a single +12V rail to support over-clocking efforts, optimal thermal management, a standard ATX footprint, extremely low audible fan noise, and by preference, a modular or non-modular configuration (Z1000 or Z1000M)."

OCZ Z-Series PSU's push the envelope in power efficiency, and at typical load the Z1000 delivers over 90% efficiency, making it an excellent contender for high-end systems and workstations that require both maximum performance and efficiency. Close behind, the Z650 exhibits over 89% efficiency at typical load.

The Z1000 will be available in both modular and non-modular editions, allowing end-users to choose the ultimate solution for their application and unique preferences. For mid-range wattage needs, the Silver-rated 550W and 650W will also be offered. The Z-Series will be widely available later this spring and come backed with a 5 year warranty for true peace of mind.
For more information, please view the testing reports at www.80plus.org:
OCZ Z1000 Gold Certification.
OCZ Z650 Silver Certification.
OCZ Z550 Silver Certification.
Source: OCZ Technology