If you are looking for an enthusiast-oriented, easy to use and innovative PC case then Aerocool has something for you.
The Taiwan-based company has unveiled the Strike-X Air PC case that targets computer enthusiasts and hardware tweakers. What's unusual about this case is that it allows its owners to freely access their hardware thanks to the innovative case structure.
Looking at the Strike-X Air one would think of the Antec Skeleton but the novelty comes with newer and improved functions. Made of 7 mm steel, it supports ATX, Micro ATX and E-ATX motherboards and graphics cards as long as 330 mm. As expected the case supports 3.5-inch and 5.25-inch drives too – with the user being able to use three of each kind. And in the back you also get 10 slots for various expansion boards and video cards.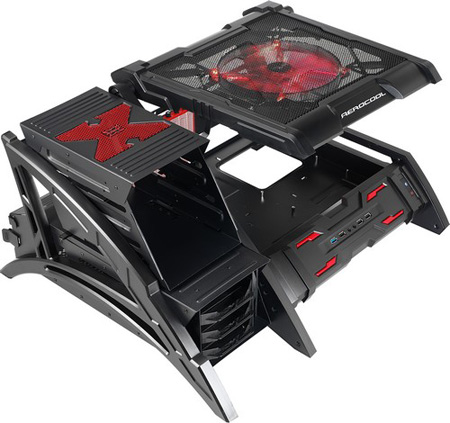 Up front the new Aerocool case sports one USB 3.0 port, three USB 2.0 ports and two 3.5 mm headphone and microphone jacks. The open design of the case also allows saving on the cooling – the Strike-X Air comes with only one fan on the upper wall that also acts as a cover.
Pricing is unknown.
Source: Aerocool